As your business grows over time, it's likely that the way the workplace operates will need to change. This is inevitable and a vital part of the process. Changes could be as simple as upgrading a software package, or could be as extreme as re-locating the office or even the business changing hands.
Whatever the change - big or small - it's important you handle it well for the sake of your people. Get it wrong and it could have detrimental effects on the running of your business. We're talking disengaged employees, low morale and even staff handing in their notice. All in all... Not great.
Despite this, a large proportion of businesses are still making this very mistake: many years' of research has found that 70% organisations fail at successfully managing change. And the numbers aren't going down.
In this article we'll provide you with some great tips to help you nail change management. We'll be talking about how the following can help:
Planning

Communicating and transparency

Providing adequate training

Preparing for the unexpected

De-stressing and rewarding
Let's dive in and take a look at what these steps involve.
5 steps to managing change effectively
Plan
In the world of change management, planning is everything. Here are our tips on what you should consider when planning changes in your organisation:
Create a task-force. Don't try to manage change alone. Put a task-force in place to focus on potential issues that could affect your people. This will make for a much smoother transition and minimise the risk of a drop in employee numbers.
Work with your people to champion change. Make them part of the decision-making process and you'll have a much smoother ride. According to The CIPD, "reasons for resistance to change include: loss of control, shock of the new, uncertainty, inconvenience, threat to status and competence fears". If you can identify the reasons for resistance, you'll know where to focus your efforts in order to address it. And your employees can help here.
Create a roadmap. Break change down into manageable steps. Ensure each one has a concrete goal. That way, you can anticipate roadblocks and help shape change to avoid perceived threats. Your team will be able to think more rationally, and help you solve any problems.
Put your company culture first.

You've undoubtedly worked hard to create a positive, unique company

culture

. Your employees may fear losing this, especially if you're planning a takeover or merger.

Ensure you maintain this culture through change – it will pay dividends. Your people will feel valued and engaged in the process. Or, if you need to scale it to match your company's new direction, do it slowly with careful planning. Ensure your 'people first' values are maintained throughout.


Learn why business agility is fundamental to SME success - download the FREE report now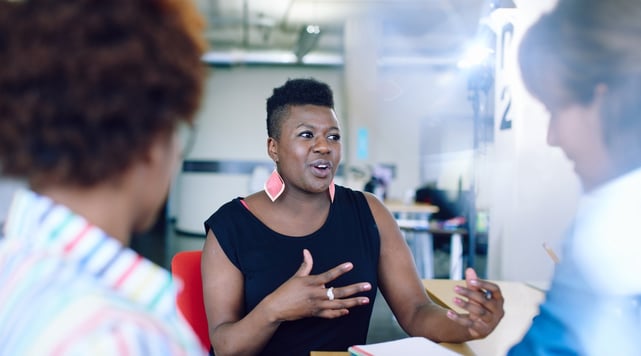 Communicate and be transparent
Think about how you'll communicate the upcoming changes. You'll need to support and champion the planned changes not just through the launch, but right through the roll-out.
It's best to communicate change face-to-face. Give your staff the opportunity to ask questions.
There's a lot to be said for transparency, too. If you're clear and honest about these changes along the way, your employees are much more likely to respect and have faith in you - there's no question about it.
You may want to explain:
Why change is necessary
The timeframe
How they can help
What to expect
Provide feedback mechanisms right from the start. You can do this through face-to-face meetings, communication tools such as Slack or regular surveys.
Cloud HR software such as Breathe can ensure you can keep on top of one-to-ones and keep important communication channels open.
Provide training
Offer your employees training to build on their skills and prepare them to handle new tasks. Your employees will know you think they're worth investing in and will have the confidence to welcome and support change.
For example, if you're thinking of implementing agile working, you may want to provide your managers with specific training to cater for this and educate them.
Prepare for the unexpected
You never know what hurdles you may encounter during your journey. This may lead you to taking a slightly different path to what you first planned.
Constant evaluation and reflection is fundamental here. Review the progress of your change management programme and decide the best next step forward.
That way, you can make the adjustments necessary to maintain momentum and ultimately drive results.
De-stress and reward
Your employees have likely gone through change in other companies before they joined yours. And further changes in the future are inevitable.
Are your employees showing signs of stress as a result of constant change? Employee burnout and stress is a dangerous downward spiral to not only ill-health, but also to low retention and performance levels.
As soon as you see the signs, tackle it straight away. Reward your employees for helping make the changes your business needs. Celebrate and shout about milestone achievements. Ensure your teams know you recognise the valuable part they have played throughout the process. Flexible working might also help here.
In summary, make sure you provide time and opportunities for your staff to influence and make sense of planned changes. This way, your staff will view changes much more positively and are much more likely to be on board with your visions.
Remember: no change will be successful unless you take your whole workforce along with you on your journey. Get it right and you - and your people - will reap the great rewards to come.
Back to blog