Senior leadership teams provide the structure, backbone and foundation of many organisations.
Given the importance of this hire, we spoke to Senior HR Consultant at Kane HR & Breathe Partner, Robert Burden, to find out how small businesses can recruit into leadership teams with confidence.
Why is leadership recruitment so important for SMEs?
5 SME tips when recruiting senior leaders
The leadership recruitment process
Steps to successful leadership recruitment
Questions to ask during a leadership interview
The importance of diversity within a senior leadership team
Why is leadership recruitment so important for SMEs?
"Senior leadership teams allow organisations to create a safe, secure environment to work in. They provide a space for debates and can inspire creativity about the direction of the business. They also perform a function in problem-solving and any other issues that might arise.

A senior leadership team keeps a business aligned with its core values and goals, along with sharing knowledge and providing different perspectives."

Robert Burden, Senior HR Consultant, Kane HR.
5 SME tips when recruiting senior leaders
1. Establish your vision
Develop a detailed candidate profile for your leadership team. What kinds of skills are you missing – is there a gap? Make sure you're specific with the job description, too, so everyone's on the same page.
2. Be realistic
We all know you have to pay for top talent (especially in the current financial climate) so ensure you're offering fair pay for the level of responsibility. It's also a good idea to not require too many background requirements in terms of experience– you're likely to limit your candidate pool.
3. Add value to your offer
What will incentivise someone to leave their current position and join your organisation? Sell your organisation to the leader. Why should they consider joining you? Start with what you like most about working for your SME, and don't forget benefits such as additional holiday or any healthcare plans you might offer.
4. Seek the right cultural fit
No one will ever be exactly what you're looking for – we know there's no such thing as a perfect fit for a role. And assessing cultural fit can be difficult.
A good place to start can be focussing on examples of human-centric leadership. Are candidates willing and prepared to talk about these scenarios?
Identify your strongest existing leaders who display human-centric leadership and actively involve them in the recruitment process. They'll often be the best people to assess these qualities, and will understand your company culture better than most.
5. Consider internal promotion
Robert advises looking internally to see where there might be room for internal promotion within your business.
"Is there an opportunity for internal promotion? If so, beware of the pitfall of promoting manager to leader without leadership training. A manager might be great at their current role, but the step up to leadership requires different skillsets."
The leadership recruitment process
We wanted to know how a leadership recruitment process differs from a more typical recruitment process, and how SMEs can find success when recruiting leaders.
Robert shared his thoughts below:
"The main difference is the number of people involved [in the leadership recruitment process vs. a 'typical' recruitment process], and the time the process takes. Senior leadership positions usually have multiple interviews with different people across the board or existing senior leadership team.

Due diligence will also need to be undertaken, which takes time and resources.

The leadership recruitment process often involves psychometric assessments to assess the candidates' cultural fit and whether they align with organisational values."
With this in mind, we've put together 5 steps for SMEs to create a successful leadership recruitment process:
Steps to successful leadership recruitment
Thoroughly assess CVs as fairly as you can.
Along with limiting extensive background/experience requirements as mentioned earlier, make sure you give all applicants equal opportunity throughout the recruitment process.
Assess personality traits & effective leadership skills
Psychometric assessments can be useful here, as Robert mentioned earlier. Using facilities like this can also remove some of the burden on HR/recruitment teams and ensure greater levels of impartiality through technology.
Can the candidate provide an example of where they've driven growth?
All businesses need to drive growth, and examples of this can really weigh in a candidate's favour when looking for your next senior leader.
Ensure you check references
This may sound glaringly obvious, but Robert advises that this crucial part of the hiring process is often frequently neglected when recruiting at leadership level.
"You'd be surprised how often reference checks are overlooked at leadership level. There's something about reference-checking at this level that is often seen as somehow insulting – they often get missed or aren't checked at all. But a gut feeling just isn't enough, and this process should always be followed.
Also, don't just check preferred references – ask for a full list of references and pick one at random to verify. People who don't have anything to hide about their credentials won't mind."
Don't forget to ask the fundamental (basic) questions
How does the candidate define leadership? What would they do if X problem occurred? Don't skip over these questions because you simply assume they're a given.
Following on from this, we asked for Robert's top questions for SMEs to ask during a leadership interview.
Questions to ask during a leadership interview:
Robert's key questions to cover during a leadership interview are listed below:
What's your motivation?
What's your leadership style?
What will you bring to the team?
Real example of a challenge/problem-solving skills
You could also consider questions around how willing the candidate is to accept responsibility when things inevitably go wrong at times.
Are they able to rally & excite team members about a vision, and unite those around them? How well can they deliver meaningful, effective feedback?
The importance of diversity within a senior leadership team
Robert advises that "diverse leadership teams lead to better, fairer, decision-making, along with securing access to different talent sources and broadening the potential of the organisation overall."
Ultimately, everyone benefits from a leadership team made of people from varied backgrounds who all think differently, with each bringing something unique to the table.
Diverse leadership teams benefit everyone, but this should never function as simply a 'tick-box' exercise. Take some time to think about how your organisation can authentically become a more diverse and inclusive place to work.
Recruiting leaders, the easy way
We know how important it is to find the right people for your SME, and to create a positive team dynamic. This is amplified when at leadership level, as Rob discusses:
"Senior leadership teams have another function: they also create a safe space for leaders themselves, and can act as a support network at times.
Being a senior leader can be a lonely role, so having other people with similar roles as you can be really useful to provide the sharing of responsibilities."
Breathe can take the stress out of recruitment admin with our easy-to-use cloud-based applicant tracking system. Why not find out more, or take out a free 14-day trial.
Robert Burden is a Senior HR Consultant at Kane HR. Find out more about professional HR advice or becoming a Breathe HR Partner.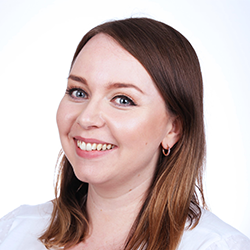 Author: Aimee Brougham-Chandler
Aimee is a Content Assistant here at Breathe. She enjoys writing about topical HR issues & helping readers find solutions. In her spare time, she is commonly found amongst books.
Posted on 20 December, 2022
Recruiting Talent
Back to listing