Let's face it: recruitment is a struggle at the moment- for SMEs and larger businesses alike. The much-quoted "Great Resignation" has left a void of staff shortages across many sectors- and some vacancies just aren't being filled for months on end, leaving businesses under-resourced and overworked.
Recruiters are doing their best, but with so many positions vacant, it's not easy. The number of open positions in the UK exceeded an unprecedented 1 million for the first time in August.
Now, more than ever, SMEs are realising the true value in recruiting by utilising in-house knowledge and contacts via their very own employees. By inviting your people to recommend someone they know for a position, HR teams save time and money on recruitment costs and from sifting through applications. The referring employee gains the invaluable knowledge that their company trusts their recommendation, a position is filled, and you've got a new hire that someone internally has vouched for- which in this climate, is a winning scenario all-round.
What is an employee referral scheme?
An employee referral scheme is an internal scheme or company policy, where the company allows for existing employees to refer people they might know (such as ex-colleagues, for example) to apply for a vacant position. If the person that the existing employee refers is successful and the vacancy is filled, organisations usually offer the employee who referred the new hire a reward of sorts. This is usually a financial incentive; however, it could be something different. Perhaps you'd rather offer extra annual leave as an incentive or reward, instead.
What are the benefits of an employee referral scheme?
Cost-saving
Getting your staff involved in helping with recruitment saves spending on recruiters and agencies who have specialist knowledge but can sometimes be costly. Often, the cost of financially rewarding an employee who successfully refers an applicant for a role is much less than incurring the cost of an agency, particularly if you're advertising for specialist roles.
Save time
By managing this side of the recruitment process in-house, you're potentially speeding up the recruitment process by a considerable amount – and also saving yourself valuable time that could be spent more productively, rather than sifting through piles of CVs and applications provided by, for instance, third-party recruitment service providers.
Internal insight
Your people know your company values inside out- they understand the way things are done within your organisation and what type of person would fit in well within existing teams. With that unique vantage point, they're unlikely to refer someone who doesn't fit the bill. After all, if their referral gets selected for the job, it puts the referring employee in a good light, too.
Although recruitment agencies can be very useful, in many cases it's your own people who understand your business and also the skills, experience and aspirations of their own friends and family. Who better to find great people who are also great fit for your team and the roles you're looking to fill.
Employee involvement
Valuing people's judgement and opinion and rewarding them for it with a bonus or another incentive? Win/win. This display of trust in your team's ability to understand what the business needs and to fill a vacancy will make your team feel particularly engaged. If employees know that their recommendations for vacant positions are taken seriously, they'll feel valued- as well as extra-invested in the future success of your business.
How to implement an employee referral scheme
You might firstly want to decide on parameters such as after what length of service will you accept referrals from employees (for example, after 6 months or 1 year) and what the incentive or reward for the referring employee will be. Most companies tend to offer financial compensation, but there's nothing to say that you couldn't show your thanks in a different way – who doesn't love an extra day of annual leave? Once those responsible for managing HR in your team are aware of the new plan, decide how you'll communicate this initiative with the rest of your people to encourage them to think about who they might know that could fill your vacancy.
If you decide to implement an employee referral scheme when you need to fill a vacancy, the first step is to produce a succinct job description for the role which explains what it involves and also tells a potential candidate about your business. At a time when many employers are struggling to fill roles, it's important to make the job and the working environment sounds as attractive possible.
These days, most employers will publish job descriptions on their own websites. Once you have written and published a job description on your website – assuming this is something you want to do – share the link with the rest of your team members and encourage them to share this with their contacts.
Recruitment designed for SMEs
Utilising the 'insider knowledge' and collective understanding of your company culture from within your organisation itself can be a hugely valuable asset to any SME, especially during times where recruitment can sometimes feel a bit of a challenge.
Whether you fill a vacancy via employee referral or through an agency, Breathe's Recruitment tool is designed to make hiring new team members seamless, from receiving their application, throughout the interview and shortlisting processes, to finally creating a profile for your new starter within your Breathe account.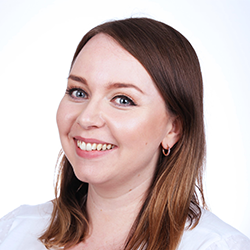 Author: Aimée Brougham-Chandler
Aimée is a Content Assistant here at Breathe. She enjoys writing about topical HR issues & helping readers find solutions. In her spare time, she's commonly found amongst books.
Posted on 5 November, 2021
Recruiting Talent
Back to listing