Recruitment isn't always easy - and remains to be an issue. The ONS reported over a million job vacancies in the UK (as of August 2023).
But all is not lost- SMEs can realise the immense worth of tapping into their employees' internal knowledge & personal connections for recruitment purposes with referral schemes.
What is an employee referral scheme?
An employee referral scheme is an internal scheme or company policy, where the company allows for existing employees to refer people they might know (such as ex-colleagues, for example) to apply for a vacant position.
If the person that the existing employee refers is successful and the vacancy is filled, organisations usually offer the employee who referred the new hire a reward of sorts. This is usually a financial incentive; however, it could be something different. Perhaps you'd rather offer extra annual leave as an incentive or reward, instead.
What are the benefits of an employee referral scheme?
Cost-saving
Getting your staff involved in helping with recruitment saves spending on recruiters and agencies who have specialist knowledge but can sometimes be costly. Often, the cost of financially rewarding an employee who successfully refers an applicant for a role is much less than incurring the cost of a recruitment agency- particularly if you're advertising for specialist roles.
Save time
By managing this side of the recruitment process in-house, you're potentially speeding up the recruitment process by a considerable amount – and also saving yourself valuable time that could be spent more productively, rather than sifting through piles of CVs and applications provided by, for instance, third-party recruitment service providers.
Internal insight
Your people know your company values inside out- they understand the way things are done within your organisation and what type of person would fit in well within existing teams. With that unique vantage point, they're unlikely to refer someone who doesn't fit the bill. After all, if their referral gets selected for the job, it puts the referring employee in a good light, too.
Although recruitment agencies can be very useful, in many cases it's your own people who understand your business and also the skills, experience and aspirations of their own friends and family. Who better to find great people who are also great fit for your team and the roles you're looking to fill.
Employee involvement
Valuing people's judgement and opinion and rewarding them for it with a bonus or another incentive? Win-win. This display of trust in your team's ability to understand what the business needs and to fill a vacancy will make people feel particularly engaged. If employees know that their recommendations for vacant positions are taken seriously, they'll feel valued- as well as extra-invested in the future success of your business.
The referring employee gains the invaluable knowledge that their company trusts their recommendation, a position is filled, and you've got a new hire that someone internally has vouched for- which works well for everyone.
How to implement an employee referral scheme
Firstly, decide on the length of service after which you'll accept referrals from employees (for example, after 6 months or 1 year) and what their referral incentive or reward will be.

Most companies tend to offer financial compensation, but there's nothing to say that you couldn't show your thanks in a different way – who doesn't love an extra day of annual leave?

Once those responsible for managing HR in your team are aware of the new plan, decide how you'll communicate this initiative with the rest of your people to encourage them to think about who they might know that could fill your vacancy.

Once you're ready to go, it's important to begin by creating a concise & engaging job description that outlines the responsibilities of the role - and provides potential candidates with insights into your business. At a time when many employers are struggling to fill roles, it's important to make the job and the working environment sounds as attractive possible.

These days, most employers will publish job descriptions on their own websites. Once you've written and published the job description, share the link with the rest of your team members and encourage them to share this with their contacts.



Recruitment designed for SMEs
Leveraging the deep knowledge and shared understanding of your company's culture within your organisation can prove to be an immensely valuable advantage for SMEs, particularly in times when recruiting can be a daunting task.
Whether you fill a vacancy via employee referral or through an agency, Breathe's Recruitment tool is designed to make hiring new team members seamless, from receiving their application, throughout the interview and shortlisting processes, to finally creating a profile for your new starter within your Breathe account.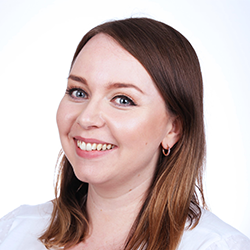 Author: Aimée Brougham-Chandler
Aimée, Breathe's Content Assistant, enjoys delving into HR topics. An IDM-certified Digital Copywriter as of February 2023, she's loved guiding readers to solutions with her writing for over 2 years.
Posted on 10 August, 2023
Recruiting Talent
Back to listing