After many hours of hard work, you've finally whittled down all potential recruits and are left with the ideal candidate. They fit the job description, align with your company's culture and seem like a great individual to work with. You just need to tick off their references.
But where do you start with a reference request? And what should you do if the response to your request is a bad reference?
How to ask for a reference letter for a new employee
As an employer ,you can request a reference by phone or email. Whichever you choose, the reference request should follow a similar format, in a professional tone, as a guide, keep the following in mind when writing your reference request:
Keep your approach consistent
Ensure you have a standard set of questions that can be used regardless of the employee, whether the request is being made over the phone or via email. This can help protect you from any claims of unlawful treatment.
Get permission before approaching any references
If a recruit has not provided you with a list of preferred references, make sure you get permission before approaching any. Without permission you may fall foul of data protection laws.
Specify that employment offers are dependent on references
By specifying that all employment offers require a satisfactory reference check, you can prevent any repercussions if you have to rescind an offer of employment.
Don't overreact to bad references
Although a bad reference is never a good thing to see when hiring, don't overreact. Ask for a selection of references from the employee and see if a pattern emerges. Sometimes the negatives highlighted by one may be contradicted by another. It can even be just the one-off words of a disgruntled ex-employer.
What laws affect reference requests?
There are a few UK laws you should keep in mind when requesting a reference for a potential employee.
Data protection
When asking for references you certainly need to be aware of data protection laws and GDPR in particular.
To keep it simple you must always get consent to approach a referee and all correspondence must comply with your own data protection policy. This means keeping all communications private and confidential.
Discrimination
The Equality Act of 2010 states that all candidates have the right to not be discriminated against. This gives the candidate protection from discrimination relating to age, race, religion, gender, disability, sex and sexual orientation. If you choose not to hire for any of these reasons you will be acting in direct contradiction to this law.
What should you include in a reference request?
Now that we've covered how to ask for a reference and the laws involved, what should you actually include in your reference request?
How to request a reference for a new employee
The first thing you'll want to include in a reference request is confirmation of the recruit's previous job title, employment dates and salary. This foundation should back up their CV and confirm they are telling the truth about the previous experience.
In addition to this, you will want to know of any recent warnings—formal or informal. If these do exist, they could suggest the candidate may not be the fit you first expected, but should always be accompanied by full context. For balance, you should of course also ask about any noteworthy achievements or any weaknesses. Be wary of writing off an employee on their weakness, focus on their achievements instead. Remember, a weakness can always be improved.
If for any reason you do need to ask a former employer personal questions relating to your candidates racial origin, gender, age, religious beliefs or health, you will of course need explicit consent from the recruit (in accordance with the previously mentioned laws).
How to follow up a reference request
If you've sent your reference request, but are yet to receive a response after a week or so, then it's time to follow it up.
One effective way to follow up a reference is with a phone call. This will help remind the previous employer of your request, and adds a personal touch. Politely ask if they've had a chance to look at your request, and find out if they are likely to be forthcoming with a reference. If they are willing to provide a reference, suggest a date you would like the response by. This helps them prioritise when they will get back to you, and puts the onus on them to respond.
It's worth acknowledging that some people are busy and are difficult to get hold of. When this happens, you don't want to be spending all your valuable time asking someone to write a reference . Instead, ask the job applicant to provide you with a new one or chase it up themselves.
With this in mind, don't be surprised if a reference only gives the most basic information or doesn't give you a reference at all.
What to do if an employer refuses to give a reference
Remember, there is no legal obligation for an employer to provide a reference for an ex-employee. In fact, some may choose to provide one if they cannot say anything constructive about that employee.
In this case simply move on to another on the reference list or ask the recruit for a new one.
A simple reference request letter template
If you're stuck writing a reference request letter and need some inspiration, try using our template below.
To whom it may concern [Name of reference],
My name is [name] and I work for [company name]. We are currently in the process of hiring [candidate name] for the role [job title] and they have made it to the final stage of our hiring process.
Before any official offer is made, we need to gather some more information to guarantee we're making the correct decision. We're reaching out to you because [candidate name] [ provided you as a potential reference/ highlighted you as a manager in a previous role]. I would be grateful if you could tell me a bit about your overall experience working with [candidate name] and whether you'd recommend them as a potential employee
Would you be available for a brief discussion today or tomorrow? Please let me know if the number [applicant name] provided is accurate: [Phone number].
Alternatively, if you'd rather send me information via email, this would also be really helpful. Our communication is of course confidential.
Many thanks for for your help,
[Your name]
[Your job role and company]
Breathe easy with award-winning HR tools and software
Perfect for when you're taking on new recruits, Breathe's HR software will allow you to seamlessly track the recruitment from the start to finish, all while safely storing all your HR documents in one place.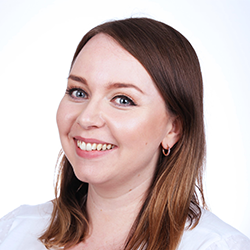 Author: Aimée Brougham-Chandler
Aimée, Breathe's Content Assistant, enjoys delving into HR topics. An IDM-certified Digital Copywriter as of February 2023, she's loved guiding readers to solutions with her writing for over 2 years.
Posted on 25 January, 2021
Recruiting Talent
Back to listing