Everyone knows that onboarding of new starters is important- but onboarding surveys are still not as common in inductions as the fire drill procedure.
With the effects of The Great Resignation still very much a part of the post-pandemic economy, businesses across the UK are still struggling to fill vacancies. Once you've managed to offer a position and get your new employee aboard, it's arguably never been more important to review your onboarding processes.
Gaining this type of early feedback is crucial, as your new recruit is seeing your organisation with completely fresh eyes. They aren't yet used to 'the way things are done around here' and so can make useful suggestions that could change the way your organisation works, for the better.
In this article, we'll look at how implementing onboarding surveys for new employees can help your business. We've also included some example question prompts- and suggested stages in the onboarding journey that you might want to ask them.
What is an employee onboarding survey?
Why are onboarding surveys important?
What should be included in an onboarding survey (with question prompts)
When should I send an onboarding survey?
What is an employee onboarding survey?
An employee onboarding survey is any type of survey or questionnaire that you ask employees who have recently joined your business to fill out. There isn't a set timescale as to when you should ask employees for feedback on the onboarding process- this depends on your organisation, and what stage of onboarding you'd most like to gain feedback on. Most businesses tend to implement onboarding surveys within the first few weeks of your new joiner settling into their role, up until their first six months of employment.
Why are onboarding surveys important?
Asking new employees for feedback about the recruitment/onboarding process early on allows you to gain valuable insight into your processes, and where you might improve them.
Make it clear that you are open to all feedback- including things that perhaps didn't work so well or could be better. New employees may not always be as forthcoming with what could be even better next time, for fear of repercussions or making a bad impression.
This feedback could help to develop your recruitment process in unanticipated ways- so be open to the feedback you receive from your newly-onboarded employees.
What should be included in an onboarding survey?
The 4 C's of onboarding
If you've decided to implement an onboarding survey but are stuck for ideas on what to include, you might consider the 4 C's of onboarding- compliance, clarification, culture and connection. It also might be worth asking yourself what you wish you'd been asked when you started your job (or perhaps what you wish was different about your own induction).
If your organisation has a hybrid working policy, then you might also use this as an opportunity to ask how this has worked for your new employees, or how it could be improved.
Question prompts to include in an onboarding survey (and when to ask them)
Here are some examples of the types of questions you might want to use, and when you might use them:
Example questions to ask if you want to gain feedback on the recruitment process
You might consider some example questions such as, 'did you have enough information when applying for the role?' or 'was there any additional information you feel could have been provided?' You might also ask if they were informed enough about what would happen next in terms of recruitment stages, and when they would hear from you by.
Example questions to ask after the first week/few weeks
At this early stage you could ask about the overall welcome the new recruit received from the team. You could ask how their IT set up was (trying to remember logins and accessing multiple different systems when you're new to a role is no mean feat). If you include overviews from different parts of the organisation, you could ask about those, too.
Example questions to ask after 1-2 months on the job
This might be a good time to start reviewing system training and ask whether the employee feels they have the right tools to do their job, or if they need any more support in any given area. How is the pace of the training? Could any of it have been sped up, or are there any topics they feel could be slowed down or gone over in more detail?
If you offer a hybrid working programme, you could ask for their thoughts on it or where they feel they work most productively. If your organisation works entirely remotely, is the employee in contact with their team enough and feel they're able to ask questions? Are they getting the right support?
Questions to ask between 3-6 months
You might now be at the stage where you might want to ask about the induction process as a whole. You could leave this less structured and ask your employee for feedback on the process, or you could ask for specific examples of what perhaps could have been better (or what took a while to get their head around).
Now that your employee has hopefully settled in, this is a great opportunity to ask about how they feel about the organisation's culture. (If you're looking for other ways to measure company culture, we've got you covered.)
Do you offer a buddy programme? Feedback around this could be useful in helping people to settle in and build good working relationships with colleagues.
When should I send an onboarding survey?
If you decide that such a survey is the right move to implement for your business, you can adapt what questions you send out, and when. The only thing to consider if that you don't want to send the survey out too late, otherwise your employees may not remember as much about their induction process- and the purpose is defeated.
Of course, the type of questions will also depend on when you're asking the employee. Asking if they feel they have the correct tools to do their job might be a bit much for day one, for example.
Avoid overwhelming new starters with another form or piece of information by keeping the survey quite short. Limiting the number of questions you want to ask to ten helps to keep it simple- we can all remember the slightly overwhelming feeling of being in a new position.
The right way to approach and implement an onboarding survey for new employees will be different for every business. Overall, if your employees understand that you want honest, authentic feedback that will be treated in confidence (eliminating the fear of repercussion) then you're on your way to successfully improving your processes already. Breathe can help you to manage new starters' documents all in one place with secure, cloud-based software.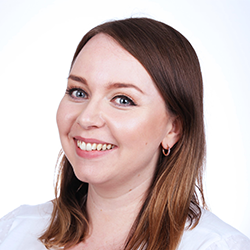 Author: Aimee Brougham-Chandler
Aimee is a Content Assistant here at Breathe. She enjoys writing about topical HR issues & helping readers find solutions. In her spare time, she is commonly found amongst books.
Posted on 19 November, 2021
Recruiting Talent
Back to listing