Business leaders need to support employees, but their own mental health is just as important.
A recent article in People Management magazine revealed the results of a survey carried out by mental health organisation TalkOut to assess support provided to employees during the pandemic by their employers.
More than half (56 per cent) of those surveyed haven't received any mental health advice or support from their employer since the pandemic first hit the UK in March this year.
A growing mental health crisis
Why culture has never been so important
Additional resources for business
A growing mental health crisis
The study surveyed 1,500 UK workers in September and found that eighty-five per cent did not think mental health support had been a priority for employers during the lockdown. This is despite a rise in employees' anxiety levels.
The survey also revealed that a third (31 per cent) of employees were having fewer one-to-one meetings with their bosses compared to before the pandemic, and three in five (60 per cent) said their employer had not organised any virtual social activities to support them while working from home.
The Office for National Statistics has highlighted that 19.2 per cent of adults were estimated to be experiencing feelings of depression in June 2020, compared with 9.7 per cent before the pandemic.
Eighty-five per cent of those experiencing some form of depression felt their wellbeing was being affected by feelings of stress or anxiety.
The pandemic has clearly had a detrimental effect on a significant number of people in the UK's workforce and employers owe their people a duty of care at a time when so many are feeling vulnerable.
Supporting the vulnerable
The wellbeing of people is also going to be critical to business and economic recovery. An increase in those suffering from mental health problems may well lead to an increase in employee absences and performance levels when their efforts and achievements have arguably never been so important.
It is important that employers take active steps to support those of their people who are suffering from stress, anxiety and depression as soon as possible.
Employers' own mental health
The mental health of employers – many of whom are facing the biggest and most difficult challenges of their working lives – is just important as that of their employees.
With the furlough scheme coming to an end, many businesses will be under significant financial pressure and leaders will need to make some difficult and upsetting decisions.
It's therefore essential that business leaders think carefully about their own mental and physical wellbeing at a time when so many are under an extraordinary level of pressure.
The Federation of Small Businesses (FSB) actively campaign for the stigmatisation of mental health issues and have produced an online wellbeing hub which provides guidance and support and tells the stories of employers who themselves have suffered from problems.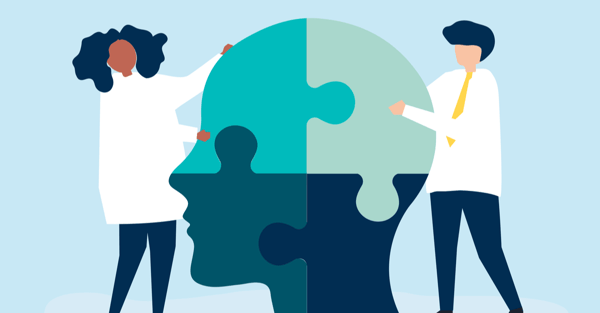 Why culture has never been so important
In a recent open letter to the government, Jill Mead (Co-founder and Managing Director TalkOut) wrote:
"Workplace culture needs to change and it's vital that businesses take their responsibility in supporting employees with their mental health seriously.
The psychological strain of the crisis is impossible to ignore and whether staff have been working on the frontline, furloughed or working from home whilst home schooling, it's likely to have a long-term impact".
The importance of improving workplace cultures which Jill Meads mentions has probably never been so important and this is something to which we at Breathe are firmly committed.
At the beginning of the pandemic we published our 2020 Culture Economy Report which is a detailed study of the reasons why people leave their jobs. Toxic cultures where people feel unsupported were at the top of the list.
This is something which those people who don't feel they have been supported throughout the crisis are likely to remember for a long time.
Although thinking about culture at a time when businesses are facing so many challenges, it really is central to keeping people positive and engaged.
In the preface to the Culture Economy Report, our CEO and co-founder, Jonathan Richards said:
"I urge SMEs not to take their focus off company culture right now. Given the current pandemic, employers cannot ignore culture problems if they want people to continue delivering for them.
"During these unprecedented times, your people need proper leadership, support and reassurance – if you want to achieve business continuity.
Building and maintaining a positive culture is challenging enough in normal circumstances, so now more than ever it's crucial to focus on keeping the culture alive across a remote workforce".
Additional resources for your business
We work closely with a number of mental health and HR experts and in collaboration with them, we have produced a number of resources which you may find useful. These include:
The People First project – a series of podcasts which include discussions between Breathe's CEO, Jonathan Richards and some of the UK's leading mental health experts.
Our mental health in the workplace guide – a comprehensive look at practical steps you can take away and apply within your business to support wellbeing, increasing employee engagement and their productivity.
A series of On-demand webinars we have produced throughout the pandemic. Subjects include improving in resilience, agile working, employment law and preparing the workplace for returning employees.
We also regularly write about mental health in our blog.


Posted on 23 September, 2020
By Nick Hardy
Health and wellbeing
Back to listing