We're pleased to announce that the Breathe 2020 Culture Economy Report is now available.
The report includes an extensive range of primary and secondary evidence on culture and its wider impacts to health and wellbeing, productivity, society, psychology and beyond.
With case studies from IoD, Rocket Mill, Vistage, Roffey Park Institute, Emperor Works and more, the Culture Economy Report is packed full of practical suggestions on how SMEs can develop their own business culture.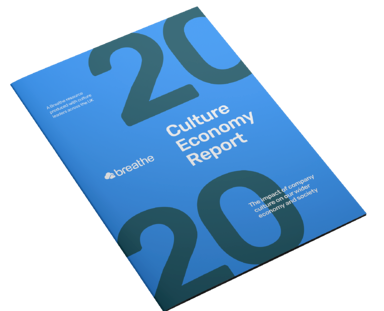 Download your free copy of the 2020 Culture Economy Report, here.
Company culture at a time of crisis
The launch of this highly-detailed, 130-page report has been widely covered in the HR and small business press.
This City AM article announces the launch of the report and includes commentary from our own CEO, Jonathan Richards, who talks about company culture and business survival in the context of COVID-19.
Of course, cashflow has to be at the forefront of business leaders' minds at the moment and the regrettable (but inevitable) need to furlough people or make them redundant means they are having to make some of the most difficult decisions of their business lives.
Managing dispersed teams and people working from home is also a major challenge to ensure people continue to be engaged. maintaining a positive culture is essential and must continue to be a priority alongside cashflow.
Business leaders in their own words
Our 2020 Culture Economy report is the sequel to the original edition (published in 2018), which builds the case for creating strong cultures that put people first.
Our new edition builds on this, providing primary evidence from businesses leaders who have already put culture centre stage. For the report, we interviewed senior managers from a number of SMEs, each of whom tell fascinating and inspirational stories about their cultural journeys.
Expert insight and practical advice
The report also includes commentary from a number of industry thought leaders. These include Jonathan Geldart, Director General of the Institute of Directors (IoD) and Dr. Robert Coles from the Roffey Park Institute.
We've channelled their expertise to create a blueprint for workplace cultural development.
This is based on practical steps and turning the theory of culture into something very real and very tangible. It's the 'how' every bit as much as it is the 'why'.
New market research
We discovered the cost of bad company culture: a staggering £15.7 billion per year and that 1 in 5 (21%) of SME employee have quit their job due to poor workplace culture.
On the other hand, there is comfort to be had from the fact that when we researched the cost of poor company culture to the economy in 2018, the figure was £23.6 billion per year.
Progress is clearly being made.
Our research also revealed that one-third (33%) of SME decision makers experienced or witnessed workplace bullying in the past year. In addition, 31% of business leader respondents experienced or handled harassment cases in the last year.
Despite this, the percentage of people quitting their jobs due to poor workplace culture is down 13% in comparison with data from 2018 – outlining businesses are making this more of a priority.
This is very encouraging, however, the fact that poor workplace cultures cost the UK economy so dearly last year, highlights the fact that we still have a long way to go.
Weathering the health storm
The UK's small businesses and the country's economy are now under immense pressure dealing with the biggest crises since the Second World War.
During these unprecedented times, people need proper leadership, support and reassurance – if a business leader wants to achieve business continuity.
Building and maintaining a positive culture is challenging enough in normal circumstances, so now more than ever it's crucial to focus on keeping the culture alive across a remote workforce.
We believe that SMEs are uniquely placed to weather this health storm. We're blessed with technology that can keep us connected and keep the community alive.
It is thanks to our size, entrepreneurial spirit and nimble nature that we can pivot, adapt, and survive. We must remember to continue to put our people first.
Posted on 21 April, 2020
By Nick Hardy
in Breathe News
Breathe News
Back to listing