Reverse mentoring isn't simply another buzzword. It's a living, breathing, fully-grown skill-swapping technique that's finally receiving recognition.
We spoke to seasoned tech and software content ninja, Nick Hardy to explore what reverse mentoring is and how you can harness it for business and personal success.
Reverse mentoring: How to use it
Settle down and buckle up for Nick's wordly meanderings. In this article, we're covering:
What is reverse mentoring?
Put simply, reverse mentoring refers to a scheme whereby older members of the workplace are paired with and mentored by younger employees on topics such as technology, social media and current trends.
As businesses become more reliant on technology, reverse mentoring can help those of us who remember the years before the internet understand web and social developments via colleagues whose entire lives have been deeply entrenched in the digital world.
Having worked in software and technology for more than 20 years, I'd like to think I'm fairly well informed about the latest industry developments but one thing I have learned over the years is that tech continues to evolve at an incredible pace and I'm in a process of continuous learning.
As a content writer, it's within my best interests to ensure that I stay up to date and that I continue to use the best and most effective online channels to communicate with people. What was cutting edge even 10 years ago is now sitting in a museum cabinet.
I recently came across a great Techopedia article about the role of reverse mentoring in the workplace and this made me reflect about the ways in which I learn about new tech and how to use it.
I work in a multi-generational team and it's my younger colleagues who have lived and breathed technology who keep me abreast of tech developments. This is the essence of reverse mentoring in action.
Origins of reverse mentoring
The term reverse mentoring was originally coined in 1999 by Jack Welch, the formidable, former CEO of General Electric.
In his pilot project, he paired 500 senior and junior employees, in hopes the latter would teach the former about technological advances and tools. "We tipped the organisation upside down", he explains. "We now have the youngest and brightest teaching the oldest."
Since Jack Welch pioneered reverse mentoring and the business benefits have become widely known, many other organisations have implemented programmes of their own. These include industry leaders such as Target, Cisco, UnitedHealthcare, and Fidelity as well as many smaller businesses and start-ups.
But what evidence is there to demonstrate that reverse mentoring is beneficial and should be integral to a company's HR and people management strategy?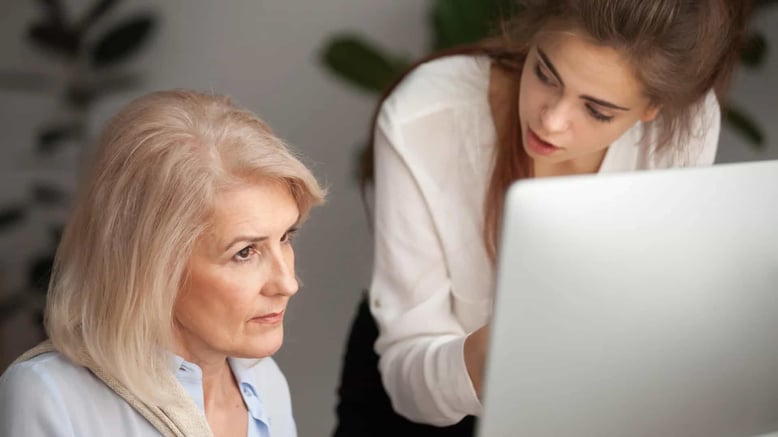 Reverse mentoring | How to use it for business
In his article 'Reverse mentoring: 3 proven outcomes driving change' Columbia University professor Jason Wingard explains three key benefits:
Improved millennial retention rates
With millennials now constituting the largest group in the workforce, organisations are now having to work harder than ever before to retain younger talent.
According to Deloitte's recent millennial survey, 43% of this generation are planning to leave their jobs in the next 2 years and their expectations of what they want from their employers and careers is very different to those of their older colleagues.
Millennials want to feel properly valued by their employers and colleagues. Financial remunerations is no longer the most important factor in terms of performance recognition, with opportunities for continuous learning and development occupying a higher place of this generation's career priority list.
Access to networking with more senior and experienced colleagues is seen by younger workers as an opportunity for career progression. Reverse-mentoring schemes offer an ideal opportunity for enabling this.
Professor Wingard cites the example of Pershing, a financial services firm which implemented a reverse-mentoring initiative and experienced a 96% retention rate for the 77 millennials who were involved in the scheme.
2. Greater diversity and inclusion
Research recently conducted by Forbes revealed that 85% of senior executives believe diverse and inclusive workforces are crucial to innovation and success.
Reverse mentoring helps by pairing up people of different ages, genders and backgrounds and facilitating conversations about what it truly means to be a diverse organisation.
Many older executives have experienced the traditional and more patriarchal hierarchies that are now on the decline. They may have deep-rooted ideas about diversity, which are a world away from the views of their younger colleagues.
Reverse mentoring is key to bridging this gap.
3. Updating techy knowledge
The role of technology in business has fundamentally changed. IT and tech are no longer just about 'keeping the lights on'; they are now very much enablers which permeate throughout an organisation, and are key to its success and growth.
Automation and the digitalisation of everything from marketing, sales, financial and people management mean that everyone in a company needs to be aware of emerging technologies and how these can improve efficiency and productivity.
Many millennials have a 'tech first' approach to their work (and lives in general), and as a result, their views and knowledge are essential for helping their older colleagues keep up to date and make decisions about the software and systems in which a company should be investing.
How to set up a reverse-mentoring programme
In this great article about reverse mentoring, Alex Richardson, suggests the following:
1. Define the purpose of the programme at the outset
People at all levels need to be completely clear about 'why' as much as the 'how' of participating in a programme. This is essential if it's to be taken seriously and not seen as an HR exercise that's run for the sake of it.
2. Effective communication training for people at all levels is really important
This multi-generational workforce know how to engage older colleagues and also be respectful of their opinions and experience. On the other hand, older workers need to learn how to be receptive to new ideas which may well challenge their ideas.
It's important to make sure that newly formed mentor and mentee relationships are on track and that people at both junior and senior levels don't lapse back into hierarchical patterns of behaviour.
3. Look for patterns or issues that emerge in multiple mentor and mentee relationships
These can indicate cultural and diversity issues that needs addressing and managing on an organisational level.
4. Start small
Establishing a successful reverse-mentoring programme is no insignificant undertaking and it should begin as a pilot scheme before roll-out throughout a business.
In this way, any initial issues can be identified and carefully managed before the programme is opened to everyone within an organisation.
Reverse mentoring | Summary for business
There's little doubt that businesses rely on the knowledge and experience of older workers who have often finely-honed skills, which contribute to the ongoing success of a company. This is not likely to change.
Effective management and decision making can only be learned up to an extent and there will never be a substitute for experience.
What reverse mentoring can help you achieve, however, is a culture where people at all levels are more open to ideas, especially at a time when technology has never been so important or fundamental to a business' success.
Properly organised and well-managed reverse-mentoring programmes encourage direct communication with people of all different levels and departments.
These days, companies simply cannot afford to disregard the view of junior team members as it is the younger generation who are, after all, the future of work.
Pairing up the most experienced people with those who are most technically fluent makes for a winning combination that can benefit businesses of every size.


Posted on 5 March, 2020
By Nick Hardy
Company Culture
Back to listing