Despite us having adopted working time regulations, there still seems to be an accepted culture of working long hours in the UK. It's not helped by the uptake of technology that gives us immediate and constant access to our work life. Checking emails and taking calls long after the end of the working day places sizeable demands on staff and bosses alike, and only serves to further blur the lines between work and home.
All of this makes us less productive and less motivated. It can even make some people positively unhealthy where it leads to a breakdown or burnout.
Hannah Morton-Hedges, Careers Consultant with Momentum Careers Advice, observes, "The quest for a better work-life balance is undoubtedly one of the main reasons people seek new jobs and new careers. Working hours are getting longer and workplace stress is getting higher and naturally, employees are wanting to seek protection from this. Whilst there are some great case studies of companies who are putting work-life balance high on the agenda, on the whole employers have been quite slow to realise just how important this is in attracting the best talent to their organisations."
One of the best ways to attract and retain staff - especially the younger, millennial or Generation Y types - is to give them a cool working environment and some trendy perks. An on-site gym, free fruit, free books and lunchtime massages are good for both body and soul. And if your business itself sells something that is attractive to your staff, then you can use that to your advantage too. Online travel company Expedia does just that. Employees enjoy a range of perks and work in amazing offices. But despite an in-house bar and free drinks, it's the travel perks that many staff are keen on. On the Glassdoor website, it's the discounts of up 40% discount on hotels that draw many favourable remarks from staff.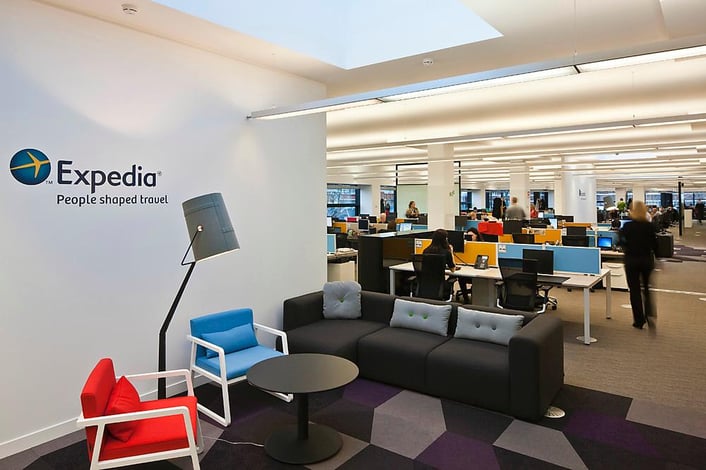 Image credit: Expedia offices
It's not all about little perks though. In the Sunday Times 100 Best Companies, business telecoms company 4Com comes top in the small companies category. The awards are voted for by employees, and it comes as no surprise that 4Com staff vote their company so highly when you learn that benefits include "a company car for everybody after one year's service".
A good work-life balance can often be achieved by employing flexible working practises. Part-time or compressed hours, flexitime, job sharing and salary sacrifice schemes are all great incentives, especially for working parents. The John Lewis Partnership is renowned for getting the work-life balance right. Michelle Smith, Partner Coordination Manager at Waitrose in Croydon, points out, "The company figures that if you are happy out of work, then you'll be happy in work." It has some great perks, like a ticket subsidy that allows staff - or partners as they're termed - to claim back 50% of tickets to musicals, theatre, festivals and concerts up to a maximum of £60 a year. Continues Smith, "We also give a 'leisure learning' allowance of up to £300 a year towards course fees, for any course that you want that will teach you new skills, whether those skills are relevant to your job or not." Smith is currently enjoying one of the John Lewis Partnership's most attractive perks: 26 weeks' paid leave. "It's given when you've completed 25 years' service and is designed as a mid-career break to recharge your batteries", she explains, sounding very relaxed!
Family-friendly workplaces allow employees to better juggle the competing demands of home and work. Jane Lambert is the founder of ECG Training. She firmly believes that both the business and employees benefit from flexibility at work. She employs 10 people in the office and 75 freelance trainers, who are based across the country. Not a single employee is a full-time worker. Within the office everyone works different hours, but it is staffed all day Monday to Friday by at least two people at a time. Some who have young children work during school hours, and others work short days or not every single day. Lambert is full of praise for this way of working, "I find that staff have energy, drive and stamina for their workload and everyone enjoys the flexibility they have. It also means that the team dynamics change throughout the day as staff arrive and leave at different times. It makes it a fun, supportive and uplifting place to work." To enable her own work-life balance, she leads by example and has one full day off a week. She continues, "I heavily promote the value of part-time work with the staff that I employ. I think that many employers miss the brilliant expertise that is out there because they won't consider part-time workers. As a result of everyone working part-time, I have a happy, energetic, flexible and effective team that brings a wealth of experience to the business. I wouldn't have it any other way."
Another way of attaining that healthy work-life balance comes from home working. Not every company will entertain it, but those that do are rewarded with more motivated, harder working and more productive employees. Rachael works for an engineering consultancy. With four children, she's grateful that her employer allows her considerable flexibility with work. She explains, "The huge benefit for me is that I'm pretty much a home worker. I work part-time hours and occasionally go into the office. But as a working parent, I'm able to see my kids every day and fit the school run into my working day. That flexibility saves me a three and a half hour daily commute, probably £400 in train fares a month and allows me to occasionally work with the kids home from school for half days and sickness and so on. I'm always thankful for that." It's perhaps no wonder that she's been with her company for 18 years.
Some people do really live to work, but most of us - even those that run our own businesses - truly prefer to work to live. And we need to balance work life and home life and keep them in harmony.
A free company car? Six months' paid leave? Home-working? What perks or working conditions would give you the perfect balance?
Back to blog