At a time where a positive external perception of businesses is crucial in attracting & hiring new recruits, it's never been more vital to examine the identity of your organisation – and how people perceive what you're offering as an employer.Reviewing the perception of your business and what your organisation is offering will pay dividends in the long run.
In this blog we examine what employee value proposition (EVP) means for your SME, and how you can create a great EVP for your business.
What does employee value proposition (EVP) mean?
Your employee value proposition consists of what you're offering to your employees, in return for the unique skills they contribute to your business.
EVP is the cumulative package of what you're offering to current and prospective employees.
Your employee value proposition can comprise of how well you pay, the flexibility you offer, wellbeing support and the quality of training or development opportunities that you offer as a business.
This links to your overall employer brand, in terms of how people view your organisation – such as when they apply for a job with you.
Examples of employee value proposition
The employee value proposition of a business is made up of the benefits and perks that you offer as an organisation. Perhaps you've got a great culture, offer flexible working or an enhanced pension scheme.
Essentially, EVP is why people apply for jobs and why they stay in their roles – it's why they're motivated or proud to work somewhere.
It's also why people might leave an organisation if things go awry - or if the EVP isn't working for them anymore.
How to create a great employee value proposition
Understand the perception of your employer brand
You might have an idea of how your organisation is perceived externally, but that doesn't mean it's the same as how your business is actually viewed by your own team and potential applicants.
You could start internally by asking employees to complete a survey. Don't be afraid to dig deep and ask why do they work for your business - really? What do they value most about their job? What's unique about it? You could even ask why they applied for their role in the first place – this question works well as part of any recruitment questionnaires.
If anyone decides to move on, conduct a thorough and honest exit interview. Try and get to the root of why your employee is leaving, and what their next venture offers that you currently don't. You could also ask for employee testimonials (and display these on your website).
Review your current EVP
Once you've collated this invaluable information, you can analyse your findings.
Now's the time to work out whether your EVP aligns with your company values. Does the information you've collected align with the initial strategy for the business, or where you want it to go?
If it doesn't quite, (or you received some answers that surprised you at the survey stage) you can go back to the drawing board to work on it, along with defining what your business is saying about itself.
It's a good idea to assemble a team including employees from across the business to get together and agree on your EVP.
Make sure your employee value proposition is realistic, though. Whilst you want the message to inspire people to work (and continue to work) for your business, you'll need to ensure it's an accurate reflection of your business today – not what you want it to look like in 5 years.
If necessary, you could conduct a salary benchmarking exercise at this stage. Now may be the time to review the existing benefits you offer your employees – particularly if this comes up in feedback.
In today's difficult recruitment market, you'll want to ensure that your organisation is staying competitive.
Communicating your employee value proposition
Once you've got your updated EVP nailed and the team are happy, you can get to work on communicating your updated message. This can be displayed via your website & social channels. You can also update your recruitment process if you need to. If you've added or updated any company benefits, now's the time to share the great news with your staff.
Making sure your team are on board with your EVP is crucial, as like culture, your employees are where your employee value proposition really lives. If your people believe and find true value in your EVP, then your job (in this case) is nearly done.
Safely store details of company benefits within Breathe's cloud-based software. Why not take out a free 14-day trial today?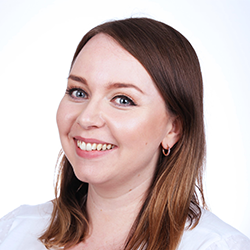 Author: Aimee Brougham-Chandler
Aimee is a Content Assistant here at Breathe. She enjoys writing about topical HR issues & helping readers find solutions. In her spare time, she is commonly found amongst books.
Posted on 6 May, 2022
Employee Engagement
Back to listing