With employee retention challenging many organisations over the past few years, job design has arguably never been more important. Creating the right role in the right area of the business and duties that fulfil a direct business need is crucial.
In this blog we'll cover what job design is, why it's important and offer a few strategies SMEs might want to consider when designing a role.
What is job design?
Job design is the process of deciding what exact duties an employee will undertake within a job role, as well as how the role will fit within the wider organisation.
According to the CIPD, job design "includes deciding on the duties and responsibilities of the job holder, the way the job is done, as well as what support and resources the job holder needs".
Why is good job design important?
Employee engagement
Well-designed jobs (and the right people undertaking the roles) should mean that employees are effective, productive, engaged, and happy.
As we know, employees that are engaged with their role and find their work fulfilling have higher levels of job satisfaction. This not only means their motivation levels are higher, but that they're more likely to produce a good standard of work, too.
Balancing workload
Making sure workloads are sustainable is essential – and can be a hard balance to strike. Every employer wants their staff to have a manageable workload. Too much work fosters a poor culture, can lead to burnout, stress, exhaustion and potentially even mental health issues.
Alternatively, the other end of the spectrum is too little work to fill the employee's allotted time. This would result in valuable business time being wasted and the employee is likely to be bored, with decreasing interest in their job role.
Both too much and too little work cause issues in the workplace, so it's vital that you try and strike a healthy balance. Evaluating how much work can feasibly be done within a job role (as accurately as you can) will help to make workloads sustainable in the long run.
Of course, it's also important to remember that everyone works at a different pace – after all, we're only human.
Employee retention
Ultimately, team members that enjoy their jobs, feel like they're producing valuable work and can see how their role fits within the broader goals of the organisation are likely to stick around.
Providing the right balance of creativity within job roles, autonomy to fulfil duties and achieve results within the working day are vital things to consider in job design.
Offering flexible working policies are another must-have for the post-pandemic workplace. A study by Morgan McKinley revealed that an astonishing 71% of UK professionals would consider leaving an organisation if they didn't provide their preferred flexible working options.
Job design strategies
Evaluate your company goals
What teams lack capacity or require a potentially new position to help you achieve where you want to be as a business? Where should the new role fit within the organisation?
Are there any areas that you feel could be expanded, or any teams that are struggling with their workload? Considering the needs of the business is often a good place to start.
Work with line managers
Consider what kind of role the team needs to help achieve their goals and meet deadlines – managers within your organisation will be able to help with this, so why not chat it through?
When designing a job, consider what duties would assist the team (and whether these responsibilities are sustainable and interesting enough to attract the right candidates).
The individual role
Does the job you're designing allow for potential growth and development for the person who fills the role? Will the employee be engaged, motivated and productive? You'll want to create a role that someone is happy to do and wants to stay in. We know that high levels of employee turnover costs SMEs and the cost of re-recruiting is best avoided if possible.
Further resources
CIPD offer a helpful factsheet on the principles of job design and the role of job analysis.
Our partner network of HR consultants can provide professional advice to SMEs on designing job roles that are right for your business.
Helping SMEs to streamline recruitment
Whether you're designing a job or have a specification drawn up and need to recruit candidates for your vacancy, Breathe can help.
Breathe's recruitment tool can help you manage vacancies by receiving applications directly, shortlisting applicants, scheduling interviews, and hiring candidates – whilst keeping all relevant documents in one place.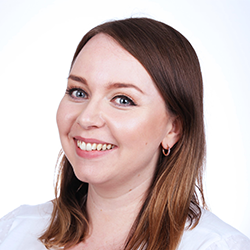 Author: Aimée Brougham-Chandler
Aimée is a Content Assistant here at Breathe. She enjoys writing about topical HR issues & helping readers find solutions. In her spare time, she's commonly found amongst books.
Posted on 17 August, 2023
in Performance and productivity
Performance and productivity
Back to listing