We know that meeting business goals and rolling out company-wide objectives can be a struggle. Research revealed that just 5% of small businesses realised their business objectives, with 65% saying they achieved half of their company goals.
In this blog, we'll cover what an OKR is, along with how this measurable method of objective-setting can help your SME to boost productivity & meet company goals.
What is an OKR?
OKR stands for objectives and key results.
In a nutshell, the objectives are what your organisation wants to achieve.
The key results part relates to how progress will be measured – the milestones.
Each objective could contain a few key results that will help break down the task of the objective into smaller steps.
Where did OKRs come from?
The concept of OKRs (objectives and key results) is a performance management metric credited to former CEO of Intel, Andy Grove.
An early Google investor called John Doerr worked with Grove at Intel and in 2000, introduced Google to the value of OKRs.
Along with Google, OKRs have been adopted into the performance management models of businesses such as Adobe, Microsoft and LinkedIn.
But it's not just big corporations that benefit from using objectives and key results – OKRs can be easily applied within SMEs, too.
How to score OKRs
One of the initial founders of the OKR performance metric system, Google scores OKRs according to a scale that means achieving 1.0 of an objective means it's been completed – but this isn't actually the overall aim of using objectives and key results.
According to Google, if you've managed to complete your objective, it wasn't ambitious enough in the first place and perhaps you need to think bigger next time.
Achieving 60-70% progress (0.6 to 0.7 on the OKR grading scale) on an objective is enough of an achievement to view the work as successful.
How using OKRs can help SMEs
You might be wondering how something that works for Microsoft and Google can be of equal benefit to an SME organisation, but trust us – it can.
Here are just a few ways that using OKRs can benefit SMEs:
Regularly track progress
OKRs are designed to have smaller, stepping-stone-like measurables assigned to them.
With this, progress can (and ideally should) be discussed frequently, breaking down larger tasks into work that's easier to implement and move forward with.
This keeps employees accountable and focussed – and stops any bumps in the road from becoming an issue later.
Organisational alignment
Using objectives and key results allows team members to view the 'big picture' of organisational strategy – meaning everyone is on the same page and can see exactly how their efforts contribute to the overarching company goals.
Employees that can understand business strategy (as well as how you'll measure it) are more likely to be engaged with their work & objectives.
Productivity
Concentrating the efforts of a smaller business where they matter most can boost productivity levels and even inspire faster rates of growth.
Do you ever feel like you're working on multiple different projects and not seeing the progress you'd really like on any of them?
OKRs provide smaller businesses with a clear view of the organisational strategy (and everyone can see where they fit in).
Implementing OKRs
First, your organisation needs to decide on what exactly you want to work towards and what your measurable key results will be. You'll then need to explain the OKR framework to your team, along with what this means for your business.
OKRs should ideally be made visible to all teams, so that everyone has clarity on what everyone else is working towards. (OKRs aren't designed as an individual performance metric as such, but focus on how everyone can work towards company goals within their own roles).
You can recognise achievements, promote growth & drive productivity with Breathe's performance management system.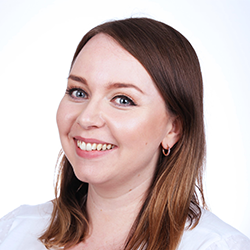 Author: Aimée Brougham-Chandler
Aimée is a Content Assistant here at Breathe. She enjoys writing about topical HR issues & helping readers find solutions. In her spare time, she's commonly found amongst books.
Posted on 8 April, 2022
in Performance and productivity
Performance and productivity
Back to listing