At #9 on the Top 25 SME Culture Leaders list 2019, User Conversion know a thing or two about how to create a company culture that works for small business.
From 1-2-1s and team coaching free-for-alls, User Conversion are helping their employees develop resilience, emotional intelligence and a healthier work-life balance through flexible working.
Head of Operations, Beth Lang, tells us more.
Who is User Conversion?
User Conversion is conversion-rate optimisation agency based in Manchester. Established in 2014, we're a team of 30 - each one a specialist in their respective field of CRO.
Why do you think company culture is so important?
From day one, User Conversion has been built on the belief that we can have the biggest impact when we work together.
We work closely with our clients to truly understand their business challenges. Our team combine this knowledge with their individual specialisms and work together to come up with the most innovative, creative and impactful solutions.
It's this intrinsic belief which made preserving our culture through growth so important to us, this way of working is what sets us apart from other agencies and it is what makes us truly impactful and valuable to our clients. If we wanted to scale and grow, keeping this culture was not just important, it was critical.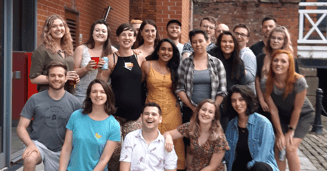 We knew we couldn't rely on our culture just naturally surviving growth. We needed to define what it was that made us, us - the values we hold dear and the behaviours we expect - so we could ensure things like hiring decisions and structural changes would all facilitate our culture flourishing.
Company culture benefits:
We went through a 12-month journey of defining our core values, associated expected behaviours, and linking all of it together in line with our vision as a business. We integrated our values and principles into all of our processes, from recruitment to performance management, and it was this that enabled us to introduce a fully flexible working policy.
By aligning our flexible working policy with our values, we were able to set really clear expectations of our team without imposing any set rules or restrictions. The team have complete autonomy over where and when they work; but it's crystal clear that these decisions should be made with our values in mind at all times.
It's not about choosing where or when to work solely based on your individual productivity, it's about making those decisions based on how you can facilitate both you and your team mates delivering the biggest impact for our clients.
What we've seen as a result is a real conscious effort from all of our team to maintain strong collaboration. By giving autonomy we've empowered our teams and encouraged them to take real ownership and accountability for the work they're producing.
People culture benefits:
The impact of this is a happier and healthier team; we've had feedback from individuals with mental health struggles about the positive impact this has had on their wellbeing, and from those with families about the reduced strain on balancing their commitments.
We've seen positive impacts on the work we're producing - happier, less stressed teams produce better work. Showing trust in our individuals to make decisions means they repay that trust with making choices that truly do benefit the work we're collectively producing.
We're not done with investing in our culture - we never will be, it's critical to our success.
Our values guide all of our decision making at every level of the business, and it's these values that drive our daily behaviours. The result of this consistent focus on culture is a happy team, who consistently produce incredible impactful work for our clients.
When you put it that way, investing in culture is a no brainer.
Author: Kayleigh Scarratt
Posted on 13 September, 2019
Company Culture
Back to listing