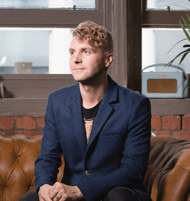 At Steamhaus, everyone feels looked after, respected and welcome.
How was that achieved? With the trust and encouragement to do things at their own pace.
MD, Daniel Foster, shares with Breathe how they earned the #12 spot on the SME Culture Leaders list 2019.
What does Steamhaus provide?
Steamhaus is a cloud and DevOps consultancy that enables businesses to leverage the power of public cloud providers, which include Amazon Web Services, Microsoft Azure, and Google Cloud Platform.
We work with tech startups, ecommerce, and digital transformation teams. We help them scale faster, freeing them up to focus on developing new features and products, and ensuring their platforms are fast, secure and robust.
When were you first established?
October 2015.
How many people do you employ?
15 — the majority are in the tech team.
Why do you think company culture is so important?
The culture you employ in a business is your identity, it's what attracts – and keeps – top talent. It's reflected whenever any team member communicates with customers, or those outside of the business.
It's great producing world-class infrastructure, but it's even better knowing that everyone in the team feels looked after, respected, and welcome.
How have your people benefited from your company's culture?
They've benefited in numerous ways. Everyone is afforded a level of flexibility that you rarely see outside of Silicon Valley—whether that means leaving early every day to pick the kids up from school, or being able to get a mid-morning haircut, the freedom is there. Even if it's just spending an hour playing video games or sitting with a coffee, everyone is encouraged to do things at their own pace.
How has your business benefited from your focus on culture?
Happy people produce fantastic work, and our customers will agree that we consistently produce results that can't be argued with, as Jeff from Regatta explains:
"Last Black Friday, the site was down for 4 hours... This Black Friday I was in the pub at 3PM because things were going so well."
What would you say to other businesses leaders who are rethinking their culture strategy?
Making sure you have everyone's buy-in is so important. Putting in a slide or a pool table that can only be used at lunchtime simply isn't good enough nowadays.
If you hire mature, talented people, they can deal with having more freedom. Let people manage their own time and the work takes care of itself.
Author: Kayleigh Scarratt
Posted on 18 October, 2019
Company Culture
Back to listing