At the beginning of May 2021, we launched our second Culture Leaders List Awards. As a company which actively promotes the benefits of creating positive, supportive company cultures which truly put people first, we wanted to hear the stories of like-minded businesses which have gone the extra-mile in terms of supporting their employees throughout the pandemic and making their wellbeing an absolute priority.
We received 150 entries from small businesses, and the standard was incredible. We were truly humbled by many of the nominations we received which were case studies in how to get culture right during a difficult time full of challenges, the likes of which most of us have not experienced in our lifetimes.
Our panel of 6 judges – all business leaders with a shared commitment to positive company cultures – was chaired by Breathe's Marketing Director, Rachel King. Given the high standard of the entries, the judges faced no easy task. The margins between the quality of the top five entries our judges felt best demonstrated cultural excellence were paper-thin but in the end, they agreed a winner: The Key Safe Company.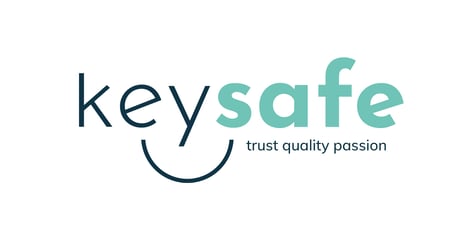 In a recent post, Rachel announced the top 25 companies which she and the judges consider to best exemplify company culture excellence, in addition to our judging criteria.
A family orientated company culture
Measuring employee engagement levels
Employee wellbeing: physical and mental health support
Ongoing learning and development
Becoming an accredited Living Wage Employer
Using Breathe to share recognition and praise
A long-term, ongoing commitment to company culture
A family orientated company culture
In this post, we are telling Key Safe's story. We spoke to Francesca Lloyd and Natalie Ward who manage HR for the company about their approach to supporting their colleagues and how company's family orientated culture is based on deeply ingrained guiding values.
Francesca told us: 'Everyone is looking after one another and working together to provide high quality services. We aim to be innovative, maintain high standards and be ambitious whilst maintaining that everyone matters. Our words to live by: "building a community where people thrive, partnerships prevail and performance excels" have never been more so prevalent than the last few years and we have stood by these words by all business decisions being made with the team's health, wellbeing and safety at the forefront of our minds.'
'The last couple of years have been extremely difficult for everyone in one way or another and as we recognised this, we found it was highly important to release pressure on our team and provide extra support to all. We have been keen to promote a more social aspect of working life while so many of our team were stuck at home not able to socialise as wanted. This included creating a company-wide team chat for everyone to have a bit of a laugh and disconnect from work throughout the day.'
'On top of this we have ensured we put no pressure on anyone to come back into the office to work if they didn't want to and set up rotas for those who did want to return to introduce some normality into life while still having everyone's safety and general wellbeing at the forefront of our minds.'
Ensuring employee safety
When it was safe to do so the company allowed team members who wanted to, to return to the office. Before allowing a return to work, thorough Covid secure risk assessments were completed and continue to be reviewed and updated. All members of the team have a say in order to ensure the company cover all areas of concern. When and where the company is able to accommodate suggestions, they do their best to do so.
Natalie says: 'Regarded as key workers in the health & social care supply chain, it was paramount that we split the office team into two groups on assigned fortnightly rotas to significantly reduce infection rates. As previously mentioned, this rota system was voluntary and if someone didn't want to come into the office yet that was completely fine, and they were told to move at their own pace. This could include coming in for a few days in the fortnightly rota or remaining working from home until they felt completely comfortable to come in.'
For employees who weren't able to complete their work from home, such as warehouse operatives, in depth risk assessments were carried out again to ensure their safety.
Francesca comments: 'Another small gesture that we found important was to still decorate the office for special occasions such as Christmas; this may seem insignificant to some, but we found it helped maintain a sense of normality in uncertain and unsettling times.'
Boosting employee morale
In the early stage of the pandemic, The Key Safe Company implemented a new internal communications programme to help people stay firmly connected as they adjusted to lockdown and remote working. Francesca and Natalie introduced 'Conversation Street'- a group chat where people were encouraged to have non-work-related chats to ensure the social aspect of working together, albeit at a distance, was very much still in place.
Natalie says: 'Fun themed weekly wellbeing calls were also important for keeping morale high and de-stress at the end of busy weeks. The company's annual conference was moved online and it included awards to recognise people's achievements. Goodie bags were sent to all employees to celebrate remotely.'
She continues: 'All home-working members of the team were provided with equipment to help work safely and comfortably. Equipment included things like lumbar support chairs, desk stands, extra computer monitors, headphones and mobile phones, all with a view of helping people to communicate better with each other.'
Measuring employee engagement levels
The company has conducted regular surveys which have been completed by all team members throughout the pandemic to find out how theywere feeling,in particular, to assess feelings about a potential return to the workplace once restrictions were lifted.
The formation of a steering group with representatives from each department helps the business understand what team members needed from the company rather than what the company needs from the team.
Employee wellbeing: physical and mental health support
Surveys have also played an important part in the company's efforts to support people in terms of their wellbeing and ensuring their safety.
Francesca says: 'One survey was used to identify how everyone was feeling. Changes were made and new measures introduced to ease pressure and stress. Following the success of these surveys we are now implementing frequent pulse surveys to check in on all team members and identify if there is anything we can do to improve their wellbeing.'
Weekly calls, quarterly online conferences and the virtual annual business conference were all key to keeping people communicating and connected. A new buddying system was introduced early on to provide people with colleagues they could talk to that were not their managers. This has benefitted people during periods of the lockdown when they may have been feeling isolated.
Regular care packages have been sent to all team members' home addresses throughout the crisis to boost morale and ensure everyone feels included while not being able to physically see one another. These included First lockdown, Easter gifts, Christmas boxes and conference boxes. This gesture was very well received and has injected a bit of fun into day-to-day life.
Francesca says: 'We also found it highly important to talk with all members of the team to let them know we encourage them to take breaks throughout the day, especially when working from home, even to go for a short walk, to disconnect from work which can be so difficult when your work is at home.'
'On top of this we have been very keen to promote employee wellbeing and mental health using our team chat and news page by sending daily quotes and posting information such as contact details for help lines and posters and videos on how to boost wellbeing, these including the wellness wheel, '10 ways to look after your mental health' and daily exercises to while sat at your desk.'
Ongoing learning and development
The Key Safe Company is committed to employee development and although they have faced the challenges of ensuring that training continues to take place during the crisis, they have made effort to ensure it is available.
Natalie comments: 'We do currently have three members of the team that are completing higher education and professional courses supported by the company. They are provided with paid leave for exams and if they need some focused time on their coursework, we provide this too.'
Becoming an accredited Living Wage Employer
In May 2021, The Key Safe Company became an accredited Living Wage Employer. This voluntary commitment means that every member of staff directly employed or third party contracted by the us will earn at least the real Living Wage in appreciation of their hard work and efforts.
Calculated by the Living Wage Foundation, the real Living Wage is higher than the government's set minimum or National Living Wage and is based on the actual cost of living, allowing people to live better lives. The Key Safe Company is now one of a community of 7,000 like-minded businesses in the UK which are accredited Living Wage employers.
The team feel so strongly about the issue that the company takes active steps to ensure that all suppliers and contractors are also paying at least the living wage.
Using Breathe to share recognition and praise
Every team member has access to Breathe which they have used since December 2020. The system was adopted to make it easier to record and share details of holidays, sick days and expenses across a mostly dispersed team working at home during the pandemic.
Natalie explains: 'Breathe has been key to effective internal communications and the company has made full use of the system's kudos features which enable people to share praise and recognition of each other's achievements. This, alongside the ability to celebrate things like the completion of training, work anniversaries and birthdays has been key to boosting morale during such a tough time.'
'All team members have also received full training on how to use new systems we have brought in such as Breathe to ensure they are able to utilise it to its fullest.'
A long-term, ongoing commitment to company culture
Although national restrictions are now being lifted, for Natalie, Francesca and the wider team at The Key Safe Company the continued support for all employees remains a high priority and something which is embedded in the company's culture.
More people are coming back to the office – although they are under no pressure to so - and regular surveys will be used to gauge how people are feeling about the return to work. Many people are combining home-working with a gradual return to the workplace.
The pandemic was undoubtedly a challenge but The Key Safe Company's culture which has been in place since the business was formed 25 years ago has enabled the company to react, adapt and thrive. The company have now also managed to reschedule its 25th anniversary celebrations and look forward to bringing together a happy, engaged and motivated group of people. It promises to be an amazing celebration of what they have achieved together and a very bright future ahead.
Natalie concludes: 'It really is a testament to the dedicated group of people here at The Key Safe Company that we are in the position we are today. I would like to take this opportunity to publically thank them for their fortitude, patience, resilience and passion. I would also like to congratulate all the other companies who submitted entries to the Breathe Top 25 Culture Leader Awards and thank the organisers for this special recognition".
Posted on 13 August, 2021
By Nick Hardy
Company Culture
Back to listing