This is the second in a series of articles that tell the amazing and inspiring stories of small businesses named as winners of Breathe's 2021 Culture Leaders' List Awards. Today, we are talking about Novos, a multi-award-winning startup that was awarded a top-five place on our list having brilliantly demonstrated its commitment to people since the company was founded in 2019 in a nomination that described the steps taken to support employees through the pandemic.

Novos were one of 150 entries from small businesses that were nominated for the Culture Leaders' List Awards. Our panel of judges – leading experts in company culture, business management and organisational psychology – was chaired by Breathe's Marketing Director, Rachel King who originally launched the awards in 2019.
Judging the entries was no small undertaking. The standard of entries was extremely high and many of the accounts we received underlined how important employee happiness, wellbeing and motivation has been and how culture has brought people closer together, despite often working remotely.
A huge congratulations to everyone at Novos and to the team responsible for making culture a living breathing thing that was key to helping people through the crisis and some dark times.
Company culture in action - putting people first
Wellbeing priorities: mental, emotional, and physical health
Living through lockdown: measures introduced to support people
Keeping people safe, motivated and engaged during lockdown
Ongoing learning and development
About Novos
Novos is a multi-award-winning eCommerce SEO startup that specialises in driving growth for eCommerce brands via organic search, digital PR and content.
The company is based in Aldgate, central London and now employs 35 people.
Despite being in business for just over 2 years, the company has worked with over 150+ global eCommerce brands, helping them generate more than £100m in organic revenue.
Novos was founder by ex-agency workers, Samuel Hurley and Antonio Wedral, both of whom had been victims of negative work cultures in the past.
Building a healthy company culture has been a high priority since the company made its first hire in 2019. Novos is proud of its 'culture-first' workplace where employee happiness takes precedence. . Failures are celebrated as learning lessons and employee mental wellbeing takes centre-stage in company policy frameworks.
We recently spoke to Olivia Royce, Head of Operations and Kriti Spinoff, Marketing & Communications Manager about Novos' win and what it means to the company. Olivia leads Novos' internal Culture Club whose energy, commitment and dedication have been key to overcoming the challenges of the pandemic and now coming back even stronger.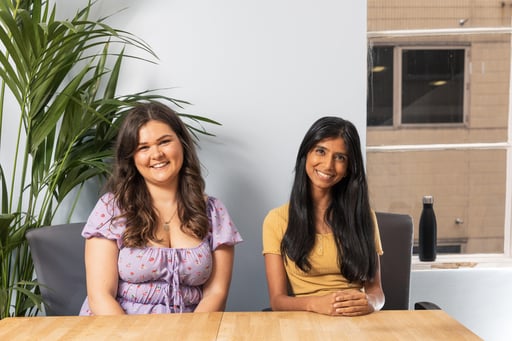 Company culture in action - putting people first
Olivia told us: "Our founders, Sam and Antonio, have always prioritized building a healthy company culture from day one. The company's mission is 'The agency strives to be a vehicle for the growth of its clients and the personal growth of the team'. We take a holistic approach to the team's growth which we work towards via a number of initiatives.
"We're dedicated to professional growth and we have a comprehensive training schedule in place to ensure that our all team members are continuously learning relevant new skills and developing expertise in their field. With a combination of external courses, professional certifications and weekly in-house training sessions on offer, no one gets left behind."
"We have a company-wide upskill day every month when our team pauses their work and focuses on their professional development. As a result, we have been able to nurture and promote our existing team to leadership positions instead of hiring externally. We also offer performance-based bonuses quarterly, based on a person's KPIs being met. "
Wellbeing priorities: mental, emotional, and physical health
Kriti explained the measures the company has taken to support everyone and which have been central to ensuring their wellbeing throughout the two lockdown and periods spent working remotely and sometimes, in isolation:
"Mental health comes first at Novos! With a trained mental health first aider, Simon Rodgers, on board to provide counselling, our team feels well supported. We encourage our team to regularly check-in with their mental and emotional state using the 'wheel of feelings', a resource developed to help people self-assess and then request help if it is required."
"We also provided dedicated 'self-care' days. This is paid time off to look after one's mental health. This is on top of unlimited holidays that people can take any time to ensure a great work-life balance. We also offer Yoga and meditation classes and a free subscription to mental health apps and counselling."
With healthy minds living in healthy bodies, physical health is also a strong priority. Kriti says:
"Novos has an official 'Head of Fitness' - a certified Personal Trainer, who runs 1-1 tailored PT sessions for our team online. Our performance reviews, particularly the annual ones, allow employees to set personal, as well as professional goals which can keep them accountable. This can be literally anything from training to run a marathon, to making a promise to yourself to move your body on a weekly basis. As a result, we like to think that our team are helping themselves take regular breaks from work and increasing their physical health.
Living through lockdown: measures introduced to support people
At the beginning of the crisis and in the early days of the first lockdown, Novos' leadership and culture teams very quickly established new measures to help support people as they adjusted to new ways of working.
Olivia told us: "As some of Novos' team members are parents, lockdown has been particularly difficult for them as they have had to manage child care and home-schooling alongside their paid work. After conducting detailed discussions with them to understand their challenges, we made personalised changes to their working schedule to ensure they were meeting the needs from their home life, as well as work. This has always been the way at NOVOS anyway - need to leave early for a train home? Totally fine. Want to take an extended lunch break so you can get that gym class in? Go for it! It made sense to actively promote and offer support to anyone who needed it when the pandemic hit."
New measures introduced during the pandemic for employees with and without children include:
Providing a working from home allowance where team members were paid an agreed amount to ensure they have a comfortable home work-space.
Providing free Yoga, meditation and PT sessions so people don't ignore their mental or physical health.
Organising various virtual clubs such as 'Book club', 'Cooking Club', 'Dungeons & Dragons', so that people can engage with each other based on their personal interests - not only for work.
Offering flexible working hours aligned to peoples' different personal circumstances and
Reducing virtual meetings - Zoom fatigue is real! Constantly working to cut down the number of meetings each person has and blocking out an hour at midday where the team shouldn't schedule in calls.
Organising fun virtual contests such as the best outdoor pictures award to motivate the team to get out and spend time in nature.
Providing access to mental health first-aider in recognition of the toll working from home can have on people, ensuring everyone in the company is well-supported.
Organising virtual pub crawls and coupons to get discounted meals/drinks online to make up for the lost company outings
Celebrating failures as learning lessons. Novos has a dedicated slack channel called #FailFriday where the team is encouraged to publicly post things that didn't work and what they learned from the experience.
Keeping people safe, motivated and engaged during lockdown
Olivia told us: "In accordance with the Government guidelines, all employees were asked to work from home to ensure their safety. However, whenever our staff reported that they wanted an alternative space to work for whatever reason, we invested in monthly pay as you go memberships at a coworking group which have spaces across London.
"Also, as the rules have been relaxed and some of Novos' team began visiting the office again, workplace safety was maintained by ensuring regular lateral flow tests, rigorous sanitisation and maintaining social distancing regulations. Our HR Consultant, Simon created very throrough back to the office guides for the team, and we have asked the entire agency regularly for any feedback or thoughts on returning to the office through votes and feedback forms as well as in our agency meetings.
Measuring employee engagement
Kriti explained: "With the lockdown well underway came the challenge of implementing measures to address employee engagement remotely and this was made a very high priority. This was achieved using a combination of surveys (detailed annual surveys and pulse surveys), engagement on slack channels and employee recognition on our HR platform."
"We also run a monthly 'Think Tank', where we pair people up to brainstorm across a range of themes. This can be anything from improving client happiness, internal culture, external marketing and even dream clients! Every idea is read through by the Senior Leadership team and many measures and thoughts have been implemented as a direct result. All employees are personally involved in driving the company forward and we hope this helps fuel motivation and engagement."
Novos also work with employee engagement tool, The Happiness Index. Once a week, all team members fill in an anonymous pulse survey where they share their happiness level and any factors which are affecting this. Based on this, the company and create a happiness score overall and take actions based on the data.
Novos was recently awarded 'Great Place to Work Certification' following an in-depth survey conducted to find out what team members thought about the company. Novos achieved a trust index score of 100%!
Novos set up Slack channels to run fun contests such as 'Whose flat this is' 'Guess the baby' to get the entire team involved and laughing alongside interest-based hobby-related channels. This is another measure that has driven engagement and helping people bond during difficult times.
Olivia says: "Everyone at Novos recognises each other's work via a dedicated platform and credits them for the wonderful work that they have done."
Ongoing learning and development
"Novos' assesses team members' training, learning and development needs via 360-degree performance review. These are met via at least 40 internal training sessions which take place each year. The company also has a dedicated budget to undertake external professional courses and also runs a company-wide upskill day. All training sessions are logged in employ records which are held in Breathe." Kriti says.
New beginnings
With the lifting of restrictions underway, the team at Novos are looking forward to returning to the workplace and spending time with each other. Although the many measures taken to support people throughout the pandemic remain in place including flexible working, the freedom delivered by people being able to gather again has sparked renewed purpose and enthusiasm.
Some new starters at Novos who joined the company during the lockdown may only have met once or twice and now they are able to meet and socialise. So, what better opportunity for a party? In August 2021, the team organised a proper office party to celebrate news beginnings and everything they have achieved. Hopefully, this will be the first of many to come.
Posted on 10 September, 2021
By Nick Hardy
Company Culture
Back to listing