Taking a practical approach to reducing stress levels in the workplace
Recent Health & Safety Executive research revealed that in 2019/20, stress, depression or anxiety were responsible for 51% of all work-related ill health and 55% of all working days lost due to health issues in Great Britain.
Breathe own's research, conducted in January this year, and reported in our 2021 Culture Economy Report, indicates that 68% of SME business leaders have seen an increase in mental health issues amongst their teams since the beginning of the pandemic.
To help business leaders support their team members and look after their own mental health, we recently held a webinar focusing on stress management which was co-hosted by Ches Moulton- a leading expert in this area - alongside Sophie Forrest from Forrest Health and Wellbeing.
In the webinar, Ches, Sophie and Breathe's CEO, Jonathan Richards discussed the scale of the problem and a practical approach to reducing stress levels in the workplace. We also carried out a poll to find out how our webinar attendees are feeling now compared to this time last year, when we were in the middle of the pandemic.
The 3Ms of understanding stress
What is the current scale of the workplace stress crisis in the UK?
How to get more and better sleep
A definition of stress
Ches began the webinar by defining stress, pointing out that it is our inbuilt survival mechanism which, in extreme cases, is literally there to save our lives. He provided an example of a jungle trekking party in India unexpectedly encountering a tiger. The instinct for survival triggers positive stress where each person's blood begins to flow faster and chemicals are released in their brains as they enter fight flight or freeze mode and decide, very quickly, what they need to do next.
This is an example of a positive stress system. There is, at the other end of the scale, a negative stress system which can be damaging mentally, emotionally and physically. This can sap people's strength and wear them out. In extreme cases it can cause anxiety and depression to the point where someone may be unable to function and require time off work or adjustments to be made to accommodate their needs (e.g. reduced working hours or workload adjustments).
It is this type of stress that needs to be managed effectively, to reduce the risk of the serious damage which effects people and as a result, the organisations to which they belong.
The 3Ms of understanding stress
Ches explained the 3Ms of understanding stress, whereby it is not inherently a Medical or Mental health issue but something that needs to be thought about in terms of proper Management.
Businesses can do much to help employee who are suffering from negative stress but much of this need to centre around helping people build their resilience and develop their ability to self-manage. This isn't to say that people suffering from problems are left to fend for themselves – far from it – but there needs to be an acceptance that effective self-management holds at least some of the keys to a better quality of life.
People think, feel and behave (proactively and reactively) in response to people, places and things that occur which combine to become challenges which may trigger negative stress levels. The way that individuals can train themselves to deal with the symptoms is important as other people can't manage them on their behalf.
Medical and psychiatric intervention is key for some people but helping them develop their own resilience can help reduce the likelihood of developing severe symptoms (e.g. anxiety and depression) where professional help is required.
The 4 negative stressors
Ches suggested breaking down analysis of stress management into the four following areas:
Time related stress

. Although time is fixed and we are unable to do anything about this, we can learn techniques for managing ourselves within the boundaries of the time we have available. Overstretching ourselves and trying to do to much within the time we have available is highly conducive to negative stress.

Anticipatory stress

. This is common in people who worry about the future and negative outcomes which result from their actions and decisions. These people need to be encouraged to think about the other side of the coin and the positives which are likely to result from their performance and behaviour.

Situational stress

. This is found in people who doubt their own ability to take control of circumstances and situations as the result of a lack in self-confidence. Employers can help by thinking about what these people need to raise their confidence levels and planning a course of action accordingly.

Social encounter related stress

. This is most typical in people who are nervous or anxious about their ability to work with others and as a result, are sometimes too frightened to act. For these people, help with improving their social skills (assertiveness or negotiation training, for example) and this is something which is widely available.
For some companies with their own in-house HR resources, developing a program for helping people suffering from one or more of the four stressors is realistic and achievable. Other businesses may need to look for help from third-party specialists like Ches and Sophie and this may require some investment.
But in the context of the damage caused to people and their productivity, and the high cost to businesses as a direct result of poorly managed stress, establishing and financing mental health support and development programmes could pay for itself many times over.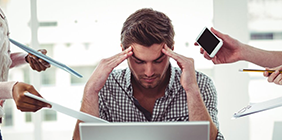 What is the current scale of the workplace stress crisis in the UK?
Ches and Sophie have undertaken research to assess the scale and prevalence workplace stress and they shared the following statistics with us:
Mental ill health remains the most common cause of long-term worker absence with 59% of UK organisations. (Source: Health and well-being at work, CIPD March 2020)
828,000 workers suffer from work-related stress, depression or anxiety, with women between the ages of 25 – 44 found to be significantly more affected than men in the same range. (Source: Work-related stress, anxiety or depression statistics in Great Britain, HSE Nov 2020)
89% of UK organisations reported an increase in presenteeism, where workers continued their roles despite being unwell, which has been a main factor in costing UK employers up to £45 billion each year. (Source: Health and well-being at work, CIPD Mar 2020)
Only 11% of companies offer stress management or resilience training to their workers, while a further 12% currently have no available measures in place at all. (Source: The 2020 UK workplace stress survey, Perkbox)
Our webinar poll findings
The results of the poll we ran during the webinar correlated closely with Ches' and Sophie's findings. Of the 108 people who responded to the poll, 92 said they have suffered from workplace stress in the last 12 months. 56 have suffered from family related stress and 35 with relationship related stress.
Of those webinar attendees who responded to the poll, 91 identified as female and 28 cited balancing duties of care as being one of the most significant contributors to negative stress levels, perhaps underlining the HSE's finding that women are more adversely affected than men.
The damage to people and the organisations they work for as a result of stress and the scale of the problem indicated by research carried out by the respective teams at Forrest Health and Wellbeing and Breathe, clearly underlines the need for businesses to take the issue more seriously, doing everything they can to help their team members help themselves.
Breathe's 2021 Culture Economy Report examines the importance of developing supporting company cultures which put people and their wellbeing first. The report includes examples of the steps employers can take to foster and maintain these cultures and what this means for business.
How to get more and better sleep
Ches talked about the fact that in his experience, one of the biggest problems which result from negative stress is disruption to sleep. Sufficient levels of uninterrupted stress are key to a person's ability to function and perform well and therefore manage their stress levels in a positive way.
Disturbed sleep achieves the very opposite and can easily become a cause of negative stress, creating a downward spiral.
Since the beginning of the pandemic and a rise in people's anxiety, insomnia has become commonplace and Ches suggested two techniques for people to try in order to help them fall asleep more easily and improve the quality of their sleep.
Technique one – focusing on physical relaxation
Lie down and close your eyes. First imagine relaxing your toes followed by your heels, ankles, calf muscles. Following these steps, continue to imagine each part of your body as you move upwards. If you find your mind wandering, return to the part of the body you were thinking about before becoming distracted. If you can't remember this, begin the exercise again.
Technique two – counting down to falling asleep
With this cognitive technique, you lie down and close your eyes. Breathe in slowly, saying 100. Breathe out slowly, saying sleep. Then repeat this step, descending down number by number from 100. If at any time you find you mind beginning to wander, that the exercise, beginning again at 100.
About Forrest Health and Wellbeing
Forrest Heath and Wellbeing is part of the Forrest Group. It sits alongside ForrestHR and Forrest Training Academy, which together offer the full suite of support, tools and guidance required to grow your business through effective and positive people management.
Posted on 4 June, 2021
By Nick Hardy
Mental Health
Back to listing