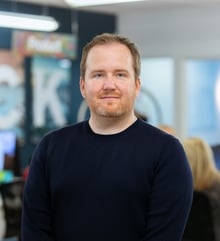 By committing to a shared sense of financial reward and awarding all employees with company share options, Upgrade Pack, are the first employee-owned tech business to place #11 in the SME Culture Leader's List 2019.
So, what does it take to be a culture leader? We spoke to Group CEO, Craig Unsworth, to find out.
What does Upgrade Pack provide?
Upgrade Pack offers exclusively-discounted upgrades on flights and hotels from around the world.
The platform gives users a live, easy-to-use tool for upgrading their travel, as well as providing banks and employers with an innovative, value-driven customer and employee reward.
When were you first established?
We were founded in June 2018.
How many people do you employ?
We currently employ 26 people and are incredibly proud of the diverse and talented team we've built.
With 17 different nationalities and a team that's over 56% female, we're pretty sure we're one of a kind in the fintech startup/scaleup space.




Why do you think company culture is so important?
A company's culture lies at the very heart of who they are, what they do and what makes them valuable.
Many companies preach culture but it ultimately begins and ends with your employees. It's them who will live and breathe your culture every day. They're also the ones who'll carry it beyond your workplace and in to the world.
How have your people benefited from your company's culture?
From day one we were determined to create an employee-centric culture at Upgrade Pack. The chief reason is to give everyone in the company a voice and help craft the product we are bringing to the world.
Our co-founders were committed to a shared sense of financial reward and within six months of being established, we awarded all employees share options in the company, making Upgrade Pack the first employee-owned tech company in the UK.
Aside from the potential financial benefit this may deliver to each employee, they also feel a far greater sense of ownership in their roles, and in turn feel more motivated in their day-to-day work.
We also have a significant focus upon employee wellness at Upgrade Pack. Like our customers, who will use our platform to spur employees to take their holiday allowance, we fully encourage our employees to take their full annual leave entitlement, and 'work from anywhere' when needed. We also strive to give back to the community, and as such give each staff member an additional two days a year to volunteer.
How has your business benefited from your focus on culture?
Our employees feel far more engaged and feel a real sense of ownership of their roles and the work they do. As a scale-up launching a market-first product, we've put our product through weeks of testing that's started with our employees. Their insights and feedback have been very influential in our product development, so every team member will in some way have helped shape the end product we bring to the market, as well as the future roadmap.
What would you say to other businesses leaders who are rethinking their culture strategy?
Put your employees at the centre of the process. An employee-centric culture ensures that people are at the heart of who you are and what you do. It also makes sure your employees actively feel more engaged, which ultimately increases productivity.
If you could describe culture in one word, what would it be?
Essential.
Author: Kayleigh Scarratt
Posted on 11 October, 2019
Company Culture
Back to listing