This blog post is part of the behind the scenes at breatheHR campaign, giving you an insight into the people and the minds behind the online HR system that simplifies and automates people management.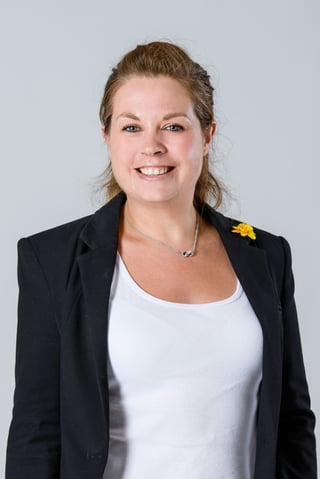 1. Tell us about the company you work for and your role there
I work for breatheHR 😊
My role is Product manager, I work within the development team and I put together the breatheHR roadmap. I spend my time listening to our customers and to the buzz in the HR world so that I can design features within breatheHR that the team believe will take the HR admin strain away from our customers.
2. What excites you most about the work you do?
My work is problem solving, I enjoy taking a problem and thinking of a solution.
I also enjoy seeing ideas 'come together' as the developers set to work.
3. What makes you happy at work?
Coffee 😊 I have a serious addiction! Seriously though, I think it's when we all pull together as a team. We can have big discussions within our team, talking though a problem and coming up with a solution, that potentially one person might not think of on their own.
4. What qualities do you look for most in an employer/company to work for?
It's really important to me that I work for a company that I feel would listen to my ideas and I could play a big part in helping them grow. I think it would have to be an SME rather than a huge company, I always prefer to be a person rather than a number. An employer that cared about their employees' own personal development as well as making money, this would be important too. Good coffee is also essential.
5. Tell us about a challenge you've faced at work and how you overcame it
I think making the move from the onboarding to the development team was a challenge for me. When I was learning the more technical side of my job Google became my best friend for a while, as tech speak can seriously sound like a different language when you've got a group of developers together! I am still trying to overcome this, but think I am getting better. Well I hope so!
6. Other than the one you work for, which other businesses are you influenced/excited by?
I definitely play close attention to a lot of SME's in the software/creative industries. Any company that can take a problem and find an awesome solution is something I really admire, Trello and Slack are two that spring to mind.
7. What would other people say is your biggest strength?
Ability to step back from a problem and look at it from all sides not just the one side being put to me.
8. What did you always want to do when you were growing up?
Argh I hate this question, I was never too sure what I wanted to be when I grew up. I dabbled with the idea of becoming a nurse, but I realised quite quickly I didn't like blood! I have had a past life as a pub manager which was quite good fun. I have always known I wanted to work with people, just took me a while to find a job that I loved!
9. What one business application/piece of software could you not live without?
For my job it would have to be Intercom. It is a great way for me to be able to communicate with all of our customers rather than just one at a time. It also allows me to find out what our customers are thinking when they are using our product which it vital to my role.
On a personal level, it would have to be Trello, it helps me organise everything in my life!
10. If you could work with one famous person who would it be and why?
Probably Mark Zuckerberg, I would love to have been in that first meeting when they were talking about the idea of Facebook, how it would work, what they thought it may achieve, and then being there to watch it take off and actually seeing the problems that they faced.