This blog post is part of the behind the scenes at breatheHR campaign, giving you an insight into the people and the minds behind the online HR system that simplifies and automates people management.
1. Tell us about the company you work for and your role there
I work as the Digital Marketing Specialist on the marketing team at breatheHR. My focus is communications and I'm the go-to for creating company emails and landing pages.
2. What excites you most about the work you do?
The variety of work – the company is constantly evolving and there's always so many new things to be trying and testing. My role also provides lots of room to be creative which is always a big plus.
3. What makes you happy at work?
The people and the environment. There's always good vibes in the office - especially at 3pm for the tea and biscuit round!!
4. What qualities do you look for most in an employer/ company to work for?
For me it's great to have lots of room for development and training opportunities. I also look for a close community and pleasant environment where you don't have to feel stressed at work.
5. Tell us about a challenge you've faced at work and how you overcame it
Sometimes I find myself overwhelmed by the work that I need to get done and it's often a challenge to know where to begin. I have found using Trello boards a good way of organising thoughts and using my regular one-to ones to find out what's top priority. We recently added weekly tasks to our business plan so that I am aware of what tasks need to be completed each week which gives me a good focus point.
6. Other than the one you work for, which other businesses are you influenced/excited by?
I really like Instant Magazine. It's a really simple tool that allows you to create visual content and publications. They always have new features that they're adding to the software and they have a lot more exciting stuff that's in the roadmap!
7. What would other people say is your biggest strength?
Tough one, maybe it's the ability to multi- task.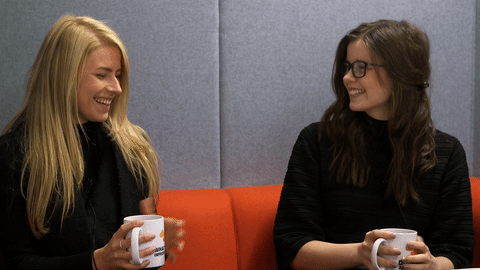 8. What did you always want to do when you were growing up?
I always wanted to work as a police dog handler, mainly because I love German Shepherds!
9. What one business application/piece of software could you not live without?
Photoshop – I tend to use it daily
10. If you could work with one famous person who would it be and why?
It would probably be Emma Roberts. She's got real passion and a positive attitude that comes across through her work life. I follow her on Instagram and her feed is full of inspiration and she throws out all sorts of great book suggestions! I think she's a great role model for young women.