It's the newest HR time-saving tool on the Breathe screen. Meet our bot – the assistant with no name.
HR consultants, SME managers and their employees are busy people. That's why we try to stay ahead of the game and are always thinking of ways to make your life easier. Giving you access to the greatest gift of all; time, we've integrated a low-level AI (artificial intelligence) system into our app.

For extra ease and control, the Breathe Assistant is a cleverly-automated bot that's designed to make your HR admin even simpler to complete. Without delving into the complicated world of algorithms and HTML-developer jargon - put simply - the Breathe Assistant works for you.
Acknowledged internally as a 'toe-dip into AI' and still very much in its infancy, we're excited to see how our newest employee develops over time. You see, each time a message is sent, the Breathe Assistant learns and takes note of your needs. Once we start to gather the data for usage, we can expand its functionality. And that's where the magic happens.
Save time with AI
It's a brand-spanking-new time-saving HR tool. Think Alexa, but for people-admin services.
Great news, both Breathe Partners and Direct clients can now automatically check holiday allowances, process leave requests and manage employee sickness thanks to Breathe's trusty helper. A chatty bot, it can hold general conversations with users, and the more its used, the more it learns, the better it becomes.
Simply click on the assistant button, which is located within the top banner on the right-hand-side of the screen and watch Breathe's Assistant pop to life in an instant chat window.


For its first task and to celebrate its birth, our Breathe Assistant (AKA the bot with no name) is offering you and your team the chance to enter our latest competition.
Competition: What's in a name?
An Amazon Echo actually. Name our Breathe Assistant and we'll automatically pop you into a prize draw to win an Echo for your office.
Friendly and completely 'e-approachable', our Breathe Assistant was designed by one of our talented developers hoping to explore the AI world. We think the bot is pretty nifty and definitely worth the introduction.
So, go on, say hello and let bot work for you.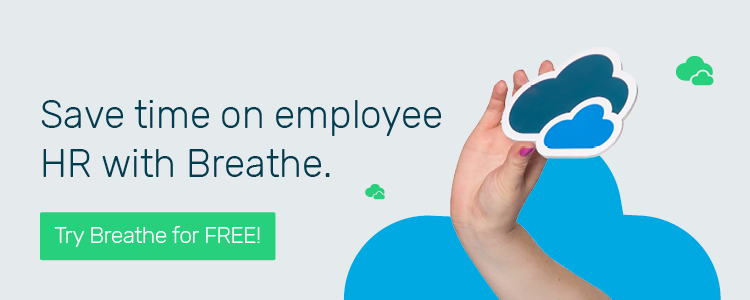 Back to blog