It's been a busy few months here at breathe, and something we've been especially excited about is this year's Snailspace campaign, in support of local hospice Martlets. Now that we're just one month away until the campaign launches, we're reflecting on what we've been up to, what's coming up and the reasons why we're taking part.
About the campaign
Following the great success of the Snowdogs by the Sea campaign in 2016, which raised an astonishing £310,000 for Martlets, this year another exciting art installation is going to be landing on the streets of Brighton. But this time, the canines will be swapped out for a slightly different creature.
In just a few weeks, fifty bright and beautiful snail sculptures will take to the south-coast city to form an extensive exhibition that promises to deliver character, diversity and a mix of vibrant colours.
The exhibition goes hand-in-hand with the #BeMoreSnail campaign, which aims to encourage people to slow down, be mindful and to make a conscious effort to appreciate the moments a little more.
Earlier on in the year, each snail received sponsorship from a company local to the Brighton area, who have since browsed the designs of the 300 artists that submitted, and chosen their favourite to transform their snail into a masterpiece. And breathe is proud to have jumped on board the Snailway and be participating as one of the fifty sponsors.
Why are breathe taking part?
Our research shows that poor company culture is costing the UK economy £23 billion every year. Despite this, a staggering 60% of small businesses across the UK believe that company culture is something that's 'nice to have' – and these attitudes are resulting in negative working environments. This isn't just a business issue, though – it's having much bigger knock-on effects.
Toxic workplace cultures are leading to mental health issues and not to mention employee burn-out, and in the UK we have a serious problem with working longer hours. A large number of us are oblivious to the issues that overworking can cause, and therefore power through the long, tiresome days, whilst our health can be taking a real hit.
It falls on business owners and managers to decide what culture to provide for their employees. Opportunities for improvement can be identified and business norms re-written.
"Culture isn't a soft option.", says Jonathan Richards, CEO here at breathe, "It has a clear impact not just on business success, but on the economy and our society. And being involved with this year's Snailspace campaign is the perfect opportunity to show small businesses just how important it is."
Therefore, the Snailspace campaign is a great opportunity for us at breathe to highlight these issues and encourage small businesses to slow down and #BeMoreSnail.
Our chosen artist
As snail sponsors, we were to choose one artist from the 300 that submitted their designs, and following our recent artist announcement we are delighted to say that we selected talented local artist, Mister Phil, to transform our snail into a bright and unique piece of art.
Although choosing from 300 brilliant artists seems like a very challenging task, this decision was in fact a very easy one.
"At the design selection event, Mister Phil's was the first design that we picked out." Explains Rachel King, marketing director here at breathe. "I especially loved how detailed the design is, and we hope it will encourage everyone who passes our snail on the streets of Brighton to stop, take a look, and really study everything that Mister Phil has created. Every time I look at it I see something new and that's what is so enchanting about Phil's work."
Mister Phil has been working tirelessly behind the scenes, and we are astounded at how quickly he has made progress with our snail – and what a phenomenal job he's done! Here is a sneak-peak of the finished design: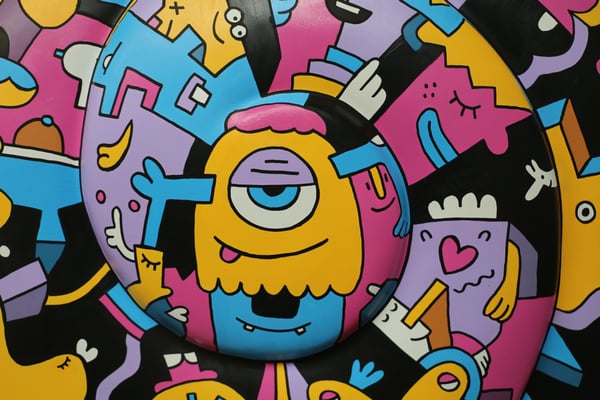 The message that Mister Phil portrays through his design not only resonates with the #BeMoreSnail campaign, but also with our own company culture and values here at breathe, so we're looking forward to sharing this message when the snail is exhibited in September on the streets of busy Brighton.
The snails hit the streets
Now that our snail is completed and ready to be shown off in a month's time, we're keen to promote the #BeMoreSnail campaign as much as possible and encourage people to slow down.
Part of the installation includes an exciting App Reward scheme. Our snail will have an exclusive code, which, when scanned into the Snailspace app by passers by, will unlock the opportunity to enter a prize draw for a relaxing, luxurious spa day. What better way to slow down and #BeMoreSnail?
You can catch Mister Phil's vibrant design when all 50 gastropods sneak onto the streets of Brighton and Hove from the 15th September until the 18th November. Why not come along and take a look?
Back to blog