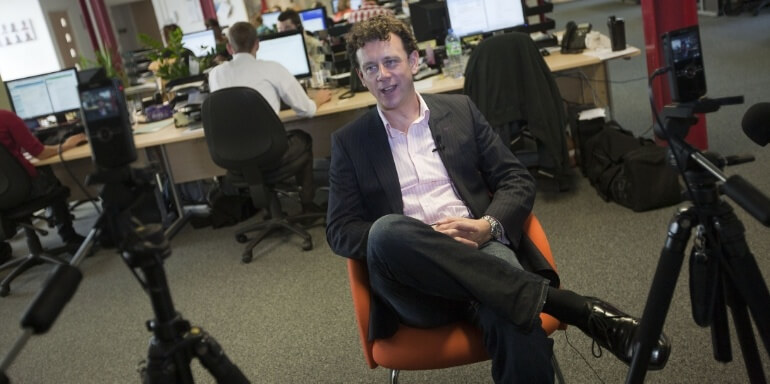 After selling his email marketing business Pure360 for $7.8m to NASD listed US firm MobiVentures back in 2008, Brighton-based entreprenuer Darren Fell wasn't about to sit on his laurels.

In 2009 he started his next venture Crunch Accounting, the first online company to provide a complete accounting solution, combining the efficiency of an online accounting package, with quality customer service and accountants ready to talk on the phone.
Now in its sixth year, Crunch is England's fastest growing accountancy firm (Accountancy Age top 100, 2015) and joint fastest growing firm in the UK, with 7,000 customers and 150 staff.
1. Tell us about your business?
We're an online accountancy firm that's trying to change how accounting works for UK SMEs. We want accountancy to be cheap, simple and on-demand - something that helps business owners understand their business better, rather than a bunch of confusing forms they're forced to fill in every year.
We launched in 2009 and we've grown by 50% or more every year since. We entered the UK top 100 firms in 2013, and this year we jumped 13 places and were the fastest-growing firm in England. We definitely riding the wave of mobile and on-demand services and our clients who move over from traditional accountants rave about our service. We think it's a step-change in how accounting services are delivered.
2. What excites you most about the work you do?
Helping people start and run businesses. If someone had told me ten years ago starting an accountancy firm would be the most fulfilling thing I'd ever do I'd probably have laughed them out of the room, but it's true! We form thousands of companies every year and every single one of them is someone's hopes and dreams. We're really privileged that we get to help people make that jump. Every time we meet clients I'm blown away by their creativity and drive - we had an event in Brighton not too long ago and I met one of our clients who is commercial drone photographer - how cool is that?!
3. How do you make your employees happy?
We actually just asked them. There were lots of things we wanted to put in place - private pensions and health insurance, for example - which we did as soon as we could afford it, but on the perks front we didn't want to put in things that people didn't actually want. Our team asked for things like on-site breakfasts, a cycle to work scheme and more space to relax, so we put all of those in. We realised during that process that people really value things that give them better work / life balance, rather than just monetary rewards. A bigger paycheque doesn't reduce the stress of commuting, but if you can cycle in and have a nice relaxing breakfast with your friends that helps a lot.
4. What qualities do you look for most in your employees?
Entrepreneurialism. There's that trendy buzzword going around at the moment - intrapreneurialism - that means people thinking entrepreneurially within a larger business, which is a bit trite but I suppose illustrates what we look for. We don't just want drones to tap away at keyboards all day. We're a very process-driven business, and we're built that way so we can scale quickly. If a traditional accountancy firm took on 300 new clients in a month they're buckle under the weight, but we do it every month.
At that scale, if somebody can come up with an improvement to a process or a new tool we can use that increases productivity by 2 or 3 percent it makes a huge difference. We want people who are thinking about those kinds of problems - as well as being really good at the job they're hired to do, of course!
5. Tell about a challenge you faced in your business and how you overcame it?
Nailing our USP was a really interesting challenge. When we first launched we pitched ourselves as online accounting software with better support than other packages - "use this software and get a free accountant!" - but that was a really competitive space. Cloud software was just starting to explode five years ago and we were entering a really noisy space, and a lot of the companies were much better funded than we were.
We did lots of research with our customers as well as wider market research and we eventually realised - which is rather obvious in hindsight - that our real value was that we were a modern, technology-driven accountancy firm. We reworked all our marketing and website to focus on that and things really started to take off. We're still one of the only accountancy firms which puts a heavy emphasis on pushing the envelope technologically, and our clients like that.
6. Other than your own, which other businesses are exciting you right now?
I'm really excited by all the innovation that's happening in banking right now. There are a slew of tech-driven banks that are getting ready to launch - Atom, Monese, Mondo - which all look really interesting. They don't have branches, just mobile apps. We've tried to work with existing banks to get access to their infrastructure to automate certain parts of our accounting software and it's impossible, there's just too much legacy stuff in there. Having new financial institutions built on modern software could be a game-changer.
7. What's your best piece of employee management advice?
Make the company goal public knowledge, and make sure individual goals all point in the same direction. So many employees feel really disconnected from the overall aim of a company - they turn up, tap away on their keyboards for 8 hours, go home, job done. The best way to engage employees is to get them involved in the purpose of the company. Make them part of a movement. Our goal is to be the #1 small business accountant in the UK (in terms of raw client numbers, value for money and customer service), and we regularly discuss how team objectives and individual goals contribute to making that happen. Everyone knows which way we're pointing.
8. What are you driving right now?
My new son's pram, mostly. Between caring for a newborn and running a business I don't have much time for anything else!
9. What one business application/piece of software could you not live without?
Omnifocus - I use it to quickly record and sort ideas and to-dos. I have it on everything, so I usually have my iPhone or iPad within arms reach if an idea suddenly pops into my head.
10. If you could employ one famous person who would it be and why?
I'd pick David Cameron, I think. Not so I could have him working as an employee, but so I could show him how small and micro-businesses actually run. We could give him a crash-course in business ownership, and hopefully that would help him draft some legislation which actually helps freelancers and contractors!
Back to blog