Our planet is facing serious challenges. Climate change is a real and ongoing threat.
Yet climate change is not the only challenge faced by small business owners. High inflation rates, a stagnant economy and a labour shortage are combining to place substantial pressure on business.
The green agenda presents SMEs with a unique opportunity. Not only is protecting our planet ethically sound, but it can help save costs and win employees and consumers. Could reducing your business's carbon footprint be a business opportunity?
In this blog, we're highlighting:
Why business carbon footprint matters
How to help your business go green
Ways to reduce your business' carbon footprint
Why does business carbon reduction matter?

Since 2012, all companies on the London Stock Exchange must publish their carbon footprint. Much like the gender pay gap, there's currently no specific legal obligation for smaller organisations to measure and publish their climate change efforts. There are, however, plenty of ethical reasons to do so.
People first
Many employees want to know they are working for a business that cares for the environment. One study found that nearly half (48%) of employees would accept a lower salary to work for an environmentally friendly organisation.
Take one of our Culture Leaders, Frugi, for example. They demonstrate how a small business can successfully organise and action environmentally conscious business with highly-engaged employees.
Consumer trust
Consumers care about the companies they buy from. Indeed, an international survey found that two-thirds of people support carbon labelling on products.
Pair up with other businesses
It's not just consumer-facing businesses who need to act. B2B SMEs are under increasing pressure to prove their efforts in carbon reduction as their customer base takes steps to ensure carbon-conscious suppliers.
Save money
It makes financial sense. The Carbon Trust estimates SMEs could benefit from saving as much as £400m per year by reducing their carbon footprint.
How to reduce your business' carbon footprint
To reduce a small business' carbon footprint, follow these four steps:
1. Identify your existing carbon footprint
The Carbon Trust defines a carbon footprint as "the total greenhouse gas emissions caused directly and indirectly by a person, organisation, event or product".
The Carbon Trust have a carbon footprint measurement tool designed for SMEs.
To help clarify how businesses can go green, most carbon footprint measurements focus primarily on greenhouse gas (GHG) emissions.
2. Benchmark this against your industry average
This is an opportunity to think outside of the box. Think about the products and services used by your industry and benchmark against the average. Research competitors and local initiatives for carbon reduction and eco-friendly working.
3. Find areas for improvement and set out a carbon reduction plan
It's from this research that you can find areas for improvement. Instead of ignoring these elements, smart businesses are increasingly taking a holistic approach to their carbon reduction and making a real impact.
We recommend setting this out in a carbon reduction plan document, which you can then share with your team, leaders, customers and stakeholders.
4. Communicate and action carbon reduction plans
How do you plan to communicate and start actioning your carbon reduction plans? Save paper and trees by looking into the different software options for people admin management. Here at Breathe, for example, we store our new people policies and company documents safe and securely in the cloud.
What's more, it automatically notifies your employee once it's uploaded and sends a read notification so you're always in the loop.
Other ways businesses can go
green
From cutting down on plastic use, waste and recycling to adapting lighting, heating and transportation, there are plenty of other ways small business can go green.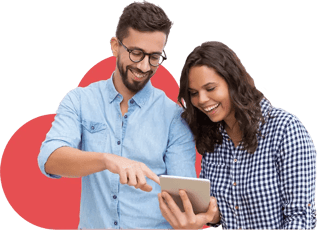 Remote working is one easy way to help reduce carbon emissions. As well as reducing the carbon impact of your employees' commute, you can potentially reduce on-site emissions as well.
For on-site base businesses, here are some easy wins:
Lighting
Replace old light bulbs and fluorescent tubes with LED lights. This can cut your lighting bill by up to 90%; a change you'll notice in your costs as well as your carbon impact.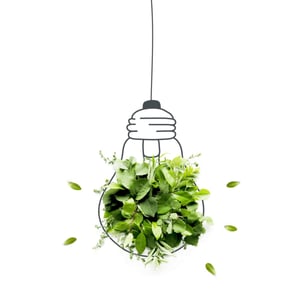 Fit movement sensors to turn lights on or off automatically. Or simply encourage employees to turn off the lights when they leave a room.
Maximise levels of natural light. From investing in better blinds to placing furniture for better light flow, you'll cut your energy use and improve employee health.
Heating
Reduce the air conditioning levels in your office. Air conditioning units use an enormous amount of energy. Instead of relying on air con, relax your dress code and let your teams dress for the weather and time of year.
If you own the building you work in, improve insulation and update the windows. If you don't own the building, do what you can to block draughts and keep heat in the building, instead of allowing it to escape through doors and leaky windows.
Transport
The benefits go beyond a reduction in carbon emission during the daily commute. You can reduce the amount of working space you need, which is ideal if you're renting commercially or were struggling to fit everyone into your workplace.
Update your meeting etiquette. In-person meetings are invaluable when it comes to building relationships, but do you really need so many?
Consider reducing the number of in-person meetings and replacing them with virtual meetings instead, especially if the meeting involves flights or lengthy car journeys. If you have suppliers who travel to meet you, request they reduce their travel and meet with you virtually instead.
Encourage employees to shun their cars and use greener transport methods by setting up a cycle to work scheme or season ticket loan scheme for public transport.
Paper
Although paper usage isn't measured in the carbon footprint measurement tools for SMEs, it has a big impact on our environment.
Paper production is a major consumer of energy and cause of greenhouse emissions. Cutting your SME's paper usage can help reduce your business's environmental impact. Here are some ways to reduce paper usage:
Switch to software. Stop using paper sign-offs for holiday requests and approvals by making the most of paperless systems.

Cloud-based HR systems, like ours make it easy for you to track and safely store approvals and records, completely inline with GDPR regulations.

Use a whiteboard and choose recycled paper. Paper made with recycled pulp uses 40% less energy than paper using virgin wood fibres.

Print with care. Instead of printing on regular one-sided sheets of paper, change your printer setting to print multiple pages to a sheet and print on two sides of paper as standard.



How B-Corp certification helps
If you want to do more to help reduce carbon emissions and protect the planet, there are a number of schemes businesses can sign up to.
The B-Corp certification is a well-known route, which you can leverage with consumers or customers.
Or how about partnering with an environmental consultant to help you do more to reduce your small business' impact on the environment?
Whatever route you take, remember every action helps. In the words of the philosopher Edmund Burke, "Nobody made a greater mistake than he who did nothing because he thought he could do only a little.".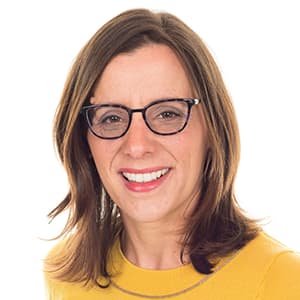 Author: Laura Sands
Laura is a writer who enjoys getting into the detail of subjects and sharing that knowledge with snappy, interesting content. When not typing away, she enjoys walks in the woods and curling up with a good book and mug of something hot.
Posted on 12 September, 2023
By Laura Sands
Business Process
Back to listing