"A positive culture will create a positive working environment, where people feel happy, fulfilled, engaged, included, valued, understood."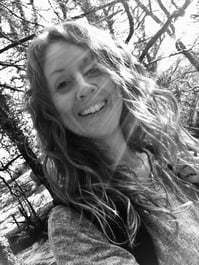 With 96% of their people feeling proud to be a member of their team, it's no wonder that Frugi earned the #2 spot in our SME Culture Leaders List 2019.
We spoke to Head of People & Culture, Janine Laity, to find how they nailed their award-winning culture.
What does Frugi provide?
Frugi is best known for ethically creating hard-wearing and fun organic cotton clothes for babies, kids and adults.
They firmly believe in embracing the outdoor life and letting children explore. That's why Frugi clothing is hard-wearing, thoughtful and fit for any adventure.
Designed with love in Cornwall, our organic cotton is not only super soft, but its farming supports sustainable agriculture and our GOTS and Soil Association certification means we adhere to stringent criteria in both our manufacturing and social accountability.
Frugi is motivated by the continued desire to be the catalyst for change within the clothing industry and the wider business community. We have also donated over £500,000 to charity through our Little clothes BIG change project.
When were you first established?
Born in 2004 and raised in a back bedroom of a cottage in a tiny Cornish village, Frugi is now the UK's leading ethical childrenswear brand with collections for new-born to 10 years, available to buy online and from over 500 retailers in 34 countries.
How many people do you employ?
We currently employ 103 permanent team members, with a further 30-40 seasonal workers joining us for our busiest periods.
Why do you think company culture is so important?
Career decisions are not simply based on salary or benefits; as humans we naturally want to connect with people and organisations who share our values and inspire us - an organisations culture plays a huge role in that.
Attracting and retaining our brilliant colleagues is a top priority for us and that would be much harder if we didn't have a strong culture which people buy in to. A culture will emerge in a company no matter what, but it's important to shape that culture into something positive and meaningful.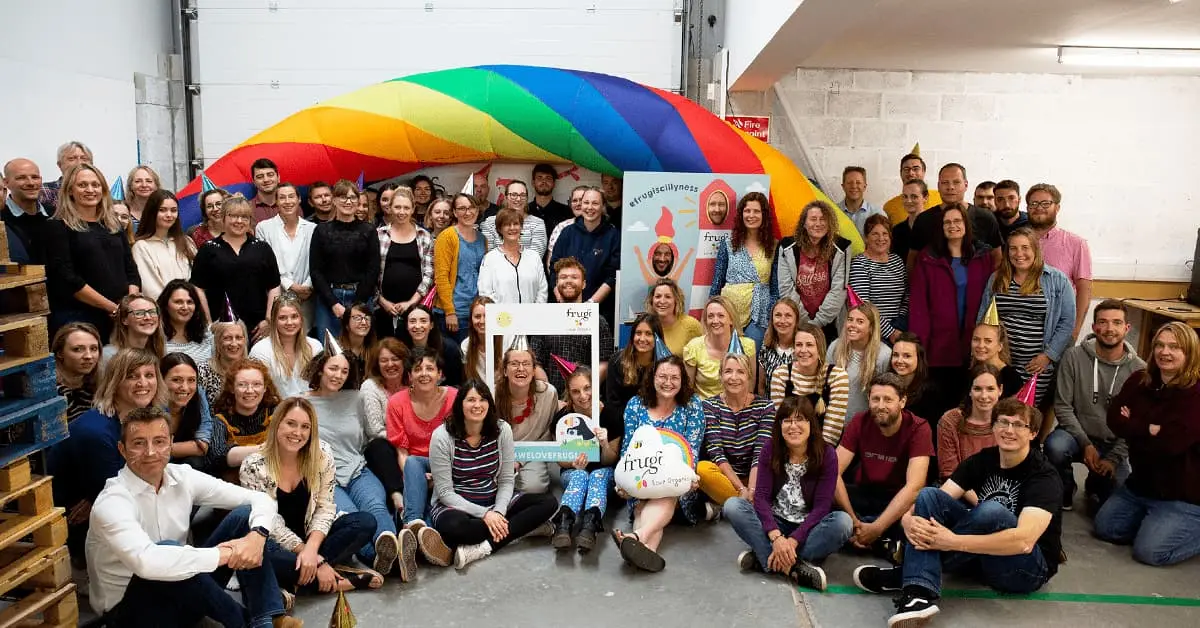 How have your people benefited from your company's culture?
One of our core values is about putting people and the planet first – that starts with our people. We've created an inclusive and nurturing working environment which benefits our people in many ways.
Our people feel connected to our values and through the creation of engaging and varied jobs, 93% of our people feel they can make a contribution to the overall success of the company.
In our 2019 survey, 96% of our people feel proud to be a member of their team. In fact, our very first employee is still with us after 14 years.
As a company we seek to be innovative and creative. We are willing to push boundaries and we encourage that in our teams. Nothing improves by standing still. We invest in people's development through initiatives like lunch & learn sessions, our library, and developing bespoke training programs.
We've doubled our investment in training for 2019/20 and that's been a real benefit to our teams. We also run volunteer programs to provide real-world work experience to around 20-30 students every year, helping others to kick-start their careers.
Our Health and Wellbeing programme has just won another gold in the Healthy Workplace Awards. We deliver initiatives like yoga, massage, mindfulness, walking, beach games, stress management, nutrition, etc. We not only support physical health, but mental wellbeing too and as a result our people feel supported and cared for.
We are a family business, and we understand the importance of being able to balance work and home life. We offer flexibility at Frugi and 36% of our people work part time.
We encourage everyone to get involved in how we run our business with suggestions and feedback. Listening is key. We also celebrate our successes as a team. Every month we recognise employees who have gone above and beyond by rewarding them with our 'Golden Fox' award. We also share 10% of our profits with our people, so we all reap the fruits of our labour.
Sustainability is at the heart of our business and a cause championed by our people. Our Green Committee are a small team of passionate eco warriors striving to find new and innovative ways for us to be greener at Frugi HQ. From installing aerated taps to recycling, they are on a mission to improve Planet Frugi.
We are big on charity and supporting communities and projects far and wide. Our Charity Committee involve all of our people in our charity project, Little Clothes BIG Change, so they all feel connected to these projects. We've donated over £500,000 to a variety of worthy causes and we encourage all of our people to give back to the community through our volunteer days.
How has your business benefited from your focus on culture?
Immeasurably! Frugi employs amazing talented people who bring fresh thinking and new ideas. Putting it simply, Frugi would not exist without our people.
One of reasons our people and our customers are attracted to the Frugi brand is that we are authentic, honest and open. Having a strong culture routed in strong values which resonate with people and are firmly imbedded in all that we do has helped us to attract top talent from far and wide. It also plays an important role in keeping our people happy and fulfilled.
What would you say to other businesses leaders who are re-thinking their culture strategy?
Bring it to the top of your agenda. A positive culture will create a positive working environment, where people feel happy, fulfilled, engaged, included, valued, understood; where they can do their best work and take pride in their achievements individually and collectively; where they understand the common goal, their part in it and how to make a positive contribution towards that.
Imagine the hugely positive impact that will have on the quality of your product or service, on your customers, on your bottom line. Now imagine the opposite of that - that's why culture is so important, it can make or break a company.
If you could describe culture in one word, what would it be?
Essence.
Author: Kayleigh Scarratt
Posted on 27 September, 2019
Company Culture
Back to listing