According to research, 99.5% of employees aren't aware of the data around the carbon emissions of their pension.
However, 48% of employees surveyed said they would like the option to invest their pension in businesses that aren't contributing to climate change.
So, how can HR policy help the green agenda? In this blog, we cover how HR policies can help SME environmental efforts. We'll look at green pensions, external partnerships & incentivising sustainable behaviour throughout organisations.
Breathe HR Partner Níamh Kelly, Director at HR Dept Shropshire, Wrexham & Chester shares her best-practice tips for how HR professionals can inform & shape eco-friendly policies within SME businesses.
4 ways HR teams can help the green agenda
1. Investing in green pensions
The average pension pot in the UK finances 23 tonnes of CO2 emissions every year. This – equates to around four times the average person's carbon footprint.
We asked Níamh Kelly, Director, HR Dept Shropshire, Wrexham & Chester for her advice on how HR professionals can affect greener pensions within their organisations:
"Most small businesses use NEST or the Peoples Pension for their staff. These large pension providers seem to be taking their role seriously, in terms of providing sustainable profits.

But we shouldn't forget other private pensions (perhaps of directors or senior executives) which tend to be invested through other fund managers. SMEs should be asking for a pension review with their provider and include sustainable profits on the agenda."
Using pension providers with an environmental conscience can also help with recruitment & retention as employees grow more conscious about sustainability within the organisations they work for.
HR professionals can make a real difference by using ethical pension providers within businesses – or at least, companies that avoid environmentally-damaging investments and aren't involved with globally-exploitative companies.
2. Incentivise sustainable behaviour
HR teams could incentivise environmentally sustainable behaviours within organisations. We've put together a few examples of how SMEs could work towards this:
If you have a recycling point for non-typical plastics that can't be recycled at home, what about organising a small reward or prize for the team that brings in the most for recycling over a month, for example?
When setting company objectives, how can these have a sustainable core focus that feeds down to all employees as part of their day-to-day roles?
Can you set up a team of volunteers to be responsible for environmental efforts & initiatives within your business? This engages your employees with the cause & raises awareness about what your business is doing to support the environment.
3. Form meaningful external partnerships
CIPD's characteristics of sustainable HRM include considering key stakeholders and external partnerships.
Just as HR teams might review whether the culture of a partner company aligns with their own, the same can be applied to their sustainability record. HR can lead by example by using a set of 'green' criteria for selecting partners to work with.
Some initial things to consider could include whether the partner organisation offsets their carbon emissions, for example? Do they have sustainable policies or goals of their own? Do they consider their local environment, make efforts to reduce energy usage, waste, recycle, and build sustainable partnerships too?
It's not just internally that HR teams can influence and manage the environmental impact of a business – looking at affiliate companies & suppliers is an important factor to consider. Find out more about the social considerations of ESG in our blog.
4. Environmentally-friendly HR purchasing policies
Beyond energy-saving, cutting carbon emissions and waste, we asked Níamh Kelly, Director, HR Dept Shropshire, Wrexham & Chester for her guidance on what else HR teams can create policies on to assist the green agenda.
"A key thing that SMEs should consider is an environmentally friendly purchasing policy. It's not about making perfect purchasing decisions; it's about creating a mindset that thinks about the issues. HR can lead by example & try to make informed decisions. Of course, price is a factor and many environmentally-friendly goods and services are more expensive, but there are simple changes that HR can make, such as buying from local suppliers where possible (reducing transportation); using biodegradable products; avoiding unnecessary packaging & purchasing products made from recycled materials or derived from sustainable sources such as all paper products, and wooden furniture."

Níamh Kelly, Director, HR Dept Shropshire, Wrexham & Chester
HR teams & policy can have a big impact in supporting the sustainability efforts of a business.
Breathe's HR software helps SME's save 3.8 million sheets of paper each year. Why not trial for free for 14 days?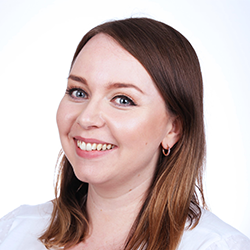 Author: Aimée Brougham-Chandler
Aimée is a Content Assistant here at Breathe. She enjoys writing about topical HR issues & helping readers find solutions. In her spare time, she's commonly found amongst books.
Posted on 10 June, 2022
HR policies and processes
Back to listing