What is the difference between a manager and a leader? More importantly, how do managers know when they've become leaders- and good leaders, at that?
As far as we know, there's no fanfare or a shiny new section that appears on your CV when you develop valuable leadership qualities. The distinction is much more subtle than that.
In a Harvard Business Review article, the author contends that that you can tell when you've become a leader by counting the number of people outside of your reporting hierarchy who come to you for advice. The more that do, the more likely you are to be perceived as a leader, rather than a manager.
Of course, this is just one litmus test in determining the difference between leadership and management- as well as the cultural perception of how you're seen within your organisation. This also depends on the size of the business, as well as other factors, the most important of which is arguably company culture.
Some organisations may have certain cultures which mean that there's a more deferential way of referring to management. With this, often the lines between the type of person defined as a manager (and those defined as a leader) can be blurred.
What is a manager?
Generally, managers ensure and oversee the day-to-day activity of their employees. Making sure work gets done, they ensure that tasks get completed and deadlines are met.
Managers are a reference point and a source of support at work, should team members have questions or need help with managing their workload, or pastorally. Most managers may not always have the time or perspective to focus on higher-level strategies like organisational goals and direction.
Management-level employees are essential to any organisation- most businesses need this level of employee to support team members in their roles and to ensure the work gets done. Without managers, it would be difficult to ensure any leadership visions or goals get translated into day-to-day work and completed.
What makes a good leader?
The renowned business thought leader Peter Drucker said that 'management is doing things right; leadership is doing the right things'.
Leaders tend to be visionaries- and are good at motivating people to work toward organisational goals. Taking a step back to wonder if the right things are being done (or even if the organisation/team is headed in the right direction) are all concerns a leader might have, above and beyond day-to-day team management.
As discussed earlier, a good leader tends to be someone people head to for advice- including those outside of their immediate reporting circle and line of management.
Leaders are generally found at the top of a reporting hierarchy, but not always. Leaders don't necessarily only reside in senior positions- you may well have leaders in different parts of your organisation.
If you know a colleague with great interpersonal and communication skills, who people head to for advice when tough decisions need to be made (and who listens to people, as well as motivating them) then you could have a leader in your midst.
How to become a better leader
Our article on how to develop leadership skills covers this in more detail, but here are some pointers to get you started:
Even the most visionary leader in the world could never truly develop into the upper echelons of leadership without good communication skills.

Listen

Be the person people go to for advice in the workplace- listen to your team. If people feel that their concerns are heard, you'll be more likely to be someone that they go to in future.

Ask for advice

Know someone who you think is a good leader? Ask them for the best leadership advice they ever received.

Be open to constructive criticism

Ask for feedback on how you could do things better from your team, colleagues, and peers. Honest, constructive feedback could really help to boost your way of working and help hone those leadership skills.
Not sure what type of leader you are? This article covers the six styles of leadership.
Training designed for SMEs
Whether you're a manager striving to become a leader within your organisation, or you're looking to refine the leadership skills you already have, Breathe can help.
Work on communicating effectively and help develop valuable soft skills with Breathe's Learn module.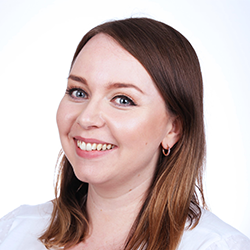 Author: Aimée Brougham-Chandler
Aimée is a Content Assistant here at Breathe. She enjoys writing about topical HR issues & helping readers find solutions. In her spare time, she's commonly found amongst books.
Posted on 10 November, 2021
Business Leadership
Back to listing