When it comes to technology in business, it's easy to feel overwhelmed. Sure, technology has the potential to make doing business easier, more secure and more productive. But there's so much out there. Everyone's telling you that their app is the one that will skyrocket your productivity or transform customer engagement. But let's be honest, you have a finite budget and finite time. It makes sense to be selective with the technology you choose for your business.
Here's our list of must-haves. And in case you're wondering, we're only recommending proven tools at a price that won't break the bank.
1. G-Suite or Office 365
2. Security Software
3. HR Software
4. Slack
5. Teleconference software
6. Project management software
7. Helpdesk applications
8. Accounting software
Ready to look at these in more detail? Let's go.
8 pieces of technology every small business should use
G-Suite or Office 365
If you've already got a computing system you're happy with, skip to point 2. Still reading? We'll keep it short - G-Suite or Office 365 are one-stop shops for the nuts and bolts of running a business.
Both provide email clients, calendars, word processors, spreadsheets, storage plus more besides. There are benefits to both platforms, but you really do need one or the other. They're cost-effective with a price per user, easy to use and pretty much essential to attracting and retaining good employees. The only decision you need to make is which one to choose.
Security Software
With the basics sorted, now's the time to think about security. A cyber resilience study by the FSB found there are an incredible 7 million cyber-crimes against small businesses every year. Or, if you prefer to look at it another way, then listen to Hiscox, who claim that 6/10 SMEs will suffer a cyberattack. Whichever stats you choose to believe, two things are clear – the odds are not in your favour and cybercrime could cripple your business.
In the same way that protecting physical premises needs more than one approach, good cyber security means taking a variety of measures. Investing in security software should be at the top of your list. McAfee, BitFender and Norton all offer a solid service, but as each provider is subtly different, read up on them so you can choose the best option for your individual business's needs.
Be sure to back up your choice of security software with a strong password policy (LastPass is a great piece of tech to help with this), regular back-ups, cyber-crime insurance and worst-case scenario/crisis planning. Your business won't be immune, but you'll be prepared to cope and deal with the worst.
HR Software
With business-security managed, make managing your employees your next priority. It's a relief to know that technology can help your business here, too; after all, even with a dedicated HR manager, managing your team effectively can become all-consuming.
HR software like Breathe lets you take control. Focused entirely on SMEs and helping with everything from secure document storage to holiday management, Breathe frees up time and headspace so you and your team can get on with the business of serving your clients.
And let's be clear, it's not just a bonus for you or your HR manager. Employees love the way they can request holiday when working remotely and appreciate the visibility of their personal profiles, training status and objectives. And with a set, affordable price based on your team's size, it's easy to budget for.
Get started with a free 14-day trial today and see how Breathe can help.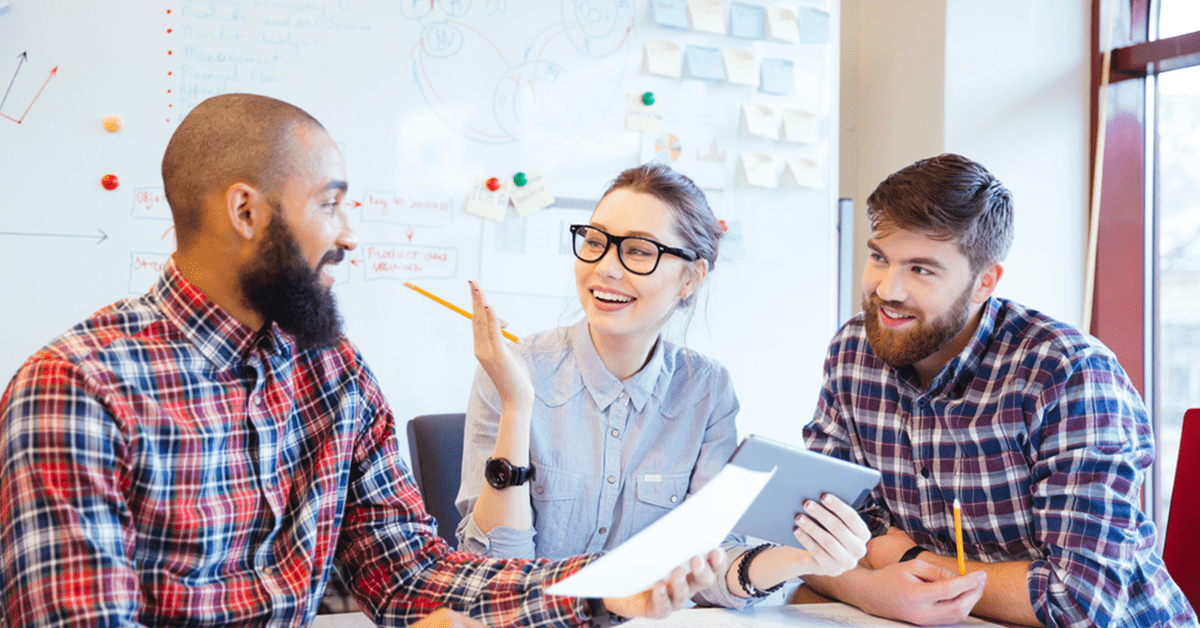 Slack
Now let's help your team work better. Slack is one of the Breathe team's favourites – it's a great example of how technology in business can revolutionise the way you work.
Great for remote and office-based teams, you can use it for instant messaging, idea generation and even Friday-Funday; Slack makes communication and collaboration easy. Flexible, intuitive and with a decent free version, it integrates with a range of other services for seamless productivity.
Teleconference Software
You can upgrade your Slack membership to one of the options that gives you multi-party teleconference options, but you'll occasionally need to get time in with folk outside your organisation - yet another situation when technology in business lets you take control.
Interviews, supplier meetings and customer calls can become time-consuming and costly if you rely on face-to-face meetings. And relying on patchy mobile phone coverage? Enough said.
When time is tight and you want a reliable teleconferencing option, Zoom is your best friend. Invite multiple participants and choose whether to go for voice-only or video call and you're away. It's also suitable for webinars and integrates like a dream with Slack. Collaboration? Easy. Another favourite of ours.
Project Management Software
And collaboration becomes even easier with project management software on your side. We can't think of a business that wouldn't benefit from this type of technology. From content planning to product launching and everything in-between, project management software such as Trello, Asana or Monday helps create accountability and clarity.
Suitable for any device and able to integrate with other platforms (hello Slack, hey there Zoom), you can collaborate in real time with as many team members as you need to. Sort out passwords and then you and your team can upload work, amend deadlines, ask questions and share updates.
What's more, if you have a small team you may find the free version is all you need. What's not to love?
Helpdesk Applications
Supporting your customers and potential customers makes good business sense. But without a full-time member of staff dedicated to this task, it can become problematic. The solution? Get technology on your side.
Investing in a helpdesk app such as Intercom or Drift can relieve the pressure and simultaneously improve customer satisfaction. How's that helpful? These apps can even help with building warm leads. Essentially working as "digital operators", they divert website visitors through to the relevant channels where you can then help them. The result? Happier customers and more sales. Boom.
Accounting Software
As much as you can still get along with spreadsheets and PDF-based invoicing, you'll save untold hours by transitioning to an accounting software platform such as Xero or Quickbooks. Send quotes, invoices and make payments in one easy-to-use application. Following up on late payments is easy and with the option of integrating with a platform such as GoCardless, even taking payment is easier. What's more, all good accounting software is MTD compatible. And if HMRC are happy, everyone's happy.
Now let's not pretend that the list ends there. Each type of business will benefit from different types of technology. CRM software will be essential for some whilst a supply chain app might be crucial to others. But the above technology shortlist will make your business more efficient, safer and less laborious.
What do you think? Would you add something? Is there a silent hero that you can't do without? Tell us - we'd love to know.
Back to blog