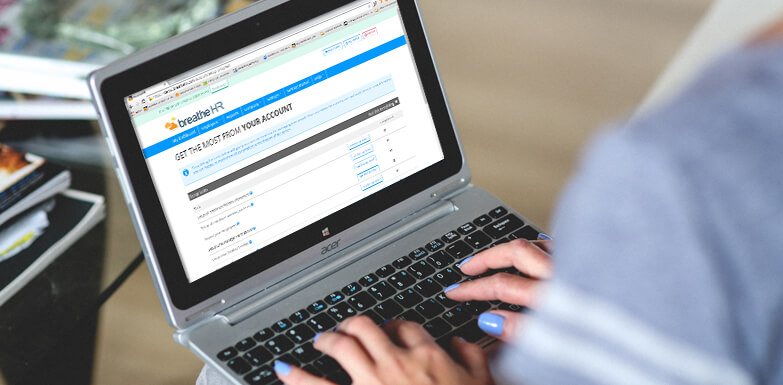 If you're looking for a way to control your employee data and streamline those time consuming HR processes, the chances are you're already a bit pushed for time. The idea of taking out a free trial might seem to be the last thing you need, but it is definitely the best way to get a handle on how our HR system can help you.
Here's our simple 4 step process to help you get the most out of your trial:
Starting the free trial:
Select when you start the trial - don't take it out on a Friday or when you're just off on holiday.

Make a coffee and get started - It takes seconds to open up a trial.

Use real data as it brings the system to life – dummy names are OK but it just doesn't feel like your system, and should you wish to go active, this will save you some time. Also make sure to use your real email address because this is how you will get notified of your company's personal web address and login details.

Bookmark or save the web address
Getting started – session 1
Watch the getting started video – it only lasts a couple of minutes and will save you plenty of time going forward

Click on the 'go to setup screen button'. This gives you 10 tasks to complete should you decide to roll the system out. Don't panic – you don't need to do them now, just follow the links to take a look around the system.

Click on the 'Employees' menu item and select 'Employee list' where you will find your record. Click on your name to open the profile. Scroll down and fill in some of the data, maybe even add a photo.

Take a look at the top of the profile screen (just under the new employees name) and you'll see another menu. Flick through the screens to see what data you can hold in system. Don't forget to look down the list under 'more'.

Go back to the 'Getting started' page using the toolbar button to note

the number of days left in your Trial and schedule another 1/2 hour in your diary.

As you log out make sure you've saved or bookmarked your personal web address.
Getting Started – session 2
Make another coffee before following the bookmark to get to your login screen. If you cannot find the bookmark then go to breathehr.com and click the 'Log in' button on the top right.

Should you ever forget your password, note the 'Forgot your password?' link on the login page.

When you login this time you will be taken to the HR dashboard. You can always get back to the 'Getting started' page using the menu link.

Navigate to the Employee list that you found last time (Employee' menu item then select 'Employee list'

Time to add a second employee so click on the 'add new +' button (near the top on the right.) Fill in the details. It is best to use a real employee but don't worry if you don't know all the correct data – just guess. When you click on save you will be taken into the new employee profile so fill in any of the other data and browse the additional screens within the profile.

Next it would be good to add your company logo. Click on the 'Settings' menu and select 'Plan & Billing'. From the left hand menu select 'Edit account', scroll down the page until you see 'Company logo' then follow the instructions. The Breathe logo will be replaced by yours.

It's always good to find out how to get help and there are a number of options on Breathe

Option 1 - Click on the 'help' menu and select 'Knowledge base'. You'll be taken to our support site where you can search the articles. Try searching for 'How to make a leave request' or 'How to approve a holiday request'

Option 2 – Wherever you are in system you'll see tab in the bottom right hand corner with "How can we help'. This is our online chat tool that connects you to support. Note: If the tab says 'Drop us an email' then were not in, but please leave us a message and we can get back to you.

Option 3 – email to support@breathehr.com or telephone us on 08445 611223.

There's lots more to see but by now you will probably be getting the hand of where everything is. A good idea is to visit our webinars page to book yourself onto our scheduled webinars – the Intro to Breathe is a really great overview.

One more thing before you log out, take a look at the 'reports' menu to see what reports are available. It's a bit difficult to get to grips with the reports as your demo won't have much data but there's something covering just about every area of the system, and information can be exported easily to Excel.



Signing up
If you decide our HR software system is right for you and your company then it's really easy to sign up.

Log in to your trial account and note the green bar along the top of your screen. Click the 'Buy now' button on the right.

This takes you to the 'Subscribe' screen where you enter your payment details. That's all there is to it, but if you want to talk to one of us feel free to call 08445 611223 or email info@breathehr.com
Once you are up and running, you can quickly populate Breathe with your employee details using an excel sheet. You'll be rolling out the system before you know it.
Back to blog