For those who can, working from home (WFH) is now the new norm. And for corporate parents everywhere, everyday is now bring your child to work day.
First in March 2020, and now in January 2021, our UK schools - following government guidance - closed their gates to all students bar those of keyworkers and vulnerable households.
So here's 5 ways to WFH with kids:
I saw very quickly from my time working in primary schools how important the school routine, faces and structure is for families as well as students.
From before-school breakfast clubs, to individual reading, maths, english to playing football and interactions on the playground, children are used to stimulation and supervision throughout the day.
Many parents now face the challenge of juggling tantrums, emotions and teaching; all the while adjusting to a whole new office-at-home regime, which bears little resemblance to the life they led previously.
Making the move to home schooling is something that Customer Onboarding Specialist, Ben Willis' family did 4 years ago after his wife agreed to educate his children from home. When asked for words of wisdom, they kindly shared these:
'Try not to worry about sticking to timetabling or trying to replicate school. Just let it be an organic process so they can enjoy learning.

'Our approach may be slightly different as one of our children has aspergers and another has a genetic deletion, which has its own behavioral issues, so our focus is on keeping everything as calm as possible.'
1. Create a plan
This one very much depends on the dynamic of your household and the way you like to run your ship. Routine is key to calm, healthy and happy living, so schedule some time to work out the best timetable for you and your family. Make sure everyone can see it and try to verbally run through the day's activities the night before.
Activity tip: Involve your team within the planning and provide options. Schedule in plenty of breaks and a couple of variants to encourage decision-making skills and autonomy.
Our Digital Marketing Manager, Carl Sadecki, did just that and created this how to wfh with kids plan with his wife, who is a keyworker.
Adjust working hours.
The

body coach

takes over from 09:00 to 09:30 every morning with his PE lesson on YouTube.
Remember to plan things to look forward to.
Move the posts; weekly over daily goals to ease the pressure.
Bend some house rules, especially with regards to communication, breaks and downtime.
Stay home and take a holiday. From easter egg hunts to baking, DIY and sports in the garden, there's plenty of things you can do to enjoy a holiday at home with the family.
2. Relay and replay
Now you have your schedule or how-to-WFH-with-kids action plan, it's time to relay it to the team.
For this, use Replay. It's a technique Steve Stark uses for online meetings and one I (and many others have used) many times over as teacher. It goes like this:
You explain the task.
For example, after Joe Wicks, it's time for individual reading. This means you need your book journal, a pencil (or pen if you have your handwriting award) and a quiet comfy space to read in peace. Include extra instructions from their teachers, including tracking progress and benchmarking.
Ask each person to replay what you've said. The more specific you can be with your questions, the better (e.g. what equipment do you need for individual reading time?).
This isn't so much to check if they've listened, more so a great way to unearth any niggles and to see if they understand and agree to the plan of action.
3. Set boundaries
For those who have two parents WFH with kids, a 50/50 division of care seems the popular option. One parent will look after the sprogs in the morning, while the other will take over for the afternoon and so on.
For those with less hands and physical support available, a gold-star schedule and clear boundaries will help tremendously here. Look to your own work schedule and highlight times during the day when you're visible online to your team.
Some parents at Breathe for instance, have smartly matched toddler's nap and entertainment time with conference calls and meetings.
And boundaries are just as necessary for creating the best environment to focus at work too. Here are some ways to create yours: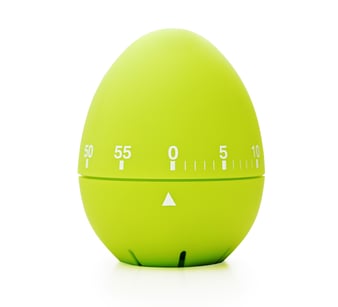 Try using an egg timer or an hour-glass to help encourage focus or set boundaries for play.

'When mummy puts her headphones on, she's transported to a world where she needs to help others run their business and manage their teams.'
From visual cues starting with those as simple as putting your headphones on or writing clear times on a post-it note to choosing a happy song and attaching it to your alarm for finishing work, try to keep your availability clear.
4. Playtime
All work and no play leads to a very dull time indeed. Or something like that.
Here are some silly and happiness-invoking activities for you to try at playtime when WFH with kids.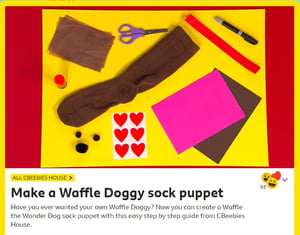 Check out CBEEBIES for arts, crafts and online games.
Unleash the old-school boardgames. Monopoly, Game of Life, Scrabble, BattleShips, Who's in the bag, Dobble... we love them all.
Hold an afternoon tea party. From recipe research and mixing the ingredients to clean down, setting the table and icing the cake, give everyone a role. And then let them eat cake.
Make a start on the family tree. Dig out any photo albums, SD cards and iphone memories and map out your madhouse.
From hide and seek to card games, magic and memory games, take a peek at netmums' 100 rainy day activities post for more ideas and inspiration.
5. Mindset
A growth mindset is really handy here. As Simon Sinek says in his motivational webcam recording - 'These are not unprecedented times' - things have changed.
We're in a tunnel and we can see the light. Who knows what train we'll be when we come out the other side.
And, leaning on more ancient philosophy, if we cannot change our circumstances, we must change our thinking.
1. Expect child-guest appearances
Remember when Robert Kelly's children's' cameo appearance during a BBC interview made headlines and went viral? Well, with everyone who can working from home, there's a lot more where that came from.
It will happen. That is if you, like most, don't have oodles of room and space, and you're currently squeezing monitors on the dining the table or working from the desk in your bedroom. So sprogs jumping into the webcam zoom frame every now and then is an inevitability we can view differently to boardroom's past.
Try to see this as the human side of work entering the fore. And as our CEO Jonathan says, 'it's lovely to meet them'.
2. Don't panic about shopping
As we learn to adjust to new ways of working and living amidst COVID-19, we're reminded to remain agile and flexible. Our leadership team qualmed any anxieties last week by letting everyone know we don't need to panic:
From shopping to childcare, simply make a note of any extra unplanned time away from the desk and make it up where you can.

As long as you're healthy and communicating, we trust you to do your job.
3. 09:00-5:00 doesn't need to be the core
If our team need time to set the tots, kids or teens up with activities, supervise playtime or join with Joe Wicks, we encourage them to take it.
And if you haven't covered this already, check in with your people to see if this could help with their transition WFH with kids too.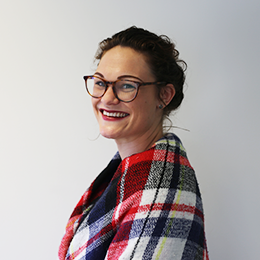 Author: Rachael Down
With a passion for words, Content Specialist Rachel Down, is an experienced communicator with skills in journalism, content creation and web copy writing.
Posted on 1 April, 2020
By Rachael Down
Flexible Working
Back to listing