According to research, more than 4 million people already work remotely in the UK.
It was also predicted that by this year, 50% of the UK workforce will have adopted some sort of remote-working routine. And, with 90% of UK employees saying they'd like to work remotely at least part time, the demand has never been higher.
So, as the popularity of remote working rises, so does your flexibility.
Not considered remote working before? This article is a great place to start.
We'll be weighing up the pros, cons and everything in-between to help you decide whether remote working is a practical and worthwhile move for your business.
What does it mean to work remotely?
Remote working simply means working away from the office and it's become a key part of modern flexible working. It's also become a really attractive employee benefit.
It's thanks to advanced technology and the digital age that we're able to work remotely as easily as we can. As long as there's a wifi connection, you can pretty much work from anywhere: your favourite coffee shop, from your sofa, a co-working space - you name it.
Cloud software has a big part to play, too. Products like Slack, Monday.com, Outlook and HR Software mean that you no longer have to be in the same building - or even country - to work on a project or hold a meeting.
There isn't a 'one size, fits all' solution for remote working, though - the way this works can vary massively from company to company. It ultimately depends on your company culture and the type of business you're running.
So, to help you make an informed decision on whether remote working is right for your business or not, let's take a moment to consider the pros and cons.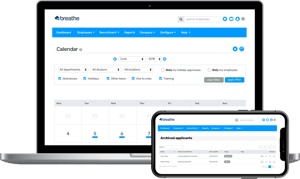 Try Breathe FREE for 14 days - no strings - and discover the new way of managing HR admin
Business-benefits of remote working
The benefits of remote working for your staff are obvious – no commute into work and greater flexibility - but how can remote working help your business?
Greater productivity
Looking for ways to improve productivity? Remote working could lend you a hand here.
By offering extra flexibility, your people will feel trusted and will be able to work where they feel most comfortable, which as a result is likely to boost productivity.
Research revealed that remote workers consider themselves more productive than those who are office-based, with productivity ranked at 7.7 out of 10.
This is compared to 6.5 out of 10 for those who are office-based and more than half of workers said working remotely would improve their motivation levels.
Retain older workers
Offering remote working is also a great way to keep older, highly-experienced workers in your business.
With potential increasing demands on their lives outside of work - such as caring for families or elderly relatives - remote working can be an ideal solution.
This will allow them to remain productive, but offer the flexibility to deal with other pressing commitments.
Reduce operating costs
If you allow your staff to work remotely, you'll naturally need less office space to accommodate them - saving you valuable pennies.
And the proof's in the pudding: figures from Global Workplace Analytics revealed if bosses in America allowed their staff to work remotely just half the time, they would save an average of $11,000 a year.
Lower employee turnover
Losing valued employees comes with a cost - it's estimated that the average employee costs a staggering £12,000 to replace.
By offering them a more flexible way of working, you're providing a better work-life balance and promoting greater employee loyalty. These are all things that will increase retention and reduce the cost of onboarding new employees down the line.
Potential down-sides
Inclusiveness
Staff who work remotely miss out on the usual office banter and 'water cooler chat', which can often be vital in building a strong team.
Video conferencing can help here, but it doesn't completely negate the effect.
Office-based staff may not view remote workers as part of the team and remote workers can feel like they're permanently left out.
You also can't have a quick, spontaneous meeting with them or stop by their desk to see how their work is going.
Communicating with your team
There's a whole host of ways you can communicate with remote workers, but this in itself can be overwhelming.
With so many forms of communication on offer, there is a danger of information slipping through the cracks.
You can use as many different forms of communication as you like, but they only work if the person on the other end is there to receive it.
Security risks
Working remotely can increase the risk of security breaches, especially if your staff work with sensitive data. The loss of a laptop, for example, could lead to a serious data breach and even fraud.
If you're worried about security, it's probably better to stick to office-based work, or at the very least use encrypted software and password management programmes.
So...
Before you leap head-first in the world of remote working, look at your business and your staff and identify whether there are opportunities to offer remote working.
Be prepared to invest in new technology, create a communication plan and figure out how you are going to benchmark and review performance.
Finally - and perhaps most importantly - make sure your workforce is ready to embrace such a shift in workplace practice.
Posted on 15 February, 2020
Remote Working
Back to listing