Remote working is becoming increasingly popular in the SME world. It's a key part of the demand for flexible working, with many younger people on the hunt for companies who have embraced it.
And, one day, it may become the norm rather than just a 'nice-to-have'.
And – naturally – there's been a huge jump in companies adopting remote working with the recent Coronavirus outbreak, as per the government's advice.
This is to keep teams and communities safe and healthy and to stop the virus spreading - but keep businesses running efficiently at the same time.
However, if businesses are going to run normally, meetings still need to happen. So how do you go about running online meetings and ensure they're as successful those that happen in the office?
Here are our top-8 tips for holding a productive, positive video conferences.
8 top-tips for holding a successful online meeting
Find software that works for you, and invest in it
The first step is to find an online tool that does the job well.
There isn't a one-size-fits-all solution here; it very much depends on your business and the purpose of your meeting. You need to find a tool that works for you.
There are a few options out there for you to investigate, but here are our top recommendations:
This is just a handful of options - here's a handy guide from TechRadar with a full list of recommendations.
Prep your team
You'll next need to make sure your team are fully equipped and ready to go.
Make sure they know how to use your chosen software. It might be worth having a group call beforehand to run through how it works, or you could send out some instructions via email.
You'll also need to make sure participants have suitable earphones with a microphone, WiFi that's up to the job and a quiet set-up for meetings.
Making sure everyone's prepared will get the meeting off to a smooth start and minimise any teething problems.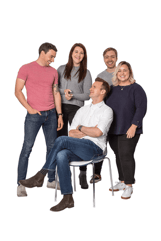 Keep your remote team
engaged and informed with
Breathe - start your 14-day trial now



Communicate beforehand
Let attendees know the purpose of the meeting and if there's anything they need to prepare beforehand.
If you can, make sure every attendee has a calendar invitation (we use Outlook for this) and everyone is on the same page about when the meeting is taking place.
You may need to consider time-zones here if you're meeting with oversees clients.
Create a solid agenda
Creating a clear agenda will mean the meeting has structure. Without one, it's easy for a meeting to become disorganised and conversations to go off on a tangent.
Assemble a plan of what needs to be covered during the online meeting – and stick to it.
If your schedule is packed, perhaps even allocate a set amount of time to each topic.
It may be beneficial to send attendees the agenda beforehand. This way, they'll know what to expect and will have some time to prepare if they need to.
Delegate responsibilities
Give your attendees different roles and responsibilities to help your meeting flow smoothly.
Delegate jobs like time-keeping and note-taking. It's also a good idea to assign someone as the chair/moderator for the meeting to ensure discussions stay relevant, productive and on-track.
Communicate this beforehand so attendees are aware of their responsibilities and come to the meeting prepared and ready to go.
Set clear expectations
Before the online meeting, it's a good idea to communicate general etiquette and expectations so that everyone is on the same page. This could include things like:
Muting microphones to avoid people speaking over each other
Reading the agenda beforehand
Sitting in a quiet environment
Giving full attention during the meeting and not working on other tasks
Having phones on silent
Giving everyone a chance to contribute
Having video switched on so everyone can see each other
By clarifying this beforehand, your team will come along knowing exactly what's expected of them.
Interact and engage
It's a nice idea to have a few minutes of casual chit-chat before the meeting officially starts.
Whether you all know each other well or you've just started working together, a fun, friendly conversation can engage your team and get the meeting off to a great start.
As the meeting gets into full swing, check in with your team and ask for their opinions on topics being discussed. It's important everyone feels valued, especially for the introverts who may not be so confident speaking up.
Making sure everyone is engaged is key to a productive and successful online meeting.
Follow up
Any meeting can be a bit of a whirlwind of ideas, so it's important to follow it up with a summary.
This could include what was discussed, a list of key actions, responsibilities and deadlines.
Packaging this all into an email means that nothing is missed and reminds the team of key discussions and ideas.
Key takeaways
Running an online meeting can be a daunting prospect, but if you take some time to prepare and communicate beforehand, it can work like a dream.
Follow our 8 top-tips and you're all set for a successful, enjoyable and productive meeting.
Posted on 25 March, 2020
Flexible Working
Back to listing