At Breathe, our culture is at the very heart of all we do. When it comes to onboarding new employees, how can you make sure the onboarding plan you're creating is culture-centric?
We all know that effective onboarding is important. Whilst avoiding the high costs of staff turnover and re-recruiting is priority for all businesses, SMEs are more likely to feel the impact of churn.
A successful onboarding programme will help to settle in new starters and to retain talented staff in the long run. (If you need help with specifics around induction checklists, we've got you covered.)
In this blog, we look at how you can ensure your culture is clearly communicated to ensure a successful onboarding journey.
What is onboarding?
Onboarding (or the onboarding process), refers to the time after hiring a new employee until approximately when they pass their probation period.
It's the time frame where a new starter joins an organisation and learns the company culture, values, vision and gets to know their colleagues - as well as their role.
7 ways to build a culture-first onboarding programme
1. Start the onboarding process early
Onboarding can (and ideally should) start before your employee's first day. Whether it's team members saying hello in the office when ID documents are dropped in before the new starter officially joins, or inviting your new joiner to a social event, it's never too early to make introductions and let your employee start to feel a part of the team.
Even a welcoming email sent before the new starter's first day is a good way to begin. This means that the first thing the new person will read is a friendly hello from their line manager.
2. Meet the new team
Settling your employee into their team is important to help them feel happy and engaged in their role, as well as building the foundations of good working relationships.
Arranging a team lunch or coffee is a good ice breaker (either in or out of the office) or perhaps you have an upcoming social event that you could invite them to. If your company culture is people-first, teams will go out of their way to make employees feel welcomed and to offer help, where needed.
3. Buddy up
At Breathe, our People Team arrange a 'buddy system' where existing employees can volunteer to pair up and check-in with a new starter while they settle in. This is a great way to help new employees build friendships and working relationships outside of their direct team, which is especially important in their first few weeks when everything might feel a bit daunting.
We also have 'buddy lunches' where each new starter and buddy to go out to lunch to get to know each other better. Breathe 'buddies' will give newbies a tour of the office and help with things like making introductions, door codes, remembering people's names – and most importantly - how to use the coffee machine and where to head for lunch.
There's enough going on in the first week of a new job without having to worry about what that persons' name is and smiling awkwardly as you walk past. Avoid that scenario by making sure your new employee meets as many people as possible, as soon as they can.
4. Be organised
Make sure your new employee knows you're fully prepared for their arrival. Set up a detailed induction programme including initial tasks to complete, health and safety protocol, a list of company documents and policies to read and other people in the company to meet with.
Take the time to explain the individual roles of each team member within your initial department, to help everything start to make a bit more sense. You could gently clarify responsibilities of their role and set the new starter up with some initial tasks or training. Nothing says that you've considered your new starter more than ensuring they feel they have a place, rather than feeling like a spare part.
5. Not just a number
It's important to let your new team member know that they are a valuable addition to the company as a whole. You might want to arrange a time for different teams and departments to sit down with your new starter, as formally or informally as you like.
Perhaps a walk-around introduction works best for you if you're mostly office-based, or you could set up some virtual chats if you tend to work remotely. Breathe offers new starters a gift box of company branded items such as a t-shirt, water bottle and some culture-themed books as a way to say "welcome to the team".
Making a new starter feel welcome is vital, but it will also help with employee retention and making people feel they belong. After all, your people are your culture.
6. Create an open, welcoming environment
If new employees don't feel comfortable enough to query things they're unsure of, then not only is this anxiety-inducing for your newbie, but also a prime situation for mistakes to occur.
If you don't have a culture where asking questions is encouraged (growth mindset) then you could be creating a culture of fear. Create an atmosphere where asking questions and continuous learning is encouraged.
7. Personalise the onboarding journey
Try to tailor the onboarding process to your new starter as much as you can. Do they learn from listening, watching videos and reading things on their own, or by talking things through with others? Do they need a lot of contact time with their line manager, or is a weekly catch up enough? Perhaps they'd rather a ten-minute daily catch-up, for example, as well as the other training and support you're offering. They might prefer a one-to-one meeting every fortnight, for instance.
Let your new employee lead on this as much as your company policies allow. This will let them know that you're putting them first, as well as fostering a working environment that best supports their learning and growth.
Putting people first - from day one
If your organisation has a strong company culture that values people as individuals, chances are that you already offer a culture-first onboarding programme. If you're considering how best to make people feel settled in their new roles and what they might need from the company to make the process a bit easier, then you've already got the basis of a successful onboarding plan.
Our guide to recruiting & onboarding is designed to support SMEs through creating impactful job descriptions, attracting the right people & ensuring seamless onboarding.
Download the resource today to gain valuable insights from Breathe's People team.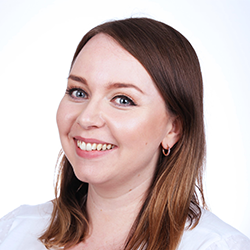 Author: Aimée Brougham-Chandler
Aimée is a Content Assistant here at Breathe. She enjoys writing about topical HR issues & helping readers find solutions. In her spare time, she's commonly found amongst books.
Posted on 28 August, 2023
Company Culture
Back to listing