With cost estimates upwards of £12,000 per year (or around 33% of employees' base pay) for each lost member of staff, it's never been more important to nail your employee retention strategy. Even in economically uncertain times, employees will still leave if they're unhappy in their roles.


What is an employee retention strategy?
An employee retention strategy is a series of measures and initiatives designed to
It can include everything from your onboarding process, reward and recognition policies and career progression to employee benefits, work/life balance initiatives and training and development. It can even include things such as away days, all-expenses paid holidays, perk boxes and learning days.


Can an employee retention strategy really reduce turnover?
People leave their jobs for all sorts of reasons. There will always be some who hand in their notice no matter what you do. That's just business.
But equally, there will be other employees preparing to throw in the towel because they're not getting what they need from you. And if you lose those people it could hit your bottom line hard.
While no-one can agree for sure on the cost of replacing a lost employee, just accounting for the productivity drop and the hours involved in finding a replacement will cost your SME dearly. And that's before you consider that it can take as much as a year for an employee to be fully productive.



7 employee retention strategies for small businesses
A good employee retention strategy will keep your employees engaged and motivated. Don't fall into the trap of thinking that a beer fridge and beanbags are enough to make employees want to stay with you – the things that really make employees want to stay with an organisation are simpler than you might think.


1. Provide growth opportunities
Meaningful work – or having a clear purpose – is more important in employee retention than you might think. And the really good news? It's not a big financial investment.
Researchers found that 9/10 employees were willing to take a pay cut in favour of doing more meaningful work. Work doesn't need to be about saving lives or cleaning the oceans to be meaningful.
There's purpose in every role, it just needs to be made clear. The first step in making sure your employees are clear on their purpose is to start at the top and be clear on what your business does and why that's important.
2. Utilise Employee Net Promoter Score
Tools such as Employee Net Promoter Score (NPS) can help with retention by showing your team you're listening to them. Reduce turnover costs by checking in with your people, which will allow you to make proactively make any changes that need to be made.
Breathe's Employee Net Promoter Score feature is free on Regular plans & above.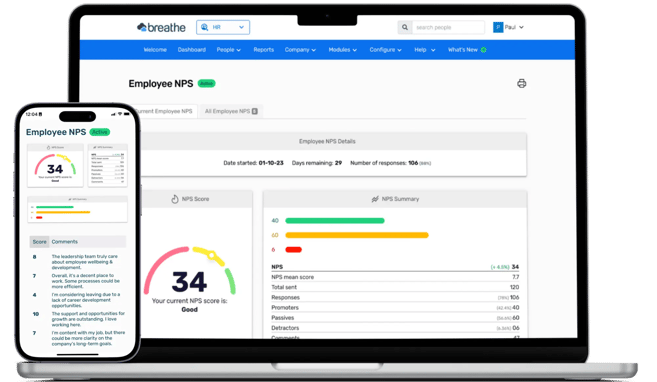 3. Build a strong culture
Nearly a third of employees quit their jobs due the culture of the organisations they worked for. So, it stands to reason that building a more positive company culture can help reduce staff turnover.
There are lots of resources to help you better understand your SME's culture and to help you develop a stronger, higher performing culture that employees want to stay in. The Breathe Culture Pledge is a great place to start. And better still, it's available free of charge.


4. Invest in Learning and Development
A strong learning and development (L&D) strategy will help you develop great employees, nurture your culture, keep a handle on your costs and grow your business.
After all, people don't join a business to stay static and stagnate – they join it to give it their best, learn and grow.
Research shows that employees who are challenged and given the opportunity to develop are more likely to be content with their existing organisation – in other words, they're more likely to stay in their jobs.
Your SME's learning and development strategy could include:
Where you recruit from – is there a local college, school or university to partner with?

How you determine a development plan for each employee

How you promote employees

How you train managers to support employees

Training employees to experience roles from other parts of your organisation.
A strong learning and development strategy doesn't need to be complex, but it can be helpful to get professional support in setting one up. Find an HR professional to support you via our Partner programme.



5. Take a more flexible approach
Flexible working is well recognised as an employee retention tool. In fact, one study found that 63% of employees are more likely to stay with an employer who offers flexible working.
Adopting a more flexible approach to employee working hours can pay dividends for your business. Not only will you reduce staff turnover, but you'll also attract from a wider talent pool. And that's got to be good for business.
Remember, flexible work doesn't need to be limited to part time hours. It can also include:
Hybrid working

Job shares

Compressed hours

Term-time working
6. Reward and recognise good performance
Incorporating a performance management process into your SME and linking it to reward and recognition will show employees just how much you value their efforts. After all, if someone does a great job and then they don't get the thanks they feel they deserve, they're unlikely to stay with your business for long.
Good reward and recognition tools don't need to be a challenge to implement. Something as simple as a Kudos tool can shine a light on hard workers, while your learning and development programme can be used as a way of rewarding strong performers by giving them a step up to the next role or giving them a place on a prestigious new training programme.


7. Give benefits that really count
Employee benefits can be a big driver in attracting and retaining quality employees. More than just topping up salaries, the benefits you give your employees can enhance your company culture as well as play a part in your retention strategy.
Classic employee benefits include private health and dental care, profit sharing schemes and company cars. These are always welcome, but other benefits such as an extra day off on birthdays, volunteering days or accruing extra holiday for each year of service are attractive perks which employees also appreciate.
For more inspiration, check out our Employee Benefits Guide.
There's no silver bullet for reducing staff turnover, but by implementing an employee retention strategy, you and your SME will be doing all you can to keep your best people where you want them – on your payroll.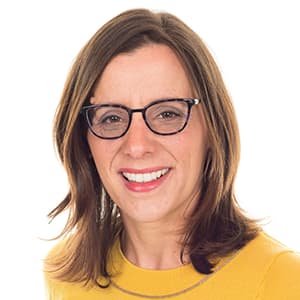 Author: Laura Sands
Laura is a writer who enjoys getting into the detail of subjects and sharing that knowledge with snappy, interesting content. When not typing away, she enjoys walks in the woods and curling up with a good book and mug of something hot.
Posted on 10 November, 2023
By Laura Sands
Employee Engagement
Back to listing