Over the course of the lockdown, many roles have had to adapt to a new reality, and those responsible for managing people and human resources are no exception.
HR leaders have shown immense agility, quickly pivoting to manoeuvre in this new world of work, with very little preparation time.
HR teams have had to support employees mentally and emotionally, ensuring they have all they need to work efficiently from home, keeping engagement and morale high, coordinating furloughs and layoffs, and more.
While many companies will sadly need to consider redundancies over the coming months while the economy remains in a precarious state, there are signs of cautious optimism. Companies in some sectors may again find themselves needing to recruit and onboard new employees.


Preparing workspaces for new employees
Clarify where and when new employees will be working
Introduce new starters to the team
Tell them about your company culture
Highlight goals and objectives

What is employee onboarding?
Onboarding is the set of processes businesses implement to welcome and initiate new employees into an organisation, providing them with support, guidance and training. This is essential for helping them settle quickly and become happy and productive employees.
With businesses planning phased returns to work - dividing their team between the office or working from home - HR managers will need to combine online, virtual onboarding with the traditional physical face-to-face meetings and activities.
Welcoming new starters
Whether a new employee is working from home or in the workplace in their early days with a company, it's important to combine friendly, welcoming communications with something physical.
Company swag such as t-shirts and mugs, in addition to candles, chocolates or plants, are all great welcome gifts and will be appreciated.
Managing admin
Whether an employee is providing a manager with their 'day one' documents (such as signed contracts and passport details) in person or electronically via email, make sure these are stored securely and centrally.
Using a system like Breathe which includes dedicated document management functionality means you will be able to easily access employee information from anywhere.
Employees will have access to company documents and policy information, in addition to details of any training which has been arranged for them as part of their induction process.
Whether working from home or in an office, using cloud-based HR software like Breathe means managers and employees will have access to documentation at all times.




Preparing workspaces for new employees
Making sure new starters' desks or workstations are ready from day one and new employees are equipped with computers and smartphones is important, but now managers also need to think about home working spaces.
It's an employer's duty of care to ensure a new employee works safely and comfortably if, and when, they work from home.
At the moment – and as more people return to the workplace – it's equally important everyone is clear about company policies concerning social distancing, reassuring them their safety is of paramount importance.
Communicating the steps that have been taken to protect employees post-lockdown is essential.
Clarify where and when new employees will be working
Actual working hours are usually very easily defined and will probably have been discussed with a new employee as part of the recruitment process. What has now changed in many companies is where people are expected to work.
Many businesses are developing phased back to work plans which limit the number of people allowed in an office at any one time. This means many people will be dividing their time between working from home and a company premises.
New employees need to know where they are expected to work. Many companies, perhaps for the first time, are setting up rotas and staggered shift patterns.
Although this can be managed manually or via a spreadsheet, it's worth considering dedicated rota management software, enabling managers to create rotas and communicate them to their staff at the click of a button.
Introduce new starters to the team
Introduce new employees to their immediate colleagues and team members, making this as informal as possible.
If this not possible in the workplace for the time being, consider meeting in a public place where social distancing is possible – getting people together is becoming easier and even spending half an hour with their new colleagues can help make them feel part of the team.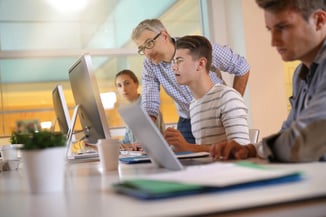 Of course, many of us are now well used to communications tools such as as Zoom and Microsoft Teams but opt for physical meet-ups if possible.
Assigning your new employee a work buddy to support them through their first few weeks is also great for helping people settle in.
Tell them about your company culture
Introducing a new employee to a business' culture is key to helping them connect with their colleagues and understand company priorities and values. A company's culture is its essence, underpinning its purpose and direction.
Maintaining cultural values among dispersed teams is undoubtedly more challenging than when people are located in a single place, but it's important that this is not overlooked.
Do everything you can to communicate positives to new employees, introducing them to colleagues who live and breathe your cultural values as soon as possible.
Our 2020 Culture Economy Report examines the high importance of developing a progressive and supportive culture which brings out the best in people.
Highlight goals and objectives
It may sound obvious but it's important for new starters to be clear about their objectives, providing them with a clear sense of purpose as quickly as possible.
This is essential for engagement and productivity, especially if they will be working from home and in relative solitude compared to being located alongside their colleagues.
Check out this article about employee engagement, explaining the importance of agile leadership to help inspire and motivate people – new starters as well as existing employees.


Back to blog