We all love a 3-day weekend; bank holidays are always a cause for excitement.
But what if you scrapped the traditional 5-day week and made this the norm?
Would your business soar? Or would productivity take a hit?
In this article, we're unravelling:
- The case for a four-day week and how it works
- The business-advantages a four-day week can bring
- The potential drawbacks of implementing a four-day week
So, what's the case for a four-day week?
There is an argument to be made that modern technology has significantly sped up the way we work, and that the five-day week is no longer necessary.
For example, cloud HR software means that long-winded spreadsheets are no longer needed and faffing around with paperwork is a thing of the past.
Whilst the five-day week used to be a great model that got the most out of its workers, it was born in an era where factory work was the norm. In a 19th century factory, a 5-day week was ideal. People would get up, go to work, do their jobs and go home. That was all there was to it.
However, with the evolution of technology and the increase in office jobs, the rule that longer hours equals more productivity doesn't necessarily ring true.
Microsoft's Japan offices also trialled it and saw a whopping 40% increase in productivity. It's also proved successful in countries like New Zealand and Sweden.
Closer to home, many British businesses are also trialing the four-day week concept, with hopes to get the same level of output in fewer hours of work.


Advantages of a four-day working week
So, how do you know if a four-day week is right for your business? To help you decide, here are some key pros and cons.
Reduced costs
A four-day week can cut costs for everyone.
The obvious one is that, given the office would be closed for one extra day a week, running costs would see a significant drop.
Additionally, employees would be paying less to commute and would see cut costs in expenses like lunch and coffees during the day, too.
Happier employees
Having a three-day weekend leaves employees with more free time. Not many people will complain about that.
Having more time to do the things you love increases overall happiness and can help to increase loyalty to a company - it's a win-win.
Fewer health issues
According to charity Mind, 1 in 6 of us experience mental health problems in any given week.
And, the Breathe Sick Report 2019 found that 37% of UK businesses have seen an increase in stress-related absence over the last year.
Having a longer weekend will allow people to spend more time with their friends and family and do things that they love, which will naturally lead to an improvement in wellbeing.
It'll also give them an extra lie-in each week which will help them re-charge a little more after a busy week.
Increase in productivity levels
Discontent staff tend to distract their co-workers. The general theory behind a shorter week is that happier, more fulfilled employees are therefore more focused on their job when actually in the workplace.
Perpetual Guardian, a New Zealand firm trialled a four day week. The results found that 78% of employees could more effectively balance their work and home life. This was compared to 54% prior to the experiment.
Recruitment and retention
In the age of the millennial, being able to offer a more flexible work pattern is definitely a perk that persuades employees to stay at a company.
Knowing they'll be getting a three-day weekend is one that keeps employees motivated week-on-week. It's still a relatively rare offering and can be a great way to get the best talent through the door - and keep them engaged, too.
Disadvantages of a 4-day work week
It doesn't suit every business model
Unfortunately, a four-day week model doesn't suit every business. It's an option that is only viable for companies who can re-adapt their whole business to a new way of working.
Adopting a different way of working is a big step, so you'll need to consider whether or not a four-day week is right for your company.
Longer hours and work-related stress
In reality, most employees on a four day week will most likely be expected to work the same 40-hour weeks, but in four days instead of five. In this case, shifts might be extended to 10 hours.
Longer days could have a significant effect on your employees' stress levels and therefore their overall wellbeing and productivity.
How does a four-day week affect holiday entitlement?
One of the first things employees might ask is: how does this affect my holiday entitlement?
Well, as you probably know, an employer can set their own rules on holiday, and can choose to give more than the legal minimum should they want to.
If you switch to a four-day week and keep the standard 37.5 hour working week (ie. you condense 5 days into 4), your employees' holiday allowance won't change. No sweat.
But, if you actually reduce the amount of hours your people are working each week, you'll need to re-calculate the holiday they're entitled to. And here's how you do it.
Leave allowance is calculated simply by multiplying the number of days worked a week by 5.6.
A five-day week entitles 28 days' annual leave a year.
So, someone working a four-day week would be entitled to: 4 days x 5.6 weeks = 22.4 days.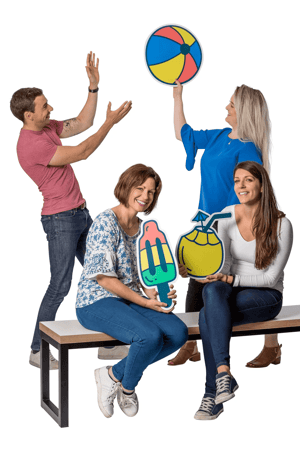 To take the headache out of calculating holiday, we've created our very own easy-to-use Holiday Calculator tool - and it's completely free.

Click here to calculate your employees' holiday in seconds.


Is a four-day week right for your business?
It remains to be seen whether a 4-day week is the solution to the changing 21st century workplace or not.
But, what is certain is that small businesses will have to keep an open mind.
They'll need to ensure they accommodate increasing changes in technology from a business perspective, whilst keeping the overall focus on employee health and wellbeing to maintain productivity, morale and engagement.


Back to blog