It's normal to feel a little pressure at work. A certain amount is healthy and helps us to be more productive.
But when the pressure becomes too much, you may begin to feel overwhelmed and stressed. This is when it becomes a problem.
Despite the serious risks that workplace stress brings, 76% of UK employees report moderate-to-high or high levels of stress in 2023.
But it doesn't have to be this way. By understanding stress and learning how to manage your body's response, you can learn to deal with it more effectively.
We asked our HR Partner, Andy Phillpot, Managing Director of Businessynergy Limited, for his expert advice on this topic.
Skip to:
Why it's important to manage workplace stress
What are the symptoms of workplace stress?
9 ways to reduce workplace stress
Why it's important to manage workplace stress
Stress can affect anyone, in any workplace and at any time. And if it isn't dealt with, it can have catastrophic effects on health, wellbeing and business productivity.
Research reveals that 17 million working days were lost to work-related stress, anxiety and depression last year. Cut the data another way and we see that work-related stress, anxiety and depression account for 55% of all work-related sick leave.
Business leaders and managers have an interest in managing stress among their employees – a happier, less stressed workforce is more productive and less costly.
"The biggest mistake is for an employer to ignore the problem of stress. Often this is not due to a lack of willingness or compassion, but simply because many line managers are themselves fearful of engaging with employees who have expressed mental health issues.

Alternatively, when they do decide to take action they often try to jump to the 'solution stage' before they have really understood the problem. There is some excellent mental health training available for line managers and given that these types of issues seem to be on the increase it would be a sensible personal development opportunity as well as good business decision."

Andy Phillpot, Managing Director of Businessynergy Limited
It's clear enough that stress is bad for business, but what does it do to us as humans?
The heath risks of stress
Stress is the human reaction to being overwhelmed or under threat. It's an important natural reflex and is part of what's called the 'fight or flight' response.
A small amount helps make us more efficient and can make us feel more energised.
But when we suffer repeated stress over an extended period of time, it affects our health.
This includes:
A lowered immune system – you might find you're always fighting colds or infections

Heart disease – experts believe stress is as damaging to the heart as smoking

Poor mental health – repeated stress can lead to anxiety and depression

High blood pressure – increasing your risk of stroke and heart attacks

Digestive issues – stress affects our digestion causing indigestion and worsening IBS and stomach ulcers

Fertility problems – stress can disrupt the menstrual cycle and reduce sperm quality and count
What are the symptoms of workplace stress?
It might not be obvious that you're suffering with the symptoms of stress. But it readily presents itself with a range of symptoms which can include:
A racing heart

Indigestion, bloating, diarrhoea or constipation

Headaches or dizziness

Tense or painful muscles

Back and shoulder pain

Difficulty concentrating

Finding it difficult to make decisions

Forgetting things

Insomnia

Worrying and overthinking

Irritability

Change in appetite

Turning to coping behaviours such as drinking, smoking or binge-eating
Stress has a powerful impact on our bodies, which is why it's so important for us to recognise it and try to reduce those feelings.
9 ways to reduce workplace stress
There are a variety of steps you can take to manage workplace stress. Here are 10 changes you can start putting into action today.
1. Talk about it
They say that a problem shared is a problem halved, and it's true. Talking about the way we feel can have a powerful impact on our stress levels. If you're feeling overwhelmed at work, it's time to talk about it.
If you feel comfortable talking to your line manager, put a one-to-one meeting in their diary to discuss how you're feeling. If you don't feel like your manager could help, consider talking to someone else in the business instead. Some businesses have an EAP (Employee Assistance Programme), which are designed for these situations. They are confidential and give you direct access to staff who are trained in helping manage stress.
Never underestimate the power of talking to a friend or family member to talk about the way you're feeling. They might be able to give you a different perspective and help you think about things differently. If you don't feel you can speak to family or friends, calling a helpline such as the Samaritans is a practical alternative.
2. Take regular breaks
Research has found that taking regular breaks from your work actually makes you more productive than if you power through your day. Sitting at your desk all day can be counterproductive and damaging to your health.
The Pomodoro technique is a great way to make sure you're taking proper breaks. This involves 25 minutes of concentration followed by a 5-minute break and a 15-minute break every 2 hours. And by 'break', we mean stepping away from your desk and disconnecting with your work completely.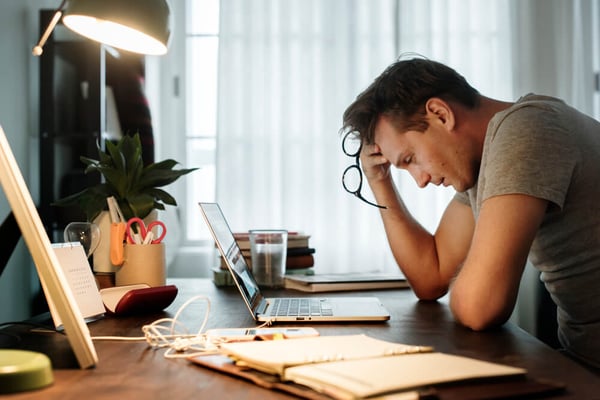 3. Create a list
If you've got lots of 'to-dos' in your head, an easy way to take the pressure off is to write everything down. This helps you reflect on the work you have to do and start to prioritise things more effectively.
If you like to be organised, you could colour-code each task in order of priority to get your workload in order. Remember to tick them off as you go for a satisfying sense of achievement.
Here's another idea – start creating a 'done' list.
It's likely that you'll complete little tasks here and there, as well as working through your to-do list. Record these tasks in a separate list to keep a note of everything you've completed. This will help you feel more accomplished and make you realise where you're doing things that could potentially be avoided or deprioritised.
4. Break it down - and ask for help when you need it
A big project can easily seem daunting, and it's easy to let it stress you out.
Take some time to break your projects down into small, bitesize tasks. This will help you to approach at the work in a different way and see it as doable, rather than challenging.
What are the different steps for the project? How long will each one take? What tasks will you set yourself and others in order to tick off each step?
And remember - you're only human and can only do so much. So, it's important to identify when you've got too much on your plate and begin to feel stressed.
Your line manager is there to ensure your workload is manageable, so be sure to discuss it with them if it gets too much.
5. Get moving
It's a known fact that exercise gets endorphins flowing, helps boost your mood and looks after your mental health.
Mental health charity, Mind, say:
"Doing something physical releases cortisol which helps us manage stress. Being physically active also gives your brain something to focus on and can be a positive coping strategy for difficult times."
If you're feeling stressed, make sure you get your body moving. You may not feel like it at first, but pushing yourself to exercise will help you feel better in the long run.
6. Pay attention to your diet
The food we eat has an enormous impact on our mental and physical health. In fact, there is an increasing body of evidence demonstrating the link between gut health and mental health. Reducing processed food and upping your fruit and veg intake helps improve your gut microbiome, which in turn can support your brain health.
And it's not just the food you eat that can affect your stress levels. High levels of caffeine and sugary drinks can affect the way we deal with stress. The same goes for alcohol… the best advice? Go steady and practice moderation.
7. Schedule some down-time
Make sure you plan in some 'me-time' to practice some self-care. The human body can only take on so much, which is why taking some time to rest and re-charge is essential for managing stress.
By down-time, we don't mean blocking out an entire evening to chill out on the sofa and binge the latest box-set. Using your down time to do something as simple as a short walk or eating a nutritious lunch away from your desk can make the world of difference. Just make sure you get a breather.
8. Automate
Eliminating manual admin-tasks can do wonders for your stress levels. Why should you spend more time than you need to on tedious tasks?
Investigate digital solutions to help you out here. We'd recommend Monday.com for project management, Xero for managing the pennies and Hubspot for keeping on top of sales and marketing.
If your role (or some of it) is looking after your people, simple HR software could be the answer to your prayers. Breathe allows you to keep all your people-data in one place, along with documents, training information, holiday requests and so much more. It's also incredibly easy to use.
9. Maintain a work-life balance
When you've got a lot on your plate at work, it can be easy to work into the evening or check your emails at the weekends. Over a third of UK employees now skip more lunch breaks than they used to.
But this is a dangerous habit to fall into.
Establishing the line between your work and personal life is crucial for minimising stress and preventing burnout. And you'll actually find you're more productive if you stick to your contracted hours.
Why not try keeping track of the hours you're working and reviewing it after a few weeks? Or you could have a conversation with your colleagues. Do they think you work too much? Small steps like these put you in control of your work-life balance.
Limiting stress in SMEs
Workplace stress is incredibly common which is why you should nip it in the bud before it gets serious.
The good news is that by following these steps and working with your line manager, you'll take control of workplace stress and start minimising it.
The result? You'll feel more relaxed, happier and more productive at work.
Andy Phillpot is the Managing Director of Businessynergy Limited, a Breathe HR Partner. Find out more about receiving professional HR advice.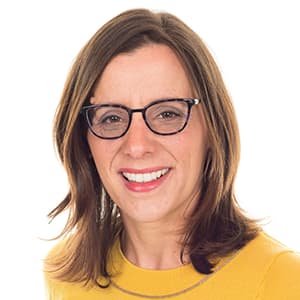 Author: Laura Sands
Laura is a writer who enjoys getting into the detail of subjects and sharing that knowledge with snappy, interesting content. When not typing away, she enjoys walks in the woods and curling up with a good book and mug of something hot.
Posted on 24 October, 2023
By Laura Sands
Mental Health
Back to listing