We know it's been a difficult few years for businesses – especially SMEs.
But it's been great to see things looking up: there were a record-breaking 1.3m job vacancies in the UK between November 2021 and January 2022.
But throw a 'Great Resignation' or 'Great Reshuffle' into the mix and recruiting new staff doesn't seem as straightforward as it once was.
And, according to a government report, at the start of 2021, SMEs accounted for around half of turnover in the UK private jobs sector.
And this is why we thought we'd create a free resource to help SMEs who are facing any challenges when it comes to successfully recruiting & onboarding new team members.
Introducing: the ultimate guide to recruiting & onboarding.
How the ultimate guide to recruiting & onboarding can help your business
At Breathe, we're on a mission to help SMEs to put their people first & to reach their full potential.
We believe it all starts with your culture, which covers all aspects of managing your people - even right from when you first meet them at the interview stage.
This is exactly why we've created this brand-new guide - specifically for SMEs - to help on each step of the recruitment journey, right through to onboarding your new starters.
From creating an environment where people can ask questions, to making applicants want to work for you and selling the perks of your organisation, we look at all the important aspects of onboarding and recruitment.
Best of all, it's completely free to download and is yours to keep for when you might need to refer to it.
Top

tips from Breathe's People Team
We're really proud of our culture and how we do things at Breathe HQ – which is why we thought we'd ask our own in-house experts for their gems of advice on all things recruitment & onboarding.
Throughout the resource, you can expect to see tips from Breathe's People Team – specifically selected with SMEs in mind.
From different types of employees & contracts to writing a job description and staying compliant in your recruitment processes & avoiding discrimination– we've got you covered.
We also detail top tips for onboarding new staff and provide a handy checklist for onboarding new starters.
What's included in the guide?
We've included:
Templates for you to use in your day-to-day roles, including a checklist for onboarding new starters & a template for writing job descriptions.

Pointers for improving your onboarding processes & the benefits of a

buddy

system

Prompts for an onboarding survey to receive valuable feedback

How to ensure consistency when screening applicants for a job

How to best help new recruits settle into their teams

Advice from Breathe's People Team – top tips on all areas of recruitment & onboarding
We hope these tips help you to find, recruit & onboard the very best people.
Download the resource for free
Why not download the ultimate guide to recruiting & onboarding for SMEs for free today?
The guide is yours to keep, so feel free to keep a copy nearby in case you want to refer back to it later. We hope you find it useful.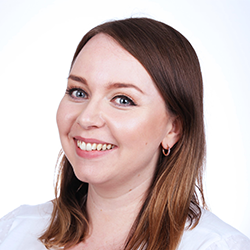 Author: Aimée Brougham-Chandler
An IDM-certified Digital Copywriter as of February 2023, Aimée is Breathe's Content Assistant. With a passion for guiding readers to solutions for their HR woes, she enjoys delving into & demystifying all things HR: From employee performance to health and wellbeing, leave to company culture & much more.
Posted on 16 March, 2022
Recruiting Talent
Back to listing