Managing stress in the workplace is important for both your team and the business.
As an employer, you have a duty of care to look after your people's mental health. This means you must do all you reasonably can to support health, safety and wellbeing - and this includes stress levels.
But it doesn't stop here: putting things in place to reduce stress has business-benefits, too. Managing workplace-stress been shown to boost productivity, boost performance, minimise conflict and - ultimately - build a happier and healthier workforce.
But first, it's important to understand the severity of workplace stress in UK workforces.
That's why we've collated some top statistics on workplace stress. And we're sure they'll leave you gob-smacked.


What is workplace stress?
Workplace stress is different to just having a lot on your plate. In fact, it can be extremely harmful if it isn't nipped in the bud early on.
Whilst a certain amount of pressure at work motivates us and helps us to be productive, excessive amounts of pressure can become overwhelming and lead to stress.
The HSE describe workplace stress as:
"The adverse reaction people have to excessive pressures or other types of demands placed on them"

Workplace stress can lead to mental health conditions such as anxiety and depression. It also effects our immune system and can significantly increase the risk of serious health conditions like heart disease.
For common symptoms of stress and the main causes, here's a handy guide we created recently.



Business-benefits of tackling stress
So, stress at work can be serious and can cause a team-member's health to take a turn for the worse. So, it's the right thing to do to tackle it.
But how can actively minimising workplace stress benefit your business?
Here's how it can help:
Reduce staff turnover
Better decision-making
Improve working relationships
Boost quality of work
Lower sickness absence
Better customer service
Higher employee engagement
Happier, healthier teams
Improve brand reputation
Attract more talent when recruiting
Boost morale
7 mind-blowing workplace stress statistics
Now let's look at some juicy stats.
We've hand-picked 7 shocking statistics on workplace stress to share with you.
79%

of us are often stressed at work

A recent survey by our friends at Perkbox revealed that, out of all British adults in employment, 75% commonly experience work-related stress.

This has increased by a worrying 20% since 2018.
12.8m

working days are lost due to stress

Research by HSE found that a total of 12.8 million working days were lost in 2018-19 due to stress, depression and anxiety.
Women

are more stressed

The report by HSE also highlighted that females had significantly higher rates of work-related stress, anxiety and depression.

The results shows that the rate of women suffering from work-related stress is over 25% higher than that of men.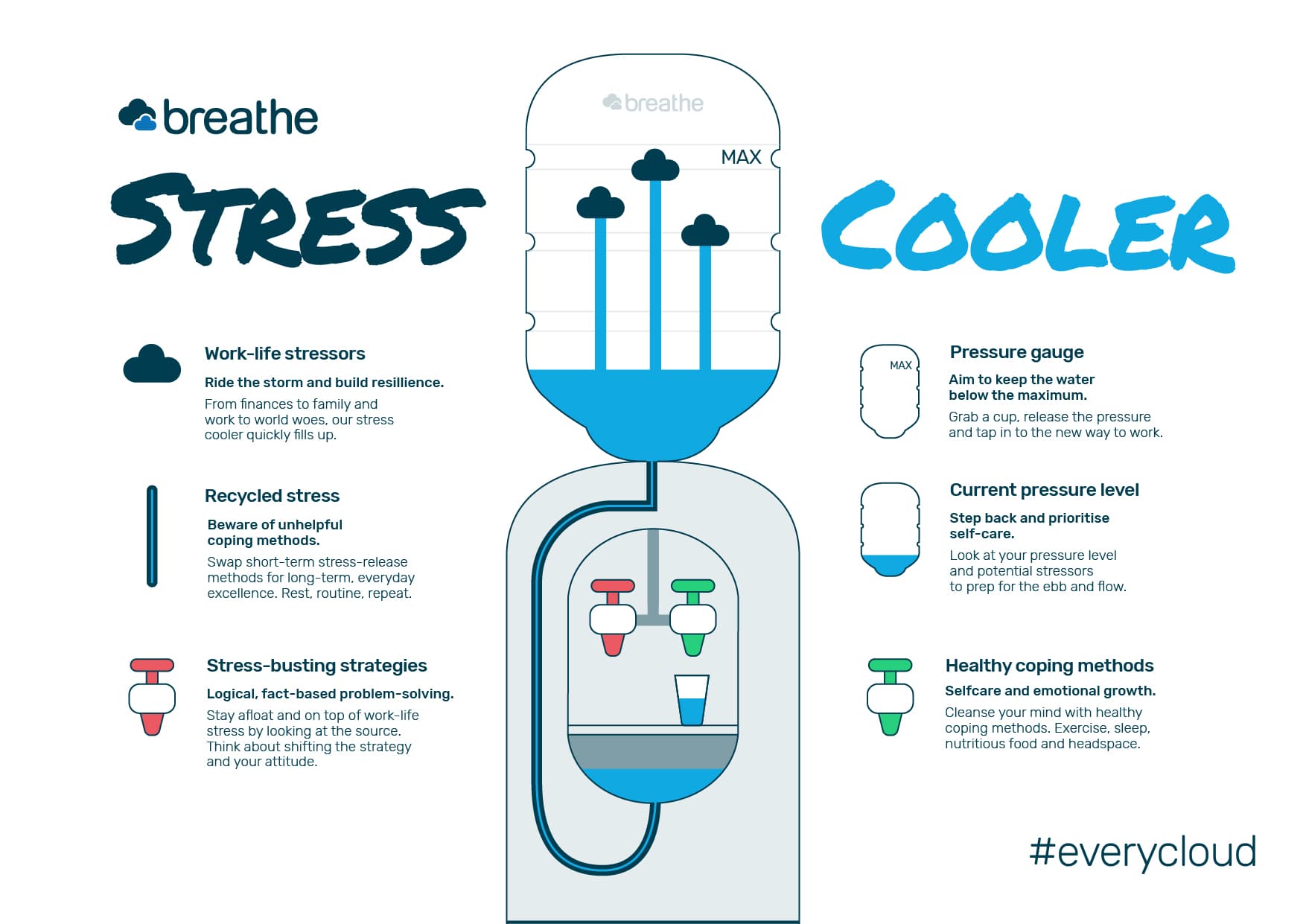 1 in 5

of us call in sick due to stress

Research commissioned by charity Mind found that 1 in 5 (19%) of us take a day off due to stress.

What's even more interesting is that, out of these people, a staggering 90% give a different reason for their absence.
24%

of line managers believe employee wellbeing is not their responsibility

A study by professional services firm, Deloitte, revealed that only 76% of line managers believe the wellbeing of their team is their responsibility.

So that's 24% of line managers that still don't think the wellbeing of their team - including minimising stress - is in their hands.
The biggest cause of stress is
workload
HSE's research also revealed that workload is the biggest cause of workplace stress, sitting at 44%.
This comes far above things like workplace bullying, violence and having lack of support.
45%

say their workplace does not have anything in place to help with stress

Perkbox's in-depth report from 2018 also showed that almost half (45%) of UK workers say there is nothing in place to alleviate workplace stress and support mental wellbeing.
Alleviating workplace stress
Even though these statistics are harrowing, it isn't all doom and gloom. There's plenty that can be done among SMEs to monitor and reduce workplace stress.
Here are a few handy tools to get you started:
Posted on 16 April, 2020
Mental Health
Back to listing