Managing your employees' performance isn't just a method of disciplining those not performing their tasks. Implemented properly, performance management can be a vital tool which can help bring out the very best in your staff and organisation as a whole.
What is performance management?
Performance management aims to ensure the success of your organisational goals while aligning them with an employees development.
Performance management is not just a yearly appraisal or self-evaluation. Instead, look at performance management as a process that defines your interaction with your employees and their development alongside your organisations.
When looking at performance management from this perspective, every interaction becomes a learning opportunity to help all parties advance.
Why is performance management important?
With the implementation of good performance management in your organisation you can drive your business onwards and upwards. As a result, it can help create a culture of constructive improvement, wellness and positive morale.
You can think of performance management as a powertool in your workplace utility belt. Not only are you fixing up the results of underperforming employees, you are helping to build the performance of your highest flyers, and even your organisation as a whole.
There is a reason those at the top of the business world regularly extoll the benefits of performance management.
In fact, good performance management can:
Develop staff and help them advance professionally.
Motivate your employees to work harder and pull in the same direction.
Check that the whole workforce is making valuable contributions towards the business goals.
Recognise the hard work of employees.
Identify poor performance and constructively improve it.
Help deliver tasks and projects to a consistent standard across the organisation.
Keep track of

employee wellbeing

and identify how stress levels can be managed.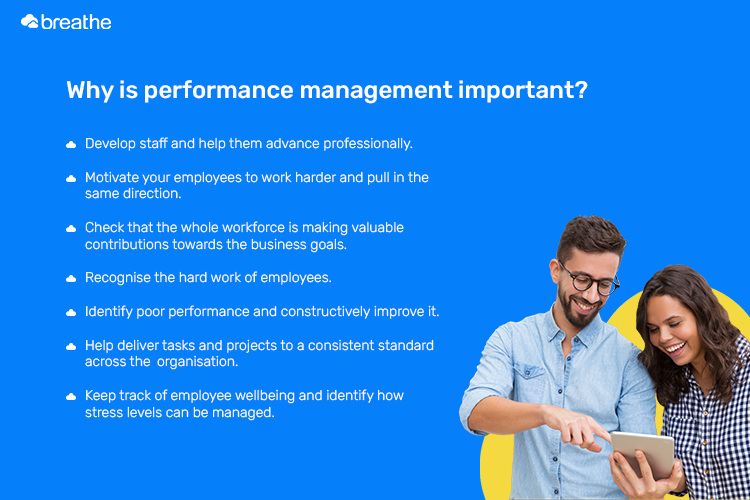 How to use the performance management process effectively
To use the performance management process effectively you should aim to incorporate four key elements:
Set goals
In any performance management process you need to set goals. These goals should be meaningful, easy to understand and simple to implement. Your employees should know why these goals are important to them individually and how they will help further the development of the company.
Although the overall goals should benefit the business, the employees should be able to instigate their own goal process. This way, they can create their own goals that match the organisations. In turn, this will give the employees a greater sense of ownership over their work and can improve their performance
Recognise your employees
Effective performance management should incorporate a strong culture of employee recognition. Your employees should feel that their work is valued and all the hard hours they put in are appreciated.
In most cases, if employee recognition isn't a priority, it will have a negative effect on employee turnover.
Give regular and honest feedback
The more honest feedback you give, the more an employee can improve. This doesn't mean giving regular criticism, but finding areas that need improvement and helping them work through them.
Employees who receive regular feedback tend to be more aware of their performance and are more likely to improve and excel.
Prioritise development
Professional development is important to your employees. By creating advancement pathways as part of a performance management process, you will encourage them to stay at the business long-term to continue honing their skills.
Can there be bad performance management?
Bad performance management is usually the result of a failure to incorporate an effective management process or the overcomplication of said process.
Managing people in the workplace can be tough. The demands for attendance, work deadlines and looking after their team, can leave little room for anything else.
An overcomplicated performance management process will not fit into this stacked timetable, and will likely just be ignored.
Keep your performance management process simple and train them fully. This way it will be easy to implement alongside their daily tasks.
How to review your performance management progress
Reviewing an employee's performance should be more than just a yearly appraisal. A monthly meeting with their line manager should be used to collect data on how the employee is performing against their own goals and the company's goals. Alongside this, the employee can express how they feel they have met those goals and where they could improve.
This meeting can be used to see if the goals have changed, if there has been structural change in the organisation or if there is new technology in the workplace that can help them meet their goals.
This meeting should confirm:
How well your arrangements are meeting the business aims.
The staff and managers views of the arrangements.
Whether there are better ways of meeting the business aims.
Potential ways to change the arrangements.
This should also be partnered up with a yearly appraisal to see how these objectives have been met over a longer period of time. This way, you can demonstrate the progress your employees have made.
Put your people first with Breathe
Breathe's powerful people and performance management features help you recognise and reward your people for their hard work.
Our award-winning HR software enables you to easily track employee performance, arrange one-to-ones, manage annual appraisal meetings, and set goals or targets for staff to strive for.
Posted on 10 March, 2021
By Andy Stewart
Employee Performance
Back to listing