The fastest-growing workforce demographic is menopausal women – in the UK, almost 8 out of 10 menopausal women are in work.
The average age for women to go through the menopause is 51 and symptoms can last up to 10 years, meaning that menopausal women are very much still working- and some are suffering in silence.
Suffering with menopause symptoms can put extra strain on employees. Women who are experiencing adverse menopausal symptoms may require extra support at work.
We know that many women who are experiencing menopause are still working, and are often part of the 'sandwich generation'- a generation who have children still living at home to care for, as well as ageing parents who rely on them too. Throw in duties and responsibilities related to paid work and it's certainly a lot to cope with.
How employers can support staff going through menopause
What is the menopause?
The NHS defines menopause as: when a woman stops having periods and is no longer able to get pregnant naturally.
The menopause is caused by a change in hormones, which usually occurs in women between the ages of 45-55. Around 1% of women experience menopause before they are 40 (known as early or premature menopause).
Certain conditions, surgeries and treatments can cause menopause, too.
Symptoms of menopause
NHS-listed symptoms of the menopause can include the following:
Hot flushes

Night sweats

Trouble sleeping

Low mood

Anxiety

Memory problems or struggling to concentrate - sometimes referred to as 'brain fog'
The implication of these symptoms can be difficult to deal with, especially with work and other familial pressures often experienced by women going through the menopause.
Some symptoms can be alleviated by medications such as HRT- if you are experiencing any of these symptoms and are struggling to manage them, make sure to contact your GP.
Some people have seen an improvement in menopause symptoms after increasing exercise, getting enough sleep and controlling stress (although we know that sometimes this is easier said than done).
Menopause and the law
Menopause is indirectly covered by the Health and Safety at Work Act 1974, which governs safe working practices. This extends to working conditions when experiencing symptoms of the menopause.
The Equality Act 2010 covers three protected characteristics under which menopause is broadly covered: age, sex and disability. Whilst the menopause isn't listed specifically as a protected medical condition, if someone was disadvantaged or treated unfairly as a result of their symptoms, this could be classed as discrimination. This would fall under the protected characteristics of age, sex, disability or gender reassignment under the Equality Act 2010.
A welcome legislative change means that women who require HRT to help with menopausal symptoms will only need to pay for their prescription once a year, instead of every time they need new medication.
How employers can support staff going through menopause
Breaking through the stigma around menopause and the silence is step one. Informational posters around the office could be a conversation starter. Running a wellbeing session to raise awareness around menopause can often be a good way to break the ice around this topic.
Support frameworks & resources
For your managers to help support and signpost resources to their team members. Providing awareness training session specifically for managers providing guidance as to how they can support their team members. . The CIPD has created a helpful resource in their line manager guide to menopause.
If your organisation doesn't already. An employee going through menopause who might be struggling to sleep could benefit from flexible hours, such as earlier start times or compressed hours, for example, to help them manage their symptoms / their effects at work.
Do you have a policy that covers the menopause? Do you need one? Would it perhaps benefit your organisation more to start up a conversation around the topic?
Align leadership initiatives
Like any organisation's culture, it filters down from the top. Get your leadership team on board and unified in supporting employees and breaking down the stigma related to the menopause.
Menopause and mental health
Symptoms of menopause can be debilitating and impact mental health. Hot flashes, mood swings, night sweats, insomnia and even memory loss can lead to some women being diagnosed with anxiety or depression.
This change, combined with other work and life stressors often experienced around the same time and it's no surprise that poor mental health can be linked to the menopause.
Suffering in silence isn't the answer- if an employee is struggling, there are resources and organisations available to provide support, alongside professional medical help from GPs and other specialist health professionals.
Support and further resources
In 2019 the CIPD launched its menopause manifesto which set out its three policy calls for building menopause friendly resources. This is a great starting place for any organisation which is implementing its own policy.
ACAS' menopause at work guide lists the three different stages to the menopause, their respective symptoms and guidance for employers in terms of how they support team members. The guide also covers employment law related to the treatment of employees who are going through the menopause.
Last but not least, the NHS provides its own recommendations for making improvements to the workplace with will accommodate the needs of menopausal team members. The NHS guidance also discusses topics related to the menopause, in addition to linking to more detailed guidance and support resources which are available for employers and employees.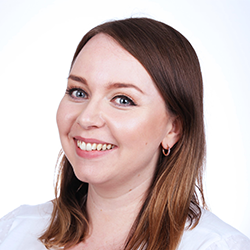 Author: Aimee Brougham-Chandler
Aimee is a Content Assistant here at Breathe. She enjoys writing about topical HR issues & helping readers find solutions. In her spare time, she is commonly found amongst books.
Posted on 15 October, 2021
Health and wellbeing
Back to listing