Today is the day we announce the winners of the Breathe Culture Leaders List 2021.
Our 6 judges have been hard at work reviewing 150 entries. The quality of entries has been outstanding, making the judging very challenging -but that's a nice problem to have!
What is the Culture Leaders List 2021?
Our mission is simple: to celebrate small businesses across the UK who actively put their people first. And we're sure you'll agree that after a year like no other, this has never been so important.
That's why, for a 3rd year, we've been searching for 25 amazing SMEs who've been doing some amazing work to support their people.
All our entrants had to do to win a spot on the list was tell us why they deserved to become a top Culture Leader. They explained their company culture in action and demonstrated how they've put their people first.
Then, our wonderful judges got to work and decided who deserved a spot on the Culture Leaders List 2021.


How did we choose the 25 winners?
Our judges had a clear remit - we were looking for UK SMEs who went above and beyond on the following criteria:
Values:

how the company values were reflected in the company culture

Approach:

demonstrated how they have put people first in the last year; shown that culture is a business priority and has a figurehead(s) who are driving company culture forward

In practice:

introduced measures to support employees who are working remotely, provide examples on how mental health and wellbeing is supported and have continued to support people with learning and development

Vision:

how company culture is sustained and the impact of these initiatives on the way the business is run

Impact:

examples of engagement; what's changed since the pandemic and lessons learnt.
Our judges had 2 weeks to review and score their pack of entries, and followed by a meeting last week we ratified our final list.
So - without further ado – here are our 25 Culture Leaders of 2021. Huge congratulations to our winners.


The Culture Leaders List 2021 - winners
The Key Safe Company
Coach Core Foundation
Vestd
NOVOS
RocketMill Limited
Something Big
Blend B2B
Aira
BrightLocal
Justice & Care
NKD
Arch Health CIC
Now Teach
Dovetail Games
NMITE
Ramsac Ltd
Evoluted
LocatED Property Ltd
Granite 5
Accessplanit
Snapdragon Monitoring Ltd
Rock Trust
APC Cardiovascular Ltd
Bastows Ltd
ORX UK Ltd

In 1st place: The Key Safe Company
A special congratulations goes to The Key Safe Company for securing our number one position.
We will be telling Key Safe's story in detail in the coming weeks, but in the meantime here's a stand-out quote from their submission:
"Our words to live by in 2021 have been: "building a community where people thrive, partnerships prevail and performance exists".
Fantastic examples of this were provided, including how they have become a Living Wage Employer, meaning every member of the team is earning a real living wage and how they are driving that through their supply chain.
During the pandemic, Key Safe introduced a number of initiatives to keep engagement high among their team including 'Conversation Street' (love this) – a group chat for all team members to have non-work related chats throughout the day.
It was clear that their values shone through all of their activities.
People first - always
On a personal level, I've thoroughly enjoyed reading through the submissions and was touched by so many of the stories.
The resilience of UK SMEs shines through whilst dealing with all of the challenges of 2020 and 2021 so far.
Nearly all our entrants demonstrated that they put their people first, which makes me very proud to work with this sector.
Even if you didn't make it to the final list, that doesn't make your story any less amazing.
The Culture Leaders List will return in 2022 and I'm already looking forward to it.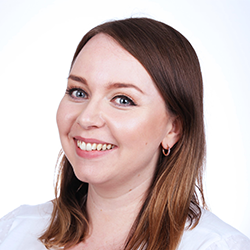 Author: Aimée Brougham-Chandler
Aimée is a Content Assistant here at Breathe. She enjoys writing about topical HR issues & helping readers find solutions. In her spare time, she's commonly found amongst books.
Posted on 7 July, 2021
Company Culture
Back to listing