Artificial intelligence (AI) is expected to surpass human intelligence by 2050 – and possibly even sooner.
But what does this mean for small businesses? And can artificial intelligence really help SMEs to streamline processes, save time and money - and even reduce HR admin?
In this blog, we'll cover what AI is, along with the key ways it can benefit SMEs.
We also spoke to Breathe HR Partner, Leanne Fitzmaurice, for her expert advice on this topic. Leanne is the Operations Director & co-owner of Purple HR.
What is artificial intelligence (AI)?
Artificial intelligence refers to a computerised system that can learn and store information & function independently – essentially, technology making decisions based on data.
What are some examples of AI in the workplace?
Examples of AI that can be used in the workplace can include:
Chat bots – used to create efficiency in customer service

Security – both in terms of data & surveillance

Generating information – via platforms like Chat GPT

Speech-to-text and text-to-speech converters

Targeting areas of your market

Data-driven insights & visualisations (that could help with business forecasting)

Fraud detection & risk mitigation (even spam email filters fall under the umbrella of AI)

Impartial, data-driven employee performance assessment & development planning
Using artificial intelligence at work can seem daunting for some people. But this doesn't have to be the case.
Ethan Mollick, Associate Professor of innovation & entrepreneurship at the University of Pennsylvania, shares how he thinks we should view AI-powered tools such as ChatGPT:
"Rather than be scared of AI, we should think about how these systems provide us an opportunity to help extend our own capabilities. Think of it like having an intern, but one who just happens to work instantaneously, can write both code and solid descriptive writing, and has a large chunk of the world's knowledge in their brain."

Ethan Mollick, The Mechanical Professor
With this in mind, we've put together some of the main ways artificial intelligence can benefit SMEs:
3 SME benefits of artificial intelligence in the workplace
1. AI can
streamline & automate processes
Using AI tools can improve efficiency – using its knowledge can reduce hours spent staring at a spreadsheet, working out where a crucial calculation might have gone wrong.
We asked Leanne Fitzmaurice of Purple HR how AI can help small businesses. "Recently, I needed one formula to finish my Excel spreadsheet, and I couldn't quite work it out," Leanne mentions. "I asked ChatGPT for the formula and it generated the one I needed to populate my spreadsheet, saving me a lot of time."
Automating routine tasks with artificial intelligence is likely to increase efficiency & decrease the amount of time taken to complete the work.
2.

It can increase productivity

–

and help to think outside the box
Technology doesn't get tired or distracted, like humans do. It can also offer creative suggestions, when you might have run out of fresh ideas.
AI can also help SMEs to think outside the box to achieve different outcomes, as Leanne explains.
"AI can help to widen the scope of what small businesses can achieve – in terms of job adverts, tools like Chat GPT can be used to tailor job adverts to different audiences or to write in different styles. This can help recruitment efforts if you want to attract a different audience, or if you just want to change the style in which you've been recruiting. This could save a small business a lot of time and money on outsourced recruitment costs, too."
3.

AI can improve work quality & save time
AI can allow people to focus on the right things, or the work that interests them and can benefit the business, rather than tasks that tend towards the tedious or manual. In turn, this is likely to boost employee engagement.
"AI can also use data to help with interpreting data and putting it into trends," Leanne mentions. "From a HR perspective, you can give tools such as ChatGPT a lot of data that would be time-consuming for someone to process, like the data export from Breathe, and ask the AI to analyse it for you. It can also check for errors, automate tasks, and help with scheduling."
Essentially, AI has the capacity to save HR a lot of time, and improve the quality of work produced.
The impact of AI on the SME workplace
Whilst we've covered the main benefits of artificial intelligence, we also wanted to cover the potential impact of AI within SME workplaces with some practical advice.
Here are some questions that cropped up in our research:
Where should an SME begin when it comes to implementing AI?
It can be hard for a small business to know where to start - especially when AI hasn't operated within your business before, or you might be worried about costs.
Work out where processes can be streamlined – and where this will have the most impact. The first likely step is to run a cost-benefit analysis. For example, how likely is more efficient customer service going to help to retain customers? Would this help to increase profits? Then looking into more accessible forms of AI, like chat bots (that customer service teams can train) might be a starting point.
But on a smaller scale, using AI doesn't have to be expensive – at the moment, information generation tools such as Chat GPT are currently free* for the public to use – and if SMEs want to trial a basic version of the software, you can get stuck right in. (*correct at the time of publication).
"ChatGPT can be used to generate things like HR templates," advises Leanne Fitzmaurice of Purple HR. "For example, you can ask the software to create a policy around a certain area and it will populate something for you."
Whilst the software won't be replacing HR departments any time soon, it can help SMEs who might be tight on budgets to get started with a project, for example.
"You still need human verification to review the AI-generated material. Whoever reviews [an AI-generated HR template] will need to know what they're looking at, and to double check that all the information is correct. But AI can certainly create a framework for you."

Leanne Fitzmaurice, Purple HR.
This kind of head-start can give SMEs access to information & resources that larger companies (with bigger budgets) might previously only have had access to.
Will artificial intelligence make jobs redundant?
A study by PWC shows that any loss of jobs will be offset by a proportional influx of new jobs caused by AI, meaning that jobs won't be lost overall.
Like any new technology that has the power to change the world of work, AI will inevitably eventually change the amount or types of jobs in certain areas, Leanne advises.
"As an example, over the past 40 years, the finance industry has evolved hugely. Gone are the days where we'd receive a physical pay packet, or even a paper payslip. AI is likely to be another big evolution - like the evolution of Xero and accounting software when that arrived. We still need to have someone controlling the accounting software, though – software can't do everything, and we still need accountants.
The need for humans in the workplace isn't going anywhere anytime soon. After all, AI such as ChatGPT is still user-prompted and driven by humans inputting & reviewing the data the software produces."
Artificial intelligence & the future for SMEs
We know that artificial intelligence is already changing the world of work. Whilst a new evolution dawns, people remain an SME's most valuable asset – and are still very much needed for businesses to thrive.
"Artificial intelligence can't replace human interaction – the pandemic taught us that some news has to be delivered in person. But it's definitely the future.
10 years ago, time-saving HR software like Breathe revolutionised the way HR managed holiday & people admin. We're at the start of a new technological chapter. Whilst there are some ethical issues to iron out, AI is definitely here to stay in the world of work." Leanne Fitzmaurice, Purple HR.
Leanne Fitzmaurice is the Operations Director & co-owner of Purple HR, who are HR Partners of Breathe.
Find out more about how Breathe can help you to seamlessly manage holiday admin.
Why not make the switch from spreadsheets to software? Trial Breathe for free for 14 days.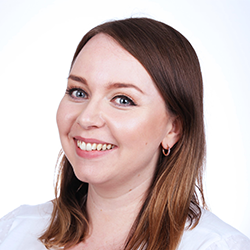 Author: Aimee Brougham-Chandler
Aimee is a Content Assistant here at Breathe. She enjoys writing about topical HR issues & helping readers find solutions. In her spare time, she is commonly found amongst books.
Posted on 9 May, 2023
Business Process
Back to listing