SMEs can help to bridge the skills gap by offering graduate schemes, in line with channelling people-first values.
This blog covers why offering graduate schemes can be beneficial for SME employers, along with tips for business-owners considering setting up a scheme. We also look at the return on investment for SMEs, and what can be gained from offering formal graduate training.
What is a graduate scheme?
Graduate schemes – also known as graduates programmes – are structured training programmes run by an employer to develop recent graduates within an organisation, according to Prospects.ac.uk.
Graduate schemes can typically last between one and three years, depending on the industry and the type of training involved.
Which sectors offer graduate schemes?
Many careers and industries offer graduate schemes. According to Prospects.ac.uk, they're commonly found in sectors such as finance, IT, law, marketing, public services, retail, healthcare, management, the armed forces and intelligence services.
4 reasons why SMEs should set up graduate schemes
What are the benefits for SMEs of setting up graduate schemes, and how can such schemes help fill the UK skills gap?
SME employers can attract graduate employees by setting up a graduate programme within their own organisation. We cover the benefits of this, along with the return on investment for employers.
1. Graduates can be seen as a 'clean slate'
Graduates are a 'blank canvas', and their first employers after university will be fundamental in instilling good working practices. Graduate employees will be able to readily absorb good working habits & benefit from the valuable knowledge-sharing and training experiences that SMEs can provide.
Whilst workplace experience is always desirable, hiring a graduate with little knowledge of the world of work can actually work in favour for an SME – moulding graduate employees to the way they'd prefer things to be done. Graduates can be trained to the business needs of the SME, which can also support their development at the same time.
2. Innovative ideas
Graduates are likely to have fresh innovative ideas to bring to the workplace. They're also more likely to be comfortable with technology and used to using different online systems (especially if they studied during the pandemic).
Graduates can typically perform well in a fast-paced SME environment. They can often be keen, versatile and flexible workers, bringing time management and project planning skills from their time spent in education.
Graduates don't often follow a linear career path, meaning they aren't always likely to pursue jobs that link directly to their degree – another example of the transferable skill sets graduates can offer a business.
3. Good for growth on a budget
With the average graduate salary sitting at just over £24,000, targeting graduates can also be a cost-effective hiring option for SMEs.
When offering a graduate scheme, the employee can grow with the business. Employers invest in graduate's learning and development from the start of their career.
4. Career development
Another benefit of providing graduate programmes is that as a business you offer the opportunity to train and nurture an employee through the initial stages of their career. In turn, this can help with retention – a long-term business benefit.
Employees are more likely to stay loyal to and working for an employer who has clearly supported their personal development.
Tips for SME business-owners on developing a graduate scheme
Clearly display your offering – and attract the best talent
Whilst some graduates may well opt for the best-paying graduate scheme, there will be many who review the long-term prospects and growth opportunities during and after graduate training programmes have finished.
As an employer offering a graduate scheme, ensure you clearly demonstrate the opportunities for training across many different areas that you can offer as an organisation. Be specific about what graduates can expect from working and training within your business at each stage of the scheme.
Make use of university open days, social media and your own website to show graduates what type of training and development your graduate scheme can offer them.
Establish clear business goals for your graduate scheme
Make sure you set clear aims and expectations for your graduate training scheme early on. Work out what business goals will be aided by offering a scheme, along with what types of training will be beneficial for graduate employees – and how this sharing of knowledge will help you to achieve your business goals.
Don't forget to detail opportunities beyond the scheme, too; it's important to show you're invested in the long-term career development of graduate employees.
Compare your planned offering to other graduate schemes in similar sectors. Prospects.ac.uk offers information around UK graduate programmes. Making sure your graduate scheme is on par with others in the same area will ensure you stay competitive - and return value for the business and the graduates themselves.
Follow through on commitments to graduate trainees
If you're offering a formal training scheme with certain milestones over a few years of a graduate scheme, make sure to commit to this. If you're advertising certain areas of training at stages of the scheme, it's your responsibility as the employer and scheme provider to ensure departments offering the training are adequately resourced and can offer the training set out in the scheme.
Keeping your commitments to the graduates on the scheme will bolster the reputation of the programme you offer – meaning graduate trainees will be more likely to recommend you as a graduate employer and to recommend your training programme to others. Graduates will also be more likely to stay with you on their career journey after the scheme is completed.
Boost business success and bridge the skills gap
Graduates often have adaptable skill sets, which in turn brings flexibility and transferable skills. SME employers can plug skills gaps by offering graduate training schemes.
If your business is considering offering a graduate scheme or a development programme, this can be tailored to your business needs to help fill any gaps in a particular area. In doing this, you'll nurture the personal development of graduate employees, who will go on to support the growth of your business.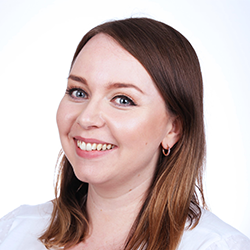 Author: Aimée Brougham-Chandler
Aimée is a Content Assistant here at Breathe. She enjoys writing about topical HR issues & helping readers find solutions. In her spare time, she's commonly found amongst books.
Posted on 27 September, 2022
Recruiting Talent
Back to listing