Improve
IMPROVE Online Learning Platform makes developing your people simple. Develop and support your employees all in one place, just at a click of a button. From keeping them legally complaint to developing their full potential, IMPROVE puts you in control of your biggest asset, your people.

The online learning and development solution for your business

IMPROVE is the online training platform specifically designed for businesses with under 250 employees.
With IMPROVE you'll receive everything you need in one place to manage and develop your people's skills.


Key features
IMPROVE your staff's legal compliance in the workplace
IMPROVE productivity through skills development
IMPROVE your employees learning resources and culture
The online platform that makes it easy to manage employee training.
"It's incredibly easy to use."

— Niel Cope, CEO People Matters
IMPROVE is an innovative microlearning platform enabling employees to learn what they need to, when they need it, wherever they are.
Our SMART Learning Management System (LMS), enables companies (or their HR consultants) to actively manage company training needs.
With more than 50 great online courses available, providing hundreds of hours of learning and a training platform to manage and track your staff's progress, our software provides auditable tracking for legal compliance – all for one amazing low monthly price.
Courses are always kept up to date to meet current legislation. IMPROVE will be adding more than 50 new courses to this library during 2020, free of charge for all customers, providing exceptional value.
Improve puts you in control of your customer's learning and development, with costs starting at the equivalent of £1.50 per employee per month, that's just £18 per year – it is a fraction of the cost of traditional training courses.
"Adopting online training is hugely beneficial to SMEs, it reduces extraction rates, travel time and keeps costs down. The flexibility to be able to improve our skills from any device at any time is amazing."

— Niel Cope, CEO People Matters
Course library
Click the links below to view our in-depth course library - employee training at your fingertips.
IMPROVE also enables outsourced HR partners to:
IMPROVE provides a Partner Hub to outsourced HR partners which puts you in total control of your clients training.
Manage your customers training and develop your customers' employees with simple and affordable online courses that employees need across all key business skills.
Enable your customers to save time and money on training whilst protecting your business by ensuring 'proof' of compliance through online reporting.
Personalise the learning platform, by uploading additional training materials and important business information, such as policy documents of your own. Add testing to check knowledge and how-to videos to show best practice and standards required to work in your business and cover CPD needs.
Retain your people by providing a personalised training programme that they can manage themselves and access through any device to create a modern on-demand experience. Research shows people are more likely to stay if they feel invested in.
Add to your outsourced HR partner portfolio with your customers, strengthening your relationship and role by offering this cost-effective product to your existing and new customers.
"Absolutely, I would highly recommend IMPROVE online learning to help develop your people, improve performance and grow your business."

— Niel Cope, CEO People Matters
Breathe integration with Improve
We are very pleased to announce an integration between Breathe and IMPROVE.
The integration has been enabled by Breathe's Application Programming Interface (API) which allows the two systems to share information without the need for manual data input.
The API integration allows both Breathe partners and customers to benefit from simplicity in key tasks, through single data management. It's quick and easy to use and designed to make your life easier.
There are three key features within the API:




Like to know more? Watch our video below for more information:

Or, click here to find out more via our handy knowledge base.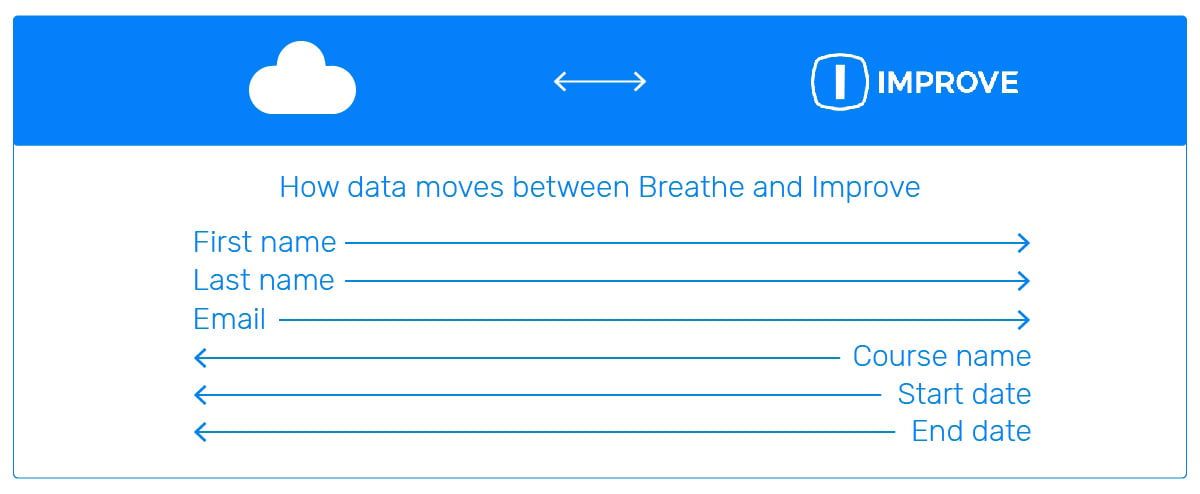 Pricing for Improve
£30
/per month
per business
£65
/per month
per business
£99
/per month
per business
£199
/per month
per business
Let's work together – and make things better
Take a free trial of Breathe to see for yourself how easy it is to win back time in your day and help your people be the best they can be.