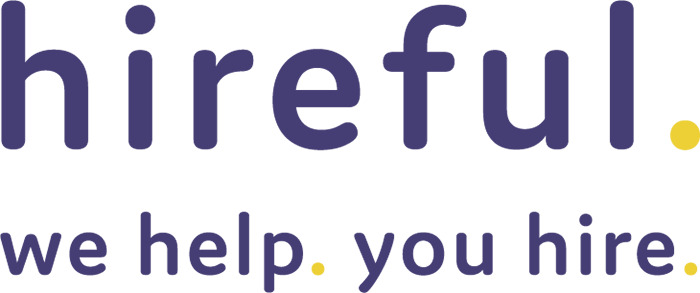 ready to start recruiting better?
Are you after awesome talent? Seriously. Who doesn't want the best people joining their teams? But getting the right people for your company can be tough. Especially if you don't have the big bucks to compete with all those huge corporations.
That's where hireful come in. They're all about helping smaller 'everyday' organisations with your recruitment - so you can find the people you need and smoothly get them on-board.
Now saying that is all well and good. But how do you actually make sure your processes are getting the job done? Just having some fancy new tech isn't going to solve all your recruitment problems.
At hireful, they take the time to get to know you, your business, and your goals - so they can give you a personalised service based on what you really need. Our support often includes a mix of recruitment technology, low-cost advertising, honest advice, training, and more. But more than anything - it comes down to creating a great candidate experience from start to finish. This all might sound like it'll cost you a pretty penny, but we promise you it won't.
The applicant tracking system is packed full of features to streamline your whole recruitment workflow, from customisable application forms and interview scheduling to an onboarding platform and HR system integrations too (including Breathe).
If you're an HR consultant, talk to them about their Partner Programme and see how they can support you and your clients with recruitment technology.
"As a new customer, we've been impressed by the speed of implementation and the response to any queries that we've had during the process.

Feedback from your hiring managers and candidates has been very positive with all users finding the system very straightforward and easy to use. It's great to work with an ATS provider who are keen to seek our feedback on suggestions for evolving the system."

— Talent Acquisition Manager, Animal Friends Insurance
Connecting Breathe with hireful
Check out our handy graphic below to see how you can connect the two systems.

Price plans
hireful has 3 ATS editions, Instant, Professional and Premium - each expertly designed to fit different clients' needs. Prices start from £2,388/pa.
Did we mention there's a 3-month free trial for clients of Breathe too?
If you're a Breathe HR partner you will receive the ATS for free and your clients are entitled to a 5% discount.
Back to Listing