Engagement Multiplier
The leading employee engagement platform to make your business more productive, more profitable, and easier to run. More than a survey tool, Engagement Multiplier will enable you to capture the intelligence embedded within your organisation and know where the company stands, so you can act to strengthen your teams and improve the business.


Engage your team to grow your business
Do you want to discover the hidden wisdom and insight within your organisation?
Engagment Multiplier provides an easy-to-use framework to turn insights from your employees into actions that drive the continual profitability and success of your organisation.
Over 90% of organisations achieve engagement within the first year.
The steps
Start with a Benchmark Assessment - a ten-minute secure, anonymous survey that provides you with feedback and immediate insights
Know where to focus your efforts - create action plans to push your business forward, which energises your leaders and helps your employees stay on track
Keep your best talent - solve personnel problems, and focus on new opportunities. With your team empowered, they will help you grow your business
"Engagement Multiplier is a Game Changer.... And I say that as a veteran of almost every survey option that we have utilised having fostered disappointment, frustration, and inertia.

The beauty of Engagement Multiplier is that it is not onerous for the staff to complete, is revelatory in its results and offers a tangible guide to management as to what is necessary to fully engage its most precious asset – the workforce.

The 90-day frequency means it is a dynamic tool, rather than retrospective, and the participants actually believe it gives them a say and involvement in the future of the company.

It is not often that simplicity can engender such sophistication and positivity – I have never before truly felt that I knew the wishes of my staff so incontrovertibly."

— Jeremy King, Corbin & King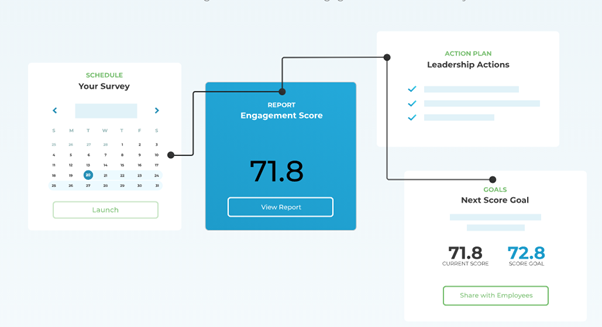 Get your FREE Benchmark Assessment

Price plans
Start with a Free Trial. Receive a complimentary Engagement Report on your business that will deliver significant insight and value.
Thereafter, pricing is clear and straightforward: £5 per employee/licence per month subject to a minimum of 20 licences.
Let's work together – and make things better
Take a free trial of Breathe to see for yourself how easy it is to win back time in your day and help your people be the best they can be.