So Boris is waiting to take his paternity leave until after lockdown. That's understandable; there's a global pandemic, he's the prime minister and we're not out of the woods yet.
According to UK law, however, he's the exception.
That's why we're revisiting the rules to clarify when paternity leave starts as well as the paternity pay for furlough, eligibility rights and shared parental leave for UK employees.
In the same month, one of our very own returns from his two-week paternity leave
We speak to Partner Account Manager and new father, Ewan to find out what it's like to wet the head during Coronavirus and how he's adapting to the working from home / newborn routine. in lockdown.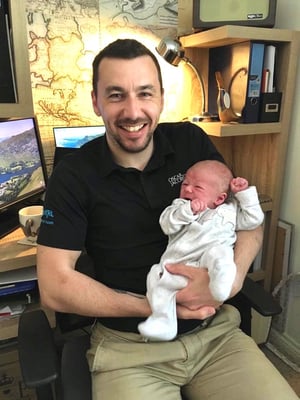 According to UK law,

paternity leave must start
and finish within 56 days after the birth.
It's split over two periods of leave to help strengthen and develop the relationship between father and newborn.
The first is paternity leave, where at least one-weeks' SPP is paid to the father immediately after the birth. This allows Dads time away from work to support mum and baby during the nesting period transition.
The second is parental leave, which is taken during the baby's first year by either or both parents.
What is
Statutory Paternity Leave (SPL)?
Statutory paternity leave (SPL) is the time your employee can take off when their partner gives birth or when they adopt a child. If eligible, they're entitled to take one or two weeks leave.
Paternity leave is in addition to the normal holiday allowance.
By law, your employee can only take paternity leave after the birth or adoption and they must agree to resume work within 56 days of the birth (or due date if the baby is early).
UK mums are able to transfer all maternity leave – excluding the initial two weeks – to their partners if both meet the eligibility requirements. This comes under 'shared parental leave'.
Currently, fathers don't qualify for individual entitlement to parental leave, so if and what they are paid falls at the employers' discretion. Parental leave requires eight weeks' notice and must be agreed between employers and employees.
For those who wish to, annual leave can be added to paternity leave allowance.
Since 2014, dads and partners are legally allowed to take two antenatal appointments with their partners. Six and a half hours are allocated for each appointment, with no qualifying period necessary.
As the employer, you can ask for a declaration stating the date and time of the appointment, plus proof of relationship with the mother if completely necessary.
What is the weekly
rate of paternity pay?
The weekly rate for statutory paternity pay is £151.20 or 90% of your employee's average weekly earnings; whichever is lower.
The amount is typically paid in real time, while on leave. It's sent weekly or monthly/ in the same way as their wages and is tax deductible.
Paternity leave on furlough
They're keeping it simple, so the normal rules for maternity and other forms of parental leave and pay apply.
If you had to furlough an employee who then started paternity leave, on or after 25 April 2020, then you can claim through the Coronavirus Job Retention Scheme.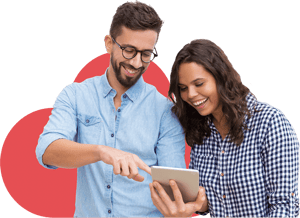 This also applies for:
maternity leave,
adoption leave,
paternity leave,
shared parental leave; or
parental bereavement leave.
After more COVID-19 small business guidance, commentary and relief? Well look no further. Help is here.
Who is

eligible for paternity leave pay?
The employee is eligible for paternity leave pay if they:
1. Are taking paternity leave to look after their child
It sounds obvious but the first criteria is proof of relationship to the child. They are taking time off to look after the child because they are the:
father;
spouse or partner of the mother or guardian, including LGBT partnerships;
child's legal guardian; or
intended parent (if the baby is planned through a surrogacy arrangement).
2. Earn more than £120 per week
That's right, to qualify for SPL, father's must earn at least £120 per week before tax.
3. Give more than 15 weeks' notice
Notice periods are important too. Be sure you receive the correct amount of notice and ask the father to send the request 15 weeks before the baby's due date, detailing:
when they want their paternity leave to start;

the day of the birth

or the week after the birth; and

whether they want one, two or more weeks' leave.
We recommend asking for this in writing and storing the documents safely in the cloud. Our HR software system is great for collating important documents and managing your people admin. See for yourself and take out a free 14-day trial.
The qualifying week is either 26 working weeks or the 15th week before the expectant due date. If they are adopting, this is known as the 'matching week'.
The conditions for pay and leave allowance is very much at the company's discretion. Whereas two weeks is statutory, there's nothing to stop you offering more to support your people. Take Ewan's story of paternity leave in lockdown, for example.
You can also use HR software to track employees' length of service and determine if they qualify.
Unfortunately, self-employed or agency-worker dads aren't eligible for SPP.
Ewan, what's it like to take paternity leave in lockdown?
Firstly, congratulations on the birth of your new baby boy. It's difficult to imagine what birth, newborn life and paternity in lockdown is like, so thanks for taking the time to stop and chat.
How much paternity leave did you take and how has it helped?
Our minds have been elsewhere and it's a bit like living in our own bubble. We're doing really well. We've been really lucky and I've taken four weeks off work in total. The first two weeks were for immediately after Ozzie's birth, then back in work for two, then two off again.
I organised and booked my paternity leave when Candice was 5 months pregnant. As the first new dad in Breathe since the shared parental rights update in 2020, I'm very grateful for the support I've received.
There wasn't actually a formal paternity document, so this was something I flagged with our Head of People, Suzie. We sat down to work out when and how long I could take off and the amount of paternity leave that Breathe could offer.
It was agreed that I would take 2 weeks' paternity leave pay immediately after the birth, return to work for 2 weeks and then take the second stage after that. This seemed the best way to balance work while adjusting to the new routine.
I'm glad paternity leave is split into two. As a partner account manager, it's really important that I stay up to date and in contact with the consultants. That's why I've divided my paternity leave across the 56 weeks in two parts, so I don't worry about missing too much work. Our work centres around nurturing relationships and helping HR consultants help their clients but right now my attention is and truly on my wife and Ozzie Bear.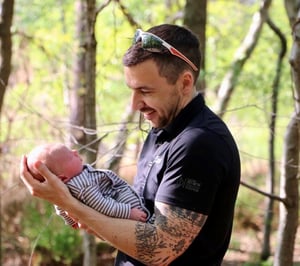 Ewan's top tips for paternity leave in lockdown:
1. Agree to learn on the spot
I nodded politely and ignored 95% of often contradictory advice that was given to me before Ozzie came along.
We listened to our gut and agreed to learn on the job without comparing ourselves to others, in what is, let's face it, our family time.
I'm so glad we did this as the parental instincts are exactly that, instinctual and natural. Although I'd be lying if I hadn't Googled "is my new-born's poo the right colour?"...
2. Make the most of nap time
I had no idea how much babies sleep. Therefore you will spend a lot of time doing nothing whilst waiting for them to wake up or feed.
If I'd known how much spare time I'd have, especially in lockdown, I'd have decorated the entire house from top to bottom, learnt to play the guitar and written a book about it.
3. Use your tech
Stock up on media subscriptions. Spotify is brilliant for lullaby playlists which we have on quietly in the background all night. When they don't work, you'll want a good list of obscure Netflix documentaries to see you through from 2-4am.
4. Commit to help and learn a new role
I am in no doubt who worked hardest during this pregnancy and delivery. Therefore I have committed myself to being my wife's chef, waiter, footman and sounding board for the foreseeable.
To do that I've taken as much paternity leave as I can and have tried to completely switch off whilst taking it.
Thankfully, working for Breathe, there is absolutely no pressure at all to check a single e-mail or take a single call.
Back to blog