Get your first 10 people free with WeThrive

Breathe and WeThrive - perfect partners
Sync your people data in just 30 seconds using your Breathe API key – no more exporting data to Survey Monkey or Typeforms, making sending a survey super quick and easy.
Give everyone the help they need instantly
WeThrive offers the only self-help solution that provides instant recommendations for your employees. In five minutes, your people can get a full insight into their employee experience to support 1-2-1 meetings and improve engagement, wellbeing and productivity.
Managers can see a full overview of their people's results, get manager-focused recommendations and schedule team-based surveys for a complete overview of their team's health.
MDs, HRD's and HR managers can release company-wide surveys and slice and dice the data as they wish, making pinpointing who needs additional help and support quick and easy.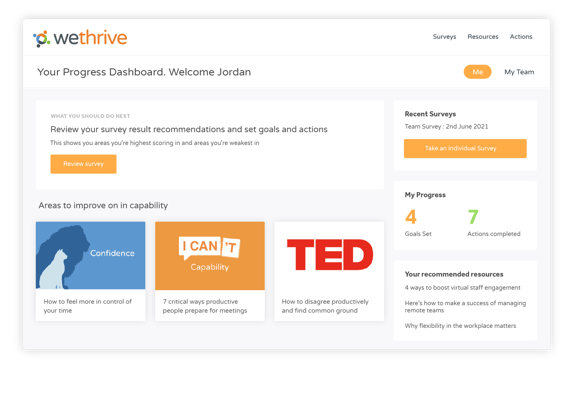 Access to our learning library
As part of your subscription you also get free access to a library of 300+ curated learning resources – to help you improve engagement and motivation in your business. All Breathe customers can also try WeThrive's survey free now!



Key features
WeThrive Bubbles have everything you need to keep your people happy, healthy and productive - wherever they are;
Individual self-help Bubbles for your people
Real-time dashboard with detailed team analysis for managers
Unlimited surveys for everyone
Instant recommendations and action plans
Goal-setting to track progress and drive accountability
Curated learning content for each recommendation
Results segmentation by individuals, team, location, department, manager and unit
Automatic survey reminders
Add custom questions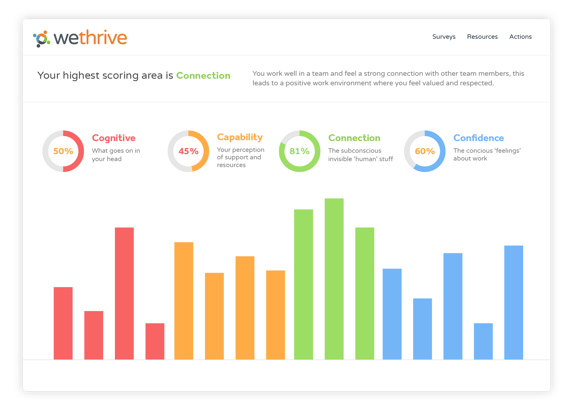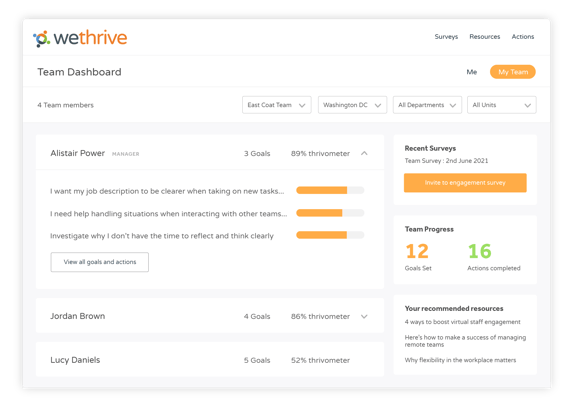 "The WeThrive solution has helped us easily check and manage employee engagement and satisfaction.

We know that with only a little bit of effort we can take the temperature and derive insightful feedback from our people. This puts us in a far better position to improve engagement within a fast growing business. WeThrive has been invaluable."

— Pat McDonagh, Clarity The Business Travel Experts
"WeThrive has helped us to take the temperature of our teams engagement regularly and gives us clear, concise actions allowing us to implement and communicate the follow up.

Our team like the consistency and opportunity to feedback to the business. As a construction company we operate 14 remote offices so WeThrive is a great tool to keep a feedback loop open, and to help our managers ensure the teams keep the bigger picture in mind."

— William Barrett, Francis Construction

Connecting Breathe with WeThrive
Want to know how to link the two systems? Click here or check out our handy graphic below.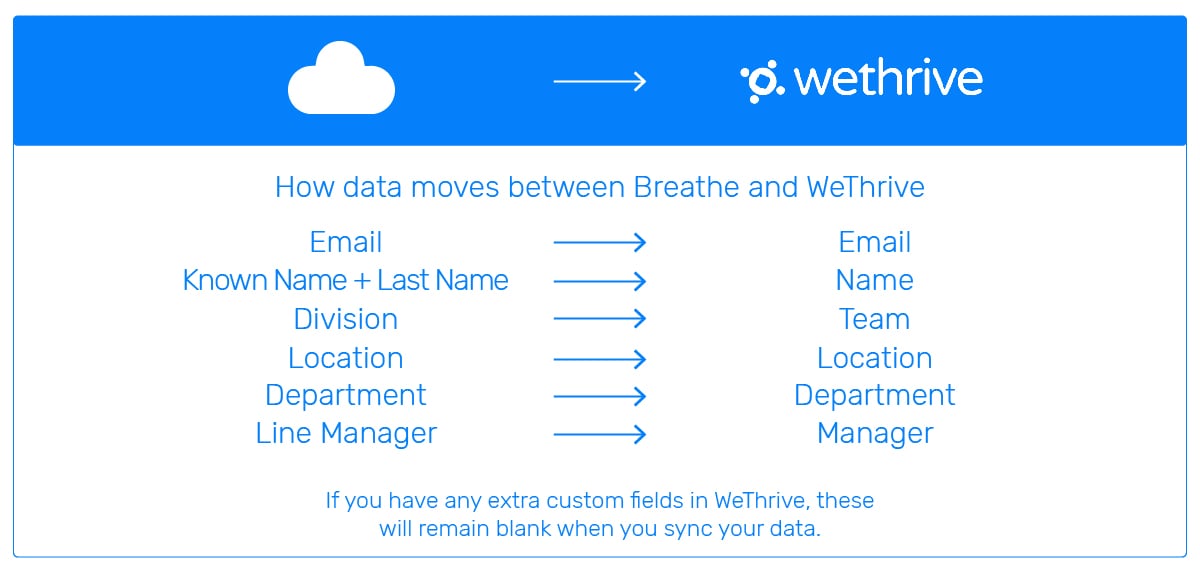 Price plans
Get WeThrive from as little as £1 per person per month (plus your first 10 Bubbles completely free). See a full breakdown of the costs here.
Back to Listing