We recently teamed up with Engagement Multiplier to host a webinar in which their CEO, founder and award-winning author Stefan Wissenbach discussed the traits and qualities of effective business leaders with Breathe's CEO, Jonathan Richards.
If you haven't had a chance to listen, a recording is available. Stefan and Jonathan discussed the high importance of strong leadership for small businesses, while facing the many unprecedented challenges during lockdown.
As the business leaders consider the implications of the end of furlough, there will inevitably be some difficult decisions that will need to be made. Sadly, redundancies will be a reality for many businesses - including the challenges that come with retaining existing customers, finding new ones and growing revenue.
Tackling these challenges calls for stronger leadership than ever, yet the landscape has now changed – perhaps forever – and leaders need to rethink the way they manage their teams members. Ensuring they are fully engaged, energised and ready for the journey ahead.
The current crisis calls for agile leadership - leaders who can adapt to help their business and team members come back stronger.

The six traits of effective leaders
The new leadership: an end to traditional management structures?
Why company culture remains a priority
The shift to outcome based leadership
The importance of purpose-based leadership

The six traits of effective leaders
Self-reflection is a vital tool for leaders, and the self-awareness it grows can be incredibly powerful for those on a path of continuous personal development and improvement.
Stefan and the team have produced a brilliant but simple worksheet to help you assess yourself against six foundational leadership traits - courage, caring, credibility, confidence, connectedness and commitment .
Complete the worksheet and identify where you can grow your leadership skill set.
The worksheet includes the definitions of these six traits:
Courageous leaders are not afraid to embrace the good, the bad and the ugly. They are willing to seek out candid information and honest feedback from their team.
A credible leader walks their talk. They show up in the same way they expect team members to do so.
Confident leaders focus on outcomes, not inputs. They trust their team to get the job done without the need for closely managing their work.
A connected leader unites people with one purpose, as one team. They have an understanding of employees' aspirations and objectives, connecting those with the broader goals of the organisation.
A caring leader ensures everybody grows and, as a result, everybody wins. They see their team members as individuals, not a commodity, and actively encourage employees to achieve their goals.
A committed leader is focused on the future of the company and its people. They are fully invested in the business and the team for the long term.
The new leadership: an end to traditional management structures?
With lockdown in place and a sizeable proportion of the UK workforce working from home, leaders and managers have had a restricted view of their people and what they are doing.
Despite the fact many of us now use remote working software and applications on a day-to-day basis, it's impossible to keep track of your people's work in the same way, compared to when everyone was working together in the same location.
This, Jonathan and Stefan agreed, had led to a reduction in old-school hierarchical leadership styles.
Trust is now more important than ever and leaders must focus on supporting their team members, helping them with their jobs without resorting to micromanagement. This can all too easily create a culture of fear and low-morale, adversely affecting their performance.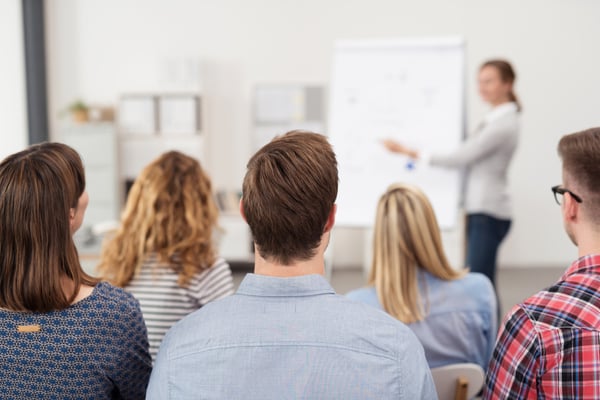 Why company culture remains a priority
Although business leaders are under incredible pressure at the moment - workplace culture may be the last thing on their minds - ensuring their team's are engaged and enthusiastic remains a priority and is key to productivity.
Even relatively small adjustments to traditional management structures can go a long way to improving or maintaining a culture, helping people achieve great things. In times of adversity with the need for an 'all hands on deck' mentality, this is vitally important.
The shift to outcome based leadership
Trusting team members and supporting, rather than policing, them helps foster a culture of outcome-based leadership. This is simply the identification of project 'mountain tops' – the things that people want to achieve – without the need for a manager to know the finer points of how they will be accomplished.
Of course, people may well need support along the way, but leaders should avoid focusing on the finer points.
Outcome based leadership, with a shift to empowering team members to plan and manage their own project journeys boosts their confidence and engagement levels.
Pre-pandemic, many progressive businesses had already started adopting outcome based leadership practices, they are certainly not new. However, the need for managing dispersed teams and the reduced visibility of day-to-day details has accelerated their implementation.
It's equally important to remember that to get things done, progress is more important that perfection. This doesn't mean letting standards slip. It means recognising that perfection is not the end goal and that as an unrealistic target, it can seriously impede progress and even derail entire projects.
The importance of purpose-based leadership
In recent months, we have seen people and their colleagues come together to do everything they can to support the organisation for whom they work. Many businesses have needed to adapt, and with this has come the challenge for employees to change they way they work.
Working through the crisis, Stefan and Jonathan agreed, has become a shared purpose for many people and will continue to be so for a long time.
However, once (and when) we emerge from the crisis, it will be important for leaders to continue to imbue their people with a sense of purpose.
Again, this may call for some careful thinking about company culture and the steps leaders can take to help support their employees and ensure they remain engaged. These are important and an investment which is likely to pay dividends now and in the future.


Posted on 24 July, 2020
By Nick Hardy
Business Leadership
Back to listing